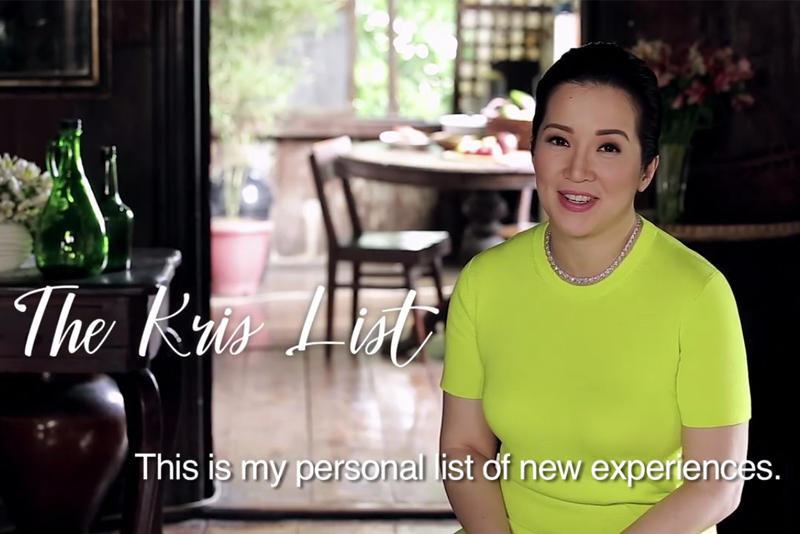 'The Kris List' feels like an extension of Kris Aquino's widely-followed and often news-making soc-med posts — where she ruminates in a positive way about life (both highs and lows), work and other pursuits, and of course, loved ones.
MANILA, Philippines — After successive blockbuster movies for the big screen and hit talk shows for TV, Kris Aquino is once again proving that she is still the Queen of All Media. This time around, the A-list celebrity has found a new platform to thrive in, as if to say, "You can put me anywhere and I can make a difference."
In her first-ever digital series on Facebook titled "The Kris List," she is "embracing new experiences, meeting new people, learning new things, reconnecting with memories and seeing them with fresh eyes."
For fans missing the popular TV host, the Kris they'll watch in the "The Kris List" is both familiar and new. There's none of the high-octane hosting that trademarked her game shows or showbiz talk programs. Instead, the series feels like an extension of Kris' widely-followed and often news-making social media posts — where she ruminates in a positive way about life (both highs and lows), work and other pursuits, and of course, loved ones.
Fittingly so, Kris dispenses some personal reflections during the four-minute videos that viewers can learn a thing or two from.
'If you want something to turn out beautiful, give it time'
First on The Kris List is learning Calligraphy and hand-lettering. Kris says, "I was taught by my father to have the highest respect for the written word because the more you read, the more you know."
This must be why she opts out of generic messages. When she gives out gifts, they come with her handwritten, personalized notes.
For Kris, studying Calligraphy from Alessa Lanot of LifeAfterBreakfast.ph brings her letter-writing passion to a different level.
"I'm not a patient person," Kris admits.
What she has learned from this art, however, is that "if you want something to turn out beautiful, you have to give it time. You have to go with the flow of the strokes, upward slightly and put more pressure going down but always end on a high."
She relates it to how she views life: There has to be time to pause, to connect and to give different entities of your life separate moments, then make it all come together and appreciate it as a whole.
'What really matters is family'
Her life is an open book and has always been. Some of its pages perhaps are not an easy read given her share of heartbreak.
In the second video, Kris talks about the good that came out of what others would easily dismiss as negative life events.
"Unfortunately, relationships in my life didn't work out but they did give me something a lot more precious. They gave me my two sons. And for me, what really matters is family," says Kris of her children — Josh, 22, and Bimb, 10.
"For us parents, our kids will always challenge us. They're going to ask really hard-to-answer questions. Other times, they'll force us to make hard decisions," she adds.
The "challenging" decision to go camping for the first time with her youngest in Caliraya in Laguna proved to be worth it. After all, you have a child gushing about the great time he's having "because I'm with you and the food was yummy."
Kris says, "Siguro kahit sinong parent, basta nakita mo na maligaya ang anak mo, gagawin mo talaga lahat kahit mahirap."
'There's merit in doing things step by step'
According to Kris, food is a big part of her life. In the third episode, she ventures into the kitchen to learn how to cook Laing from award-winning fashion designer and Bicol native Avel Bacudio.
As Kris and Avel prepare the iconic Bicolano dish together, viewers learn that you have to cook it slow and in low heat, without stirring the taro leaves otherwise it might cause "itchiness." Another important ingredient is good, quality pork.
Kris swears that cooking has taught her that a simple dish "actually has so many layers and so many processes," so much patience (and waiting!) is being practiced along the way. One thing is for certain though: "For me, the best tasting food come from heirloom recipes and shared by true friends."
'Sometimes, it's really the journey that counts.'
Kris doesn't drive but she goes for a spin with motoring journalist and car enthusiast James Deakin on "The Kris List."
The fourth episode tells viewers that whether you're on the wheel or in the backseat, you can take a proactive approach to road safety.
"Firstly, simply check your car. It's as easy as a visual check. You just walk around... Just because you have a brand new car doesn't mean that you know, you didn't run over a big screw that's poking out of your tire, that just a visual inspection would have shown you hey, that's not safe," James advises.
Kris also throws in a few more questions about road etiquette and female driver misconceptions.
In response, James advocates dashcams because "people would generally behave better when they know they're being watched." As for the lady drivers," he stresses, "I don't think there's anything in our gender that says a female is better or worse than a man driver. I think we're all created equally in that way."
For Kris, the experience teaches her that "for most of us, the goal is to get from point A to point B for us to reach our destination. But I'm learning that sometimes, it's really the journey that counts."
'Simple things are appreciated when done with love'
Bimb again appears in the fifth episode of "The Kris List," offering another glimpse of the mother-son dynamics.
Kris learns from Chef Martin Aresma (a corporate chef at the San Miguel Purefoods Culinary Center) how to spruce up Bimb's favorite pancakes, turning the breakfast staple into a treat that he can enjoy any time of the day.
"They're kind of better than the ones we have," Bimb weighs in on the new recipes with charming candor he obviously inherited from his mom.
For Kris, what she notices as a parent is that "when you're a working mom, especially when you get home tired but you make the effort to cook for your kids, they really never forget that."
"Simple recipes are really delicious for our kids especially because (the food) comes from love," she adds.
These videos reaffirm her status as a top endorser, with The Kris List having the support of leading products and brands like Petron Corporation and San Miguel Corporation (including Purefoods and Monterey).
And "The Kris List" continues with more episodes uploaded on her official Facebook page. She tells viewers that the list will not only introduce new things she believes in, but it will also open up new experiences she knows will test her strength and faith. Nevertheless, the first five episodes have since generated about 4 million views. This goes to show how much interest there is in the answer to the question, "What else is next?" for the multi-media star. Indeed, keep the faith, Kris, and carry on.