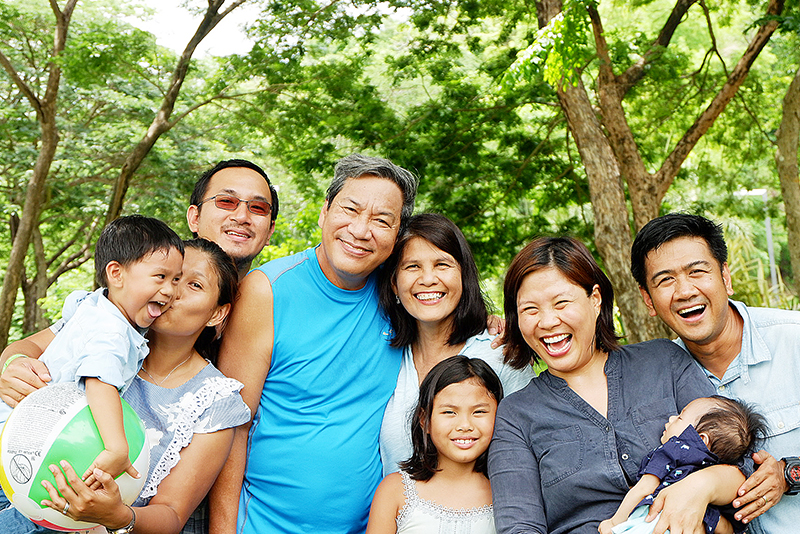 Andre and Len Cruz with son Alex, Rico and Ester Supangco, and Mike and Beth Dela Paz with children Andrea and Mico.
Like father, like son (in-law)
(The Philippine Star) - June 17, 2017 - 5:00am
Any father grows a bubble of protectiveness when his daughters start receiving suitors, like when Dr. Enrico "Rico" Supangco, dean and professor at UP Los Baños College of Agriculture and Food Science, met his now-son-in-law, Andre Cruz.
"Since Eleanor was my youngest daughter, I was kind of protective. But eventually, I gave both of them the space and trust," Rico says. Andre is a geotechnical engineer while Eleanor is a chemical engineer who recently quit her job to be a full-time mother to their two-year-old son, Alex.
Rico also recalls a time long before the young couple got married: "I remember the time when they broke up and my daughter was really sad and angry. I just provided my daughter support. By coincidence, while Eleanor was studying in UP Diliman, Andre was also taking up his master's degree. They met and renewed their relationship and, later on, got married. Now, we usually joke that their relationship is like a light switch — off and on," he shares; while Andre quips, "When I asked him permission to propose marriage to Len, he just said that we were both at the right age and gave me positive advice."
"Strict and serious" was Andre's first impression of his father-in-law. "I have had a high regard for him because he is a professor in UPLB. When I met him while I was still courting Len, he was nice to me and I felt welcome to the whole family," he says.
"He is a very loving father to Alex and a loving husband to Eleanor. They love to go out as a family, thus strengthening their family bond. Andre is also very supportive of Eleanor's projects, such as baking cakes and pastries," Rico says, adding that he and his son-in-law have a lot of similarities. "We are both quiet, soft-spoken, hardworking and family-centered." Both also like watching basketball. "Whenever we visit Dad, we often talk about basketball, specifically NBA," says Andre, who is a die-hard Spurs fan.
A father of three and a doting lolo to five little children, Rico "is always ready and willing to support in time of need," shares Andre. "He is very supportive of all our decisions and future plans. He gives us advice in career and the direction of our family."
"We have a very good relationship," Rico answers. "I allow them to be independent in raising their child. When they ask for my advice, I give it to them, but I always emphasize that at the end of the day, they will be the one to decide."
This Father's Day, Rico wishes that his son-in-law continue loving Alex and Eleanor, to draw strength from them when faced with future challenges. Meanwhile, Andre expresses his gratitude to his second father: "Thank you for all the support, Dad. You are a good provider. We pray for your good health and look forward to your stress-free retirement when you can spend more time with the family, travel and relax more, and enjoy the fruits of your hard work. Thank you for everything. God bless you more! Happy Father's Day, Dad! We love you!"