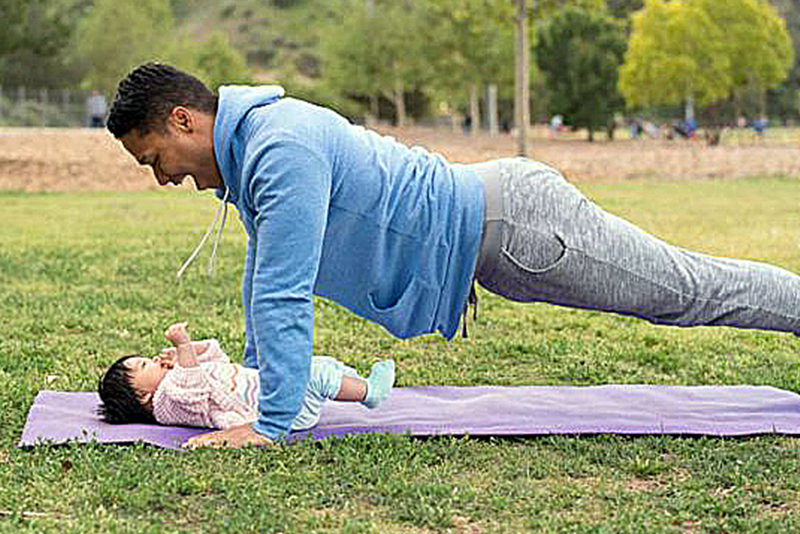 Who says you can't work out while babysitting? Photo from Fatherly.com
(The Philippine Star) - June 17, 2017 - 4:00am
Slightly chubby, firm but with a round beer belly. Few fathers are spared from the perils of the "dad bod." Upon having their first child, many tend to forget to maintain their physique in lieu of new responsibilities.
And while the dad bod may somewhat be widely celebrated in social media, nothing trumps sporting a healthy and fit physique at your prime.
Here are some tips to get you started on the right path without having to make any major lifestyle changes.
Stop drinking empty calories
Instead of having your meals with glasses of sugary iced tea and soda (even diet soda), opt for water or black coffee and tea with no additives for near-zero calorie alternatives. Unless it is made of 100-percent natural ingredients, fruit drinks and juices are often packed with artificial flavoring and sugar content, so it's best to have it only in moderation. Beer, wine and spirits are also sneaky calorie culprits that should be avoided when losing weight.
Have fun with the kids
Children are bursting with infectious natural energy and playing outdoors can be a rewarding experience. Apart from spending quality time with your kids, you'll also be giving yourself a proper workout. If your children are a little older, why not try out some sporting activities together like basketball or even hiking?
Sneak in some exercise
Start thinking about how you can incorporate simple physical activities in your daily routine. Take the stairs if your apartment or office is only a few levels up. Park your car a good distance away to get extra walking done. Lift some weights while you watch TV or while your video games are loading for a quick strength workout. The possibilities are endless if you just get creative.
Moderate your snacking
Easier said than done, limit your meals to simply breakfast, lunch and dinner. Refrain from snacking in between meals and say goodbye to junk food such as fries, ice cream, chips, sweets etc. If cravings persist, search for a healthier alternative that will work for you like cucumber and carrot slices with a low-calorie dip or air-popped salted popcorn.