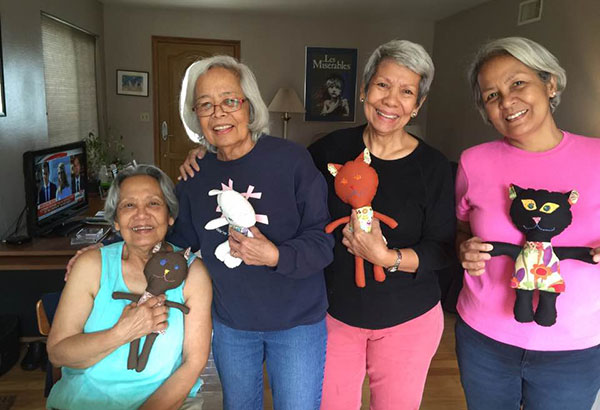 Sisters' Summit 2017: Barbara Paredes Sumner, Patricia Paredes Magee, Paulynn Paredes Sicam, and Lory Paredes Tangonan with handmade souvenir dolls made by Paulynn's daugher Monica Sicam Gutierrez
Safe in each other's hearts
In a world close to chaos, many are in search of safe places from the danger of violence, anger, anarchy, death. One could be strolling down London Bridge or gazing at Notre Dame in Paris, or rolling the dice at the casino in Resorts World, and be the unwitting victim of a crazed killer. Sitting in a movie theater in LA, I thought of that gunman in the US who, some years back, mowed a movie audience with a high powered rifle. I can no longer sit at an airport gate confident that I am safe from a violent attack.
We are never really sure we are safe. Aside from the madness of the growing gun and terrorist culture, we are constantly warned of the possibility of earthquakes that could disrupt our lives in a major way. In quake-prone California for two weeks, with brief stopovers in Tokyo, another quake zone, and now back in Manila where I could be one of the 35,000 fatalities of a major quake that is due at any time, I have had to re-think my idea of what a safe place is.
I found it in San Diego in the company of my three sisters, a daughter, and a niece at our hastily planned but perfectly executed Sisters' Summit late last month. For three days and four nights, the six of us found a safe refuge, where neither war nor politics, illness or any bad news, Trump or Duterte, could disrupt our bonding.
We talked, reminisced, analyzed, gossiped, tore apart family myths and built new ones. There was much to go back to, precious memories of our parents and other elders, and of us 10 kids and our numerous cousins growing up in close proximity. Just when we thought we had exhausted the family stories, our oldest sister would share anecdotes only she could remember, giving us new insights into our past and who we are at present.
We spoke freely, letting our guards down, discarding filters, calling a spade a spade, and no one got offended. The two "young ones," ages 46 and 50, listened to us in a mixture of amusement and awe. It was liberating just being ourselves, unloading our personal baggage, confessing our weaknesses, and laughing at our emotional scars and imperfections, knowing that as we dissected each other's lives, there would be no judgement, but only compassion, acceptance, and a lot of laughter and tears.
As we chatted, we would spontaneously break into songs from the sound track of our youth. A visiting nephew remarked that being in the family was like living in a musical. We went through the repertoire, often in harmony, including Christmas carols we grew up with.
Mostly, we talked, laughed and giggled and ate, from breakfast to way after dinner, when half the group went back to the Air BnB they rented for the occasion. We also took walks and went to Sunday Mass. Togetherness has never been so sweet.
We wondered if many other families would drop everything to get together like we do. Originally, I was going to visit our sister in San Diego who has not been well. When my daughter in Sydney learned about it, she decided to join me. An older sister in Oregon said she, too, was coming, which made our youngest, who was remodeling her house in Manila, decide she could not miss the gathering.
As the line in the movie Field of Dreams goes, "If you build it, they will come." And that is how our Sisters' Summit of 2017 came to be.
Our first summit was in 1985 in Stanford University where the journalism fellowship I was in was ending and my three sisters flew to San Francisco from Indiana, Oxnard, and San Diego for a reunion. There we recreated our group picture taken in 1957 where we stood shoulder to shoulder, arms around each other, from Babsy, the oldest, who was then 16, to Lory, the youngest, who was 6. In between were Tictac, then 14, and me, 10. We have done this again, renewing our sisterhood in Manila, Oxnard, and San Diego every chance we get in the past 32 years. One day, I will make an album of these photographs showing us growing in age and grace.
Our reunions have always been good but not always as wonderful as this last one. Our adult lives have seen us going different directions through different phases. And we have not always been in agreement. But we have always had each other's — our children's — backs. We have 12 children among the four of us, who take to each other like true siblings.
Now in our 60s and 70s, we realize there won't be many Sisters' Summits ahead. Our sister who is ill, worries that one day, she may not be able to recognize us. But I am confident that when all else fails, we will always recognize the love we have for each other. We are in safest place possible in a world wracked with hatred, violence, illness, and natural disasters. We are safe in each other's hearts.