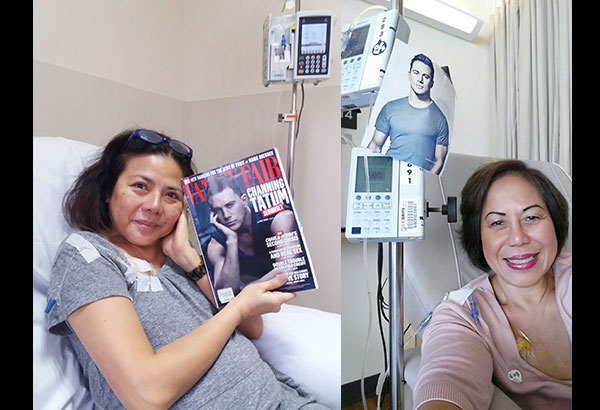 The author Twink Macaraig (left) and Dixie: "We all have our battles… But love for the former stripper, the sexy, hapless, self-confessed alcoholic Channing Tatum unites us all."
Hair fall and falling for Channing Tatum
Those who'd been through it had warned that it would be more abrupt. They swore your hair would drop in a solid chunk that would produce a discernible thud on certain surfaces. And, no matter how old you were, or how un-vain you thought you were, when you held that fistful of mane in your hand, as heavy as a fun-size bag of potato chips, you would weep.
Me, I merely noticed the shower drain needed de-clogging after every shampoo. Random acquaintances took to greeting me with brushing motions the way a mother rids her preschooler's clothing of junk food crumbs. Office janitors materialized with brooms the second I vacated my desk or any spot I'd lingered in for more than 20 minutes.
Maybe because my hair fall was relatively gradual, I didn't have the chance to cry. (I suffered only a degree of embarrassment that some people would realize that my previous 'do of longstanding was designed to disguise my bulldog neck.) It also helped that so many sistahs were offering all these upshots to hair loss.
They told me I was giving up blow-dryers, grey coverage products, rebonding (no longer becoming in someone my age, anyway), and discovering the wonders of cheap eyebrow stencils that could have me channeling Cara Delavigne with just a few idiot-proof strokes of a slanted brush. They told me I was saying goodbye to tweezing, waxing, threading and laser hair removal, and waving Ola' to the only way to get a Brazilian that involved no yanking. Baldness began seeming like a smart fashion choice rather than an unfortunate side effect of chemotherapy.
I can't emphasize enough what these superficial tips mean to cancer warriors. We like to pretend that the Big C can be beaten with style hacks and a saucy attitude. And while we appreciate it when people say we're looking good, or looking great, we prefer to be called Bodacious. Smoking. Mackable. If you're going to pay us a false compliment, might as well choose one that induces the girlish giddy giggles from when we were young and oblivious.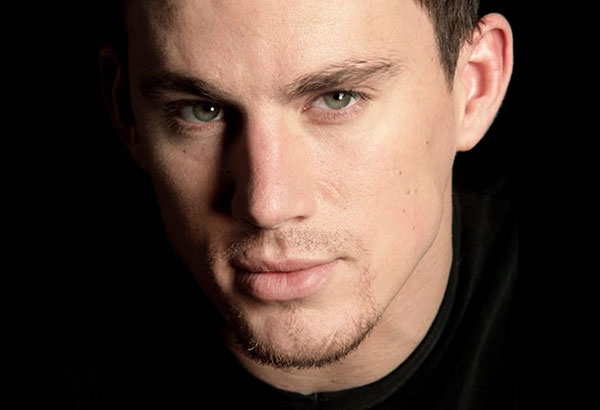 Take my classmate, Dixie, who's battling stage 3 ovarian CA. Backstopped by daily religious petitions courtesy of SSC HS Class of '82, she braved eight cycles of chemo and got into remission, whereupon she cashed in her 301k to tour Europe, sending us wish-you-were-here pics at every stop. But a recurrence hit just as she was considering an alternative career as either a cookbook author or a televangelist. The selfies ceased; she dropped out of the Viber group; her fight dissolved in the face of the all-too familiar agony that lay ahead. Two of us similarly cancer-afflicted, to whom Dixie confided her despair, could find no words to console her. Then, in a lame attempt at levity, we suggested: How about making believe that each CT session is a date with Channing Tatum?
Soon, Dixie was back in the Viber group, posting photos of herself, beaming in full makeup, with a poster of Tatum's meaty charms pasted onto the chemo machine. Classmates eagerly contributed to this fantasy. Some sent her fan paraphernalia. Some tested her fidelity with pictures of equally inappropriate — and unrealistic alternatives. A montage of Chrises — Evans, Hemsworth, Pratt, Pine — a butt-naked Uncle Jessie from Full House, a newly-single Brad Pitt.
#TeamChaxie spontaneously sprouted. Dixie lapped up obscene suggestions for what they should do on their next "date." She sought advice on how to deal with her jealous hubby. From the intensity of her engagement in these puerile discussions, we knew Dixie was back in warrior mode.
Which isn't to say that lewd propositions will work in every circumstance. When Shirley, another classmate, sent out a series of texts about her mother being rushed to the hospital, everyone obliged with requested prayers. But it took Dr. Donna to detect Shirley's panic beneath her FYIs — the medical gobbledygook and bureaucratic runaround turning her loopier than usual. The next post was a photo depicting Shirley no longer beside herself; Donna's reassuringly capable visage there instead.
Kind but kinda colorless, back at St. Scho, Donna wasn't top of mind for company. She steered clear of the barkada hijinx that could have jeopardized her childhood ambition to be a physician in the tradition set by both her parents. She was one of the babies of our batch, going directly from nene to manang, and skipping that interim period of partying and poor judgment that lays waste to one's complexion. Thus, today, Donna remains something of an anachronism; when long ago she was this preternaturally somber little schoolgirl, in her 50s she still looks like a freakishly serious 11-year-old.
Donna had returned to the Philippines after 25 years in the States. Even though she and hubby Joel, her first and only boyfriend (a doctor too, of course) were American citizens and had risen to an enviable level of prosperity, after toiling in underserved communities and moving 14 times, they decided to uproot their kids and reestablish their respective practices yet again. Time-consuming as this no doubt was, Donna still managed to become this quietly vital presence in our class — volunteering for medical missions, treating our kasambahays for free, contributing earnest — if doleful — karaoke renditions of Buttercup during mini-reunions.
When Joel, an interventional cardiologist, landed a cushy gig in Guam by virtue of his US Board certification and a specialization in great demand in the territory, we were all thrilled. Donna would enjoy the best of both worlds — she'd get to stay home, sweet home while her hubby made a greenback-backed living on an island paradise, with the commute between the two countries taking only as long as it would anyone traversing EDSA. It couldn't have happened to a nicer couple.
Except Joel succumbed to a massive stroke just hours before what would have been his Guam welcome dinner.
I was in hospital confinement at the time. I could only send helpless condolences as Donna dealt with transporting Joel's body back, the wake, the insurance, and all the stuff nightmares would be made of, if not for their lack of cinematic quality. The last communication I saw from her was a posted pic of a rainbow she'd taken from her Guam hotel room. Then, Donna, just like others for whom camaraderie had become the least of priorities, vanished.
So our high school Viber group reverted to exchanging sweet insipidities. Many weeks of nothing but birthday greetings passed when I thought to shake things up with a bit of idle trolling. As I settled into my own date with CT, I sent out a selfie with a magazine cover featuring the actor/dancer/superstar.
The outrage was swift and brutal. Through the din of recrimination I could hear Dixie's shrieks all the way from Sacramento. Some took my side. That is, they pronounced me no bigger a ho than Dixie (though between the two of us you'd be hard-pressed to find happier targets of slut-shaming). Others proposed some sharing arrangement in which poor Jenna Dewan did not figure. One classmate even took time from her duties as CFO of a Fortune 500 company to work out an equitable distribution of Channing Tatum's body parts.
Each text seemed intended to be more shocking than the previous one, either in language or full-throated support for wanton behavior. But none more so than: HOY TWINK AT DIXIE!!! MAHIYA KAYO. AKO DITO ANG NA-BIYUDA NOH??? BAGO KAYO DAPAT SA AKIN SI CHANNING!!! It was Donna.
We were all dumbstruck (or whatever the digital equivalent might be called). Seeing no rejoinders on our thread, I tapped out: Sige Doc. Tutal we've agreed to sharing, I'll keep Channing Tatum, iyo na asawa ko. Then I succumbed to the Benadryl being pumped through my IV line.
I awoke to the visage of a child, more solemn than Mike Pence, watching me. "WTF are you doing here, Donna?" I sputtered.
"Bakit? Kala mo maso-solo mo si Channing?" she deadpanned.
While she escorted me to my car, Donna explained that she could guess from my picture, what hospital I was in. And since there was some business of Joel's she needed to attend to here anyway, she headed over.
I knew that that wasn't entirely true. In typical Donna fashion, the picture had revealed to her not just my whereabouts but Channing Tatum's total inadequacy when the need for a flesh-and-blood hand to hold arose. I was deeply moved by the gesture. Still, I joked: "Sus, kunyari ka pa. Aminin mo na type mo pala asawa ko and you're here to take me up on my offer."
She replied, "Excuse me! Di hamak na matanda sa atin asawa mo. Di ko na kayang ma-biyuda uli."
We were both blubbering at that point. When we hugged, Donna whispered "We all have our battles, Twink…." The rest of the sentence was left hanging as we parted.
Since then, I've imagined the many ways to complete that thought. These are the ones I like to think Donna holds true:
"We all have our battles…
… "But our losses — whether in looks, health, sense of propriety or spouse — do not diminish us.
… "But we are stronger for the fighting.
… "But even as yours is different from mine, our respective trials have given us a common understanding of what makes life worth living, allowing us to connect and draw strength from each other, creating a solidarity greater than the sum of its parts, the way the components of Voltes V volt in to defeat the Boazanians.
… "But love for the former stripper, the sexy, hapless, self-confessed alcoholic Channing Tatum unites us all.
… "But you are never alone."