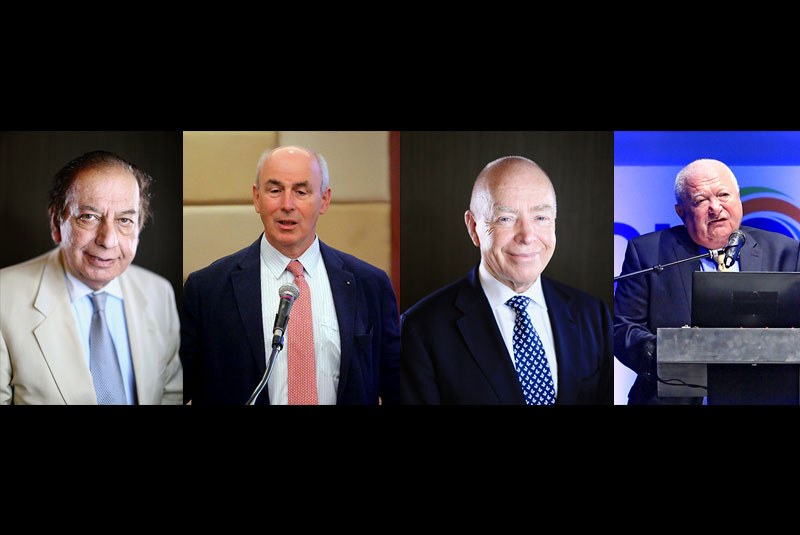 Dr. Paresh Dandona, Dr. Siegfried Kasper, Dr. Rod Baber, Dr. Reuven Zimlichman
ECHO Summit 2017: Are your arteries aging faster than your physical age?
What happens when some of the world's renowned medical experts come together for a conference? Expect to learn about the state of the world's health, as well as the evolving medical trends.
Of course, we're talking about the ECHO Summit, where for the past three years, United Laboratories (Unilab) Inc.'s specialty clusters (LRI-Therapharma, BioFemme, and Medichem) have been flying in global medical experts to pick their brains as they share the latest innovations and trends in medicine and medical research.
Echoing that, Dr. Caridad Purugganan, BioFemme medical director and a member of the 2017 ECHO Summit organizing committee, explains, "ECHO Summit is an expert multi-specialty conference usually targeted at internists. Aside from the topics of neurology, cardiology, endocrinology, and women's health, which were started last year, this year's summit focuses more on degenerative conditions . . . ECHO is an advocacy that doctors will continue to seek out and rely on for new concepts on various management options. It is an avenue where Filipino medical practitioners could look forward to getting expert opinion from global experts, the best in their fields, who have been invited to the country."
(The first summit held in 2015 drew over 1,000 medical practitioners.)
This year's ECHO focuses on the theme "Pearls and Pitfalls in the Diagnosis and Management of Silent, Degenerative Diseases." Coming in for the summit were four specialists in hypertension, endocrinology, obstetrics and gynecology, psychiatry and psychotherapy, with focus on degenerative diseases. Meet this year's ECHO rock stars: Dr. Rod Baber, clinical professor of obstetrics and gynecology at Sydney Medical School; Dr. Reuven Zimlichman, chairman of the Department of Medicine and head of the Department of Hypertension at the E. Wolfson Medical Center in Tel-Aviv; Dr. Paresh Dandona, professor at the University of Buffalo and founder of the Diabetes-Endocrinology Center of Western New York; and Dr. Siegfried Kasper, professor and chair of the Medical University of Vienna Department of Psychiatry and Psychotherapy.
So, what's up, Docs?
Dr. Rod Baber talked about the role of proper lifestyle and diet in preventing the early onset of osteoporosis, especially in women in their menopausal years. Because of hormonal changes, menopause could hasten the fragility of bones (the average age of menopause among Filipino women is 48, meaning women spend half of their lives in menopause). He stressed the importance of building one's bone mass to prevent early brittleness of bone structure that could lead to osteoporosis.
Dr. Reuven Zimlichman discussed one of the most common degenerative diseases: arterial aging — the functional and structural changes in the blood vessels that come with age. Did you know that your physical age may not be the same as your arterial age? If your arteries get older faster than your chronological age, you could be a candidate for cardiovascular disease like hypertension, myocardial infarction (aka heart attack), stroke, or renal failure.
What causes your arteries to age faster than yourself? Risk factors include genetics, smoking, alcohol, lack of physical activities (or a sedentary lifestyle, where the only exercise you know is bending your principles), mental stress, and unhealthy diet.
"The take-home message of Dr. Zimlichman's talk is that if you opt for wellness and a healthy lifestyle as early as possible, then you would prevent the onset of degenerative diseases much better," Dr. Purugganan points out.
Note that "chronic, degenerative diseases (heart disease, stroke, cancer, diabetes, osteoporosis) are the most common, costly, and preventable of all health problems." Cardiovascular disease is a leading cause of death in the Philippines, with Filipinos exposed to one or more risk factors.
For his part, Dr. Paresh Dandona lectured on the latest breakthroughs on the effects of testosterone replacement treatment in people diagnosed with diabetes. The good doctor focused on how improved testosterone (male sex hormone) level, particularly through testosterone replacement, could not only boost a man's sexual function but also increase insulin sensitivity in men diagnosed with diabetes. Dr. Purugganan explains that what this means is that in addressing diabetes, we're no longer talking about glucose control but also managing levels of other hormones, such as testosterone.
Finally, Dr. Siegfried Kasper makes this heartbreaking disclosure: Diabetes and cardio metabolic syndromes can lead to complicating factors, particularly mental disorders like depression and anxiety, among diagnosed patients.
Dr. Purugganan elaborates, "Depression itself is a serious condition which might go undetected and underreported. Now, it's a risk factor for people diagnosed with cardio metabolic diseases."
Dr. Purugganan gives this final prognosis: "We Filipinos are living longer, but the question is what's our quality of life? It's the quality that is very relevant. People may not be aware that they can do something to address degenerative diseases, which is a way of improving the quality of life."
Often, what really counts is not so much adding years to one's life as adding life to one's years.