Kara David shares joys, travails of being a single mom to daughter Julia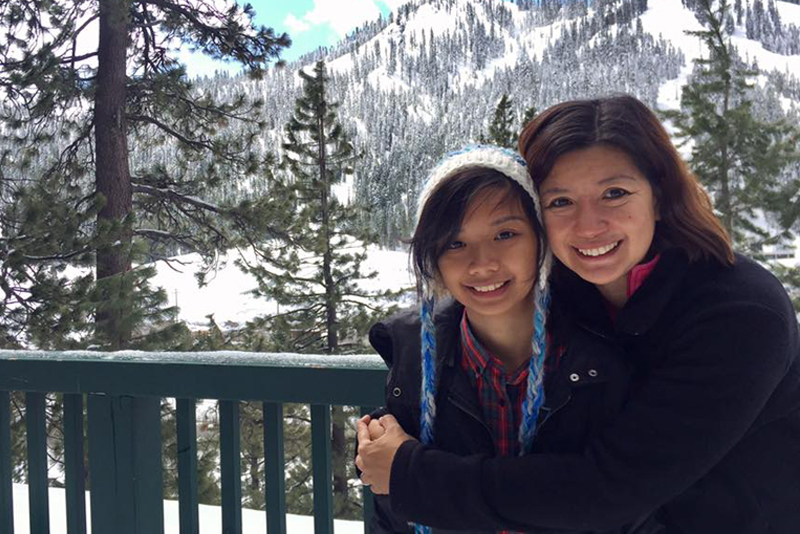 MANILA, Philippines — News personality Kara David lives hectic life. She hosts morning news telecast "News To Go" and food magazine show "Pinasarap" on GMA News TV, and continues to write, produce and host documentaries for "I-Witness" on GMA 7.
Off air, she's a triathlete active in various competitions for the sport and is a graduate student of MA Philippine Studies at the University of the Philippines. She also devotes her time to helping the less fortunate in far-flung provinces through her non-government organization, Project Malasakit.
When she's not doing all of these, Kara spends her time with her only child Julia, whom she raised as a single mother. The 16-year-old Miriam College student looks a lot like her mother and is promising to be a talented personality on her own right.
The Philippine STAR talked with the mother and daughter tandem for a hearty discussion on single motherhood in time for Mother's Day.
Kara
Tell us about your childhood: Your parents, where you grew up, how your childhood was, where you studied.
Both my parents are professors at University of the Philippines. I grew up in the university. My parents are very cool. Wala kaming curfew and they don't pressure us to get high grades or excel in school. Basta ang gusto lang nila, masaya kami. Lagi nilang sinasabi na, "Happiness is success, not the other way around." True success is when you are able to live your life the way you imagined it, when you are able to pursue your passion and use this to help your country/fellowmen.
At what point in your life did you decide that you wanted to be a broadcast journalist?
I originally wanted to be a historian like my grandfather. I took up history in college. But I was too adventurous for my classmates in history. I get annoyed when all we have to do is just go to the library and read books. I wanted to explore the world. Nag-shift ako sa BA Broadcast Communication kasi my barkada was there. And mahilig ako manood sa mga artista, mga DJ at pop stars. My dad initially didn't approve of my decision. But he told me that if I wanted to pursue Broadcast Communication, I should make a commitment to be good at it and become an excellent journalist in the future.
What were your initial thoughts when you realized that you are going to be a single mother?
Fear. I was overwhelmed by it. Kakayanin ko ba ito? Mabuti na lang at very supportive ang parents ko. Malaki ang tulong nila sa pagpapalaki kay Julia.
Before I had Julia, I was your happy-go-lucky, live-for-today, free-spirited, daredevil kind of girl. Medyo ganun pa rin naman ako ngayon pero mas maingat na ako. Iniisip ko na mas lalo ang safety ko kasi alam ko may isang nila lang na umaasa sa akin. I also felt my perspective in life widen since Julia came to my life. I now know that I have a bigger obligation to make this world a better and more humane place to live in because my child will inherit this in the future.
Give us a brief background about Julia. How old she is now, what grade level is she in school, what is she currently active in.
Julia is 16. She is incoming Grade 12 in Miriam College. I'm blessed to have her in my life. She is very mature, independent, brilliant and very talented. She is an artist (she draws really well); she plays the flute, does figure skating. One summer she joined an acting workshop. She is in love with Japanese culture and is fluent in Nihonggo. Marami siyang interests sa buhay. Every day I am amazed by my daughter's talents. Iniisip ko palagi: Anak ko ba talaga ito? But what I love most about Julia is her heart is in the right place. Malinaw sa kanya kung bakit siya nandito sa mundo at ano ang obligasyon nya bilang isang tao at bilang isang Filipino. She plans to take up Molecular Biology or any science course that will allow her to research on cells and bacteria, etc. she wants to find a cure to epidemics and health emergencies that plague the country. She especially wants to uplift the status of public health in the rural areas of the Philippines.
How do you balance raising Julia and your work as a broadcast journalist and as well as your outreach activities in Project Malasakit?
I don't know too. I guess it's really just time management. I feel guilty most of the time because I cannot be like other regular moms who can always be beside their children. I have several jobs to do in order to provide for the both of us. But, at the same time, I can't just leave behind my responsibility toward my other "children"—the scholars of Project Malasakit.
Julia
What makes your mother a hero mom? What are the things she did while raising you that you find heroic?
Despite being busy all the time, my mom always tried to fix her schedule whenever I needed her help. She's also my motivational speaker because she constantly reminds me that there is a solution to any problem as long as I am determined enough to solve it.
What do you particularly like about your mom's work? What are the things she does at work that makes her heroic?
Based on experience, I know her work is quite stress-inducing and tiring but I know she's doing it because she loves it. She's a hero to me because with any difficult topic given to her she'll always find a way to make it easy for her audience to understand
Do you also participate in your mom's activities in Project Malasakit? What activities do you particularly like about the program?
Because of schoolwork, I don't participate as often in my mom's outreaches but whenever I always liked the feeling of enlightenment and joy for being able to help those in need. My favorite activity will always be when we gave the donations because I'd always see the bright smiles of children as they finally get new school supplies, bags, or shoes.
Kara
As Julia was growing up, what values did you emphasize on her to live up to? Who or what influenced you in choosing these values?
Love for country and your fellowmen. Compassion. Striving for excellence. Pursuing your passion and using this God-given talent to help others. Ito rin naman yung mga bagay na itinuro sa amin ng aming magulang. Malaki ang ambag ng aking mga magulang sa aking pagkatao. I'm just passing it on to Julia.
What answers do you give when Julia asks about the "tough, sensitive or meaningful questions" in life such as puberty, or relationships, pursuing dreams or the meaning of life?
Julia and I talk a lot. I enjoy telling her stories and I also enjoy listening to her. She is a very insightful young lady. I learn a lot of things from her. I'm not that good at giving advice or analyzing someone's life, but I'm a storyteller. I'm good at listening to and telling the stories of other people's lives. So every time Julia asks me a question, I tell her a story. Kinukwento ko yung buhay at karanasan ng mga taong nakakasalamuha ko, in the hope that, eventually, she can make her own decisions based on the stories and experiences of other people. Marami akong napupulot na insights from the people I interview. Marami akong natututunan sa wisdom ng mga indigenous peoples, child laborers, mothers, people from poor and remote communities. Yung mga taong madalas di pinapakinggan, marami kang mapupulot na wisdom sa kanila.
Julia
Do you see yourself following in your mom's footsteps and why?
Ever since I was a child, I never liked the feeling of being on TV or being a journalist because I was always shy and reserved. However, even if I don't see myself becoming a journalist I know for a fact that I yearn to help those in need as much as my mother did.
What is your message for your mom this Mother's Day?
Mama, maybe I don't always tell you this as much as you do to me but I appreciate everything that you do and you always make me happy everyday! You're a big inspiration to me and I love you so much! Happy Mother's Day!