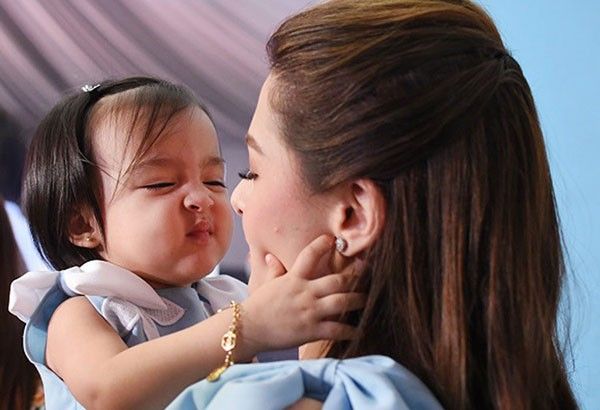 Cute, Mommy!: Zia in a bonding moment with Marian
The a to Zia of parenting from Marian & Dingdong
Showbiz couple Marian (nee Rivera) and Dingdong Dantes candidly confess at a media launch that they now face their most challenging role yet as this does not come with a script: being first-time parents to Baby Maria Letizia "Zia" who turned one last Nov. 23.
Wearing a dainty powder blue dress adorned with flower patches similar to her daughter's, Marian goes up the stage carrying the adorable Baby Zia who grabs the mic from her mom and greets everyone, "Hi!" Of course, there's Daddy Dingdong, who looks like he forgot to shave and comb his hair, following closely behind.
Worried mom Marian
"Sobrang nag-aalala ako 'pag nilalagay ni Dingdong sa balikat nya si Zia (I'm extremely worried when Dingdong puts Zia on his shoulders)," Marian tells the young mommies at this lunch affair to launch the Dantes family as the endorsers of Johnson's #Dadventures. "But I know he'll take care of Zia because he loves her so much."
Herself an overprotective mom, Marian sends this message to all anxious moms, "Sa mga nanay na sobrang protective sa anak, puedeng-puede na mag Dadventures (To all overprotective mommies, your child can now engage in Dadventures)!"
Johnson's refers to Dadventures as those "special moments of bonding, exploration, and learning between Daddy and toddler." Think rough-and-tumble play, tickle fights, and crawl races.
A global survey says that a staggering 40-percent of daddies say that mommies tend to say no to #Dadventures. The reason is that moms often worry that their toddlers could get hurt if their dads get too rough. Especially because up to age 7, a child's skin is still considered developing (rough play could expose a child to scratches and injury).
Stricter than Dingdong
Marian discloses, "Sa totoo lang, mas strict ako kaysa kay Dingdong at hindi ako pumapayag sa rough play noon. Pero ngayon, with Zia's skin protected by Johnson's, aba puedeng-puede na talaga mag Dadventures ang mag-ama ko. Dati akala ko mild lang or nakaka-ganda lang ang Johnson's Milk, 'yon pala nakakapagpatibay din sya ng skin (Truth is, I'm stricter than Dingdong as a parent and I did not allow rough play before. But now, with Zia's skin protected by Johnson's, Dingdong and Zia can now do Dadventures)."
Marian is talking about Johnson's new line of baby bath and baby lotion products, Milk+Rice and Milk+ Oats that harness the healing, balancing and calming powers of oats. Johnson's Milk + Rice is fortified with 200-percent more skin vitamins while Johnson's Milk + Oats locks in moisture for up to 24 hours so skin feels strong and healthy after just one use.
Marian adds, "Medyo OA ang mga mommies (when it comes to protecting their toddlers). Kaba ng mga ina. Kailangan i-balance lahat."
Dad's incredible
For his part, first-time dad Dingdong declares, "Fatherhood is incredible, it's very challenging. It's an ongoing process of learning the proper things to do. Mahirap pero masarap!"
Zia and Dingdong are the first father-and-daughter pair to try the various #Dadventure camp activities spread around the ballroom at Dusit Thani Hotel before everybody else. The inquisitive Zia happily hops from one activity station to another. Dingdong later shares that the kinds of tasks they had to accomplish are just like how he and Zia play at home, with Marian watching on the sidelines.
More than just fun for both parent and toddler, #Dadventures help promote the child's happy, healthy development. Dadventures encourage healthy brain development, aid in a child's gross and fine motor skills, improve their physical strength and tolerance. The key to a child's social development, exposure to new surroundings and stimuli helps a child develop empathy and form friendships, express feelings through play, and become more self-confident.
"Many local and international studies highly encourage rough play because it plays a vital role in a child's physical, social, and cognitive development," says camp counselor Professor Perlita De Leon, developmental psychology expert from UP Diliman.
Marian and Dingdong, says Johnson's associate brand manager Marty Gonzaga, are the perfect image models for Johnson's because they're truly hands-on parents. "Also, Marian has been using Johnson's products since she was a baby. And Dingdong, too."
Marty stresses, "Although we launched Dadventures this summer, they should be done year-round, not just during summer because kids really benefit from rough-and-tumble play."
Sleep, my darling baby!
All through the camp activities, Zia was bright and alert, never sleepy-eyed. Which brings us to Johnson's sleep log and sleep analysis.
With the sleep log, parents can closely monitor their baby's sleep patterns by logging in his sleep schedules — the times and number of hours the baby sleeps and wakes. This feature even produces a sleep analysis score that comes with recommendations from Johnson's sleep experts.
Research shows that ambient sounds can help induce sleep — for adults as well as for babies. With this feature, parents can play DJ and mix up to four ambient sounds at one time — just the way your baby likes for bedtime.
Johnson's BedtimeTM boasts a wide assortment of lullabies that parents can pick from (but do make sure, dear parent, you don't doze off before your baby does)! You can even set a playlist of up to four songs with no interruptions or advertisements.
From a to zzzs
Whether they're insomniac or not, parents have direct access to Johnson's sleep experts who can answer all their sleep-related questions (not already addressed by the sleep analysis feature).
For newbie parents like Marian and Dingdong, their little baby's sleep is one big concern. To compound the issue, there are just too many bedtime myths going around. Johnson's experts give the facts behind the myths:
Myth 1: "My baby is just a poor sleeper. There's nothing I can do about it."
Fact: There's no such thing as a "poor sleeper." The trick is to help your baby get more familiar with bedtime. According to several sleep experts, one of the most effective ways is by establishing a bedtime routine.
Johnson's recently came out with the first scientifically-proven bedtime routine, which consists of three simple steps: bath, massage, and quiet time. When used with the official line of bedtime products — made with Natural Calm aromas and a No More Tears Mildness formula — it guarantees your baby an additional one hour of sleep, after just seven days.
Myth 2: "Babies wake because they are breast fed."
Fact: Plenty of factors could affect a baby's sudden waking in the night — it could be caused by a genetic predisposition, developmental age, environment, or even previously introduced sleep habits.
Avoid feeding and rocking your baby before putting him/her to sleep because this may also enforce an unnecessary habit that he/she may carry with him/her when growing up.
Myth 3: "If I get my baby tired enough, he'll be able to sleep through the night."
Fact: Babies actually benefit from sleep more than we think, so it's important that we don't deprive them of these by trying to desperately get them to sleep.
According to Dr. Agnes Tirona-Remulla, ENT-head and neck specialist, who sub-specializes in sleep medicine and surgery, babies gain three things from sleep: physical, emotional, and cognitive development — stronger immune system, proper weight regulation, improved social skills and mother-child interaction, enhanced learning and memory.
Myth 4: "Don't give your baby a bath at night! He'll catch a cold."
Fact: This is probably one of the most common bedtime myths Filipino moms hear. Contrary to what our elders say, giving our babies a bath in the evening is actually a good way of preparing them for sleep.
The warm bath loosens up their muscles and helps them relax, signaling them that it's almost time to go off to dream land.
Myth 5: "I'll wait until my baby is a toddler to help him sleep better."
Fact: It's no easy task to teach your baby how to sleep, so why delay it when you can start early? As Dr. Remulla said, the best thing about establishing a bedtime routine is that it instills good sleeping habits, as well as a good sleep schedule. This, in turn, guarantees both you and your child a longer, more restful slumber in the long run.
For more tips on how to sleep train your baby, visit www.johnsonsbaby.com.
Certainly, while Baby Zia may be getting all the zzzs she needs, Marian and Dingdong are not sleeping on the job!