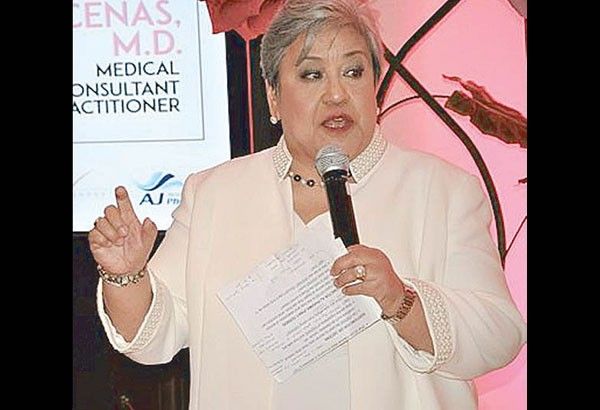 Obstetrician gynecologist Dr. Ditas Decena.
Are you sexually satisfied?
PURPLE SHADES
-
Letty Jacinto-Lopez
(The Philippine Star) - March 28, 2017 - 12:00am
Someone handed me a checklist that set the tone for a bloggable night:
1) Are you satisfied with your sexual function?
2) What problem is most bothersome to you: little or no interest in sex; low sensation or decrease in vaginal lubrication; failed orgasm; pain during sex? In short, what is the state of your sexual life?
Two prominent doctors opened up this subject that for many generations have been kept under wraps, if not spoken in awkward, nervous whispers. Some simply dismiss it because they have had active sex and are either too tired or overwhelmed by the responsibility of raising more babies. Others, beset by postmenopausal aches and pains, have completely lost interest in it, avoiding it in fact.
"Masters and Johnson lied!" exclaims Dr. Margarita "Margie" Holmes. Margie is a popular psychologist specializing in sex therapy in the Philippines. William H. Masters and Virginia E. Johnson pioneered research into the nature of human sexual response and the diagnosis and treatment of sexual disorders and dysfunctions.
Margie continues, "Sex is not defined by a mere sequence of feelings set in a particular order: desire, arousal, orgasm and (satisfactory) resolution. We should avoid generalization." Note, however, that men and women react to sex differently.
"For women, arousal comes first before desire and that's why foreplay is essential." (Attention: men!) "Keep the foreplay going for at least 40 minutes before leading your woman to the next level — a heightened level. If orgasm occurs, that's fine, but mind you, orgasm should not be the goal. Lovemaking is."
"Women, however, must not be shy violets. You must tell him what you want, even coax him through it or even take the lead," says Margie.
"Take Pamela Harriman," Margie enthuses.
(Pamela was a well-renowned society courtesan in the time of champagne and pearls. Her last posting was as US ambassador to France during the Clinton administration. She held a string of lovers, some of whom she married. Among them were: Randolph Churchill, son of Winston Churchill; Aga Khan, handsome, debonair leader of the Ismail sect of Shia Islam; Gianni Agnelli, founder of Fiat; Baron Elie de Rothschild of the French banking family; Stavros Niarchos, the Greek shipping tycoon; and other men of prominence and wealth. Pamela was characterized as having a "geisha-like devotion" to her men.)
"What did she do before joining her lover in bed? She washed her mouth with warm water," emphasizes Margie. That made for a hot, steamy, moonlight tryst. To another admirer, Pamela was the seductress who captivated him at six years old. How? She focused her deep blue eyes on him.
"You must be that kind of woman who splinters his soul," Margie stresses.
The myth that orgasm is equated only with ejaculation (for men) while women experience orgasm on their own, must be put to bed (pun not intended). Love still matters, and lovemaking is still the ultimate manifestation of physical intimacy that results in emotional and physical pleasure strengthening human bonding. Read: Keep it slow, romantic, passionate, and you snuggle afterwards.
"But I am in excruciating pain," cries a wife. "It is like a sharp blade slashing through me."
"That's lack of lubrication in the vaginal area, causing pain during intercourse," says Margie. "Women, single, married, and the elderly, experience FSD. Furthermore, they are shackled by a culture that frowns on the aged." ("Lolas are too old to have sex!")
(Aside: In a recent survey, same-sex partners are the most faithful; they are better lovers, making an effort to know what gives pleasure to their respective partners. The least faithful are gay men. The heterosexual fall in the middle — couples can be faithful but can also cheat!)
"Stop listening to what other people say," Margie concludes. "Take control and find a man who'd support you, body, sex, and soul."
From a medical standpoint, Dr. Ditas Decena talked about the interpersonal difficulties and distress associated with FSD. "Menopausal age is 50, while postmenopausal begins at 60," says Ditas.
"Young mothers who breastfeed exclusively experience non-ovulation, meaning they don't get pregnant, although the vagina is still subject to dryness, trauma, and pain. In medical terms, they're called dyspareunia (pain during intercourse); vaginismus (involuntary vaginal spasms that interfere with penetration), and noncoital sexual pain (genital pain following stimulation during foreplay). All these are evident in the postpartum stage."
"It is important to keep an open dialogue with your ob/gyn. Have your regular laboratory tests and physical exams to weed out symptoms of FSD that may be traced to diabetes, hypertension, or abnormalities in the other organs of the body. Your physician should tailor-fit your treatment based on these findings."
(Aside: Why do men die early? Because they have more androgens [testosterone] in their system. Aside from causing a lot of problems, they may even lead to early death.)
"Remember that the vagina (or birth canal) is a muscular tube," Ditas stresses. "Like other muscles, if you don't use it, it will atrophy. It will degenerate and decline in vigor or effectiveness." The key word is underused or neglected.
So, how does one get rid of the searing pain?
There's this topical cream that restores the natural moisture in women's dry areas. It is neither hormone-based nor synthetic but made from natural plants like visnadine. Ditas cautions, "Consult your ob/gyn, first. If you have no lesions or fungal infection, give it a try."
Maria, still a crackpot at the age of 82, was cornered by her granddaughter: "Mamita, do you still have sex with Papito?"
Aghast at the question, she squirmed, "Horrors! No way."
"Then, when was the last time you had sex?"
Mamita grinned, "Last night."
* * *
VSense Intimate Gel is imported from Italy by AJPharma and available in leading drug stores for P1,500 per tube.