Vionic: This footwear is made for walking
February 28, 2017 | 12:00am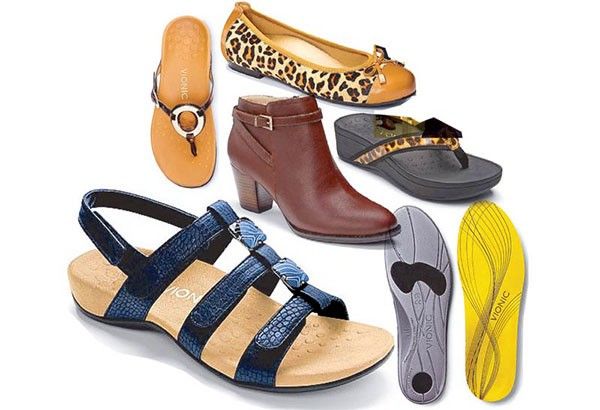 There's probably not a day when we don't whine about our feet after a long hard day. Oh, my aching feet!
Fashion-forward footwear brand Vionic gives us the lowdown on this common modern-day problem: You're wearing poorly designed shoes — shoes not meant for walking. Unfortunately, as that nursery rhyme goes, "We can't run away from our feet." Vionic to the rescue!
When Vionic opened a store at Uptown Mall, Gobal City, we naturally pointed our not-so-happy feet in its direction.
"The brand was started by a guy named Dr. Phillip Vasyli, a podiatrist in Australia with 30 years of experience," relates Michael O'Donnel, vice president of International Vionic Group. "Dr. Phil observed that the world around us is now made of hard, flat surface, which is not the natural environment. Our bodies haven't evolved as fast as we change the environment around us. Most people, if I ask the question, 'When was the last time you walked on a natural surface?' they would say it's a long time ago. Because of the hard, flat surfaces we walk on, people basically have to reach down to find their natural footprint, like the natural footprint you leave in the sand when you're walking on the beach."
He continues, "So, after 30 years of practice, Vasyli developed a generic contour or shape of shoe that would help to give people back a natural alignment."
More footnotes from O'Donnel: The American Podriatric Medical Association and the American podiatrists did some research and they estimated that about 75 percent of people would have some problem, maybe pain in the heels, sore knees or some problem in their lives as a result of this hard surface. Thus, Vasyli created this contour that would give a natural alignment.
Vionic's moldable orthotics feature deep heel cups that enhance stability, firm yet flexible midsoles to help feet bend more naturally, and an arch support that hugs the feet gently as if they're gliding on sand.
Gifford Chu, president, Easy Street Footwear Corp., took a leap of faith when he brought in the brand. "There's no other brand like Vionic in the Philippines. Some 70 percent of our people have heel pain at some point in their lives. So, Vionic can really help a lot of people."
Fact is, one of Vionic's sandals is clinically proven to alleviate heel pain.
O'Donnel is happy to share that we can put this biomechanical footbed that Vasyli created in all of our shoes. He says he, too, suffers from pain in his heels, "as a result of my arch collapsing. So, I have one of these in my shoes."
He adds, "Our brand was born in sandals. Australians wear a lot of sandals. Now, we're bringing this technology into our fashionable shoes as well."
O'Donnel observes that comfort shoes tend to be old and boring. Not so for Vionic, which fuses comfort with style seamlessly. "And we've found a very good partner in shoemakers here, they're doing a very good job with the brand."
Originating in San Francisco, California, where its headquarters is located, Vionic has found its way into Asia — Hong Kong, Philippines, Indonesia, Singapore, Taiwan, Japan, and Korea.
Vionic has a team of biomechanics experts, lower limb health experts, and designers who bring together style and science. For its launch at BGC, Vionic invited Dr. Roberto Lopez of the Philippine Orthopedic Foot and Ankle Society to take a look at our feet and find out what could be causing the pain we're perpetually complainng of. Just one look at mine and he knew what my problem was.
"Vionic is the only product I've seen on the market that has built-in orthotics that help my patients," asserts Dr. Lopez. "I used to recommend orthotics to my patients who have plantar fasciitis (a disorder that results in pain in the heel and the bottom of the foot). But now, I recommend Vionic to those who have this problem."
"I have seen how Vionic helps improve the body's alignment by merely aligning the feet in the correct position," explains Dwight Guieb, registered physical therapist. "If we achieve good alignment, we can eliminate most aches and pains in our feet and back, especially for those who stand or walk for a long time every day." And especially for pregnant women and those who are obese.
What makes Vionic an ideal foot companion is that it's designed in consultation with an orthopedic surgeon and podiatrist. "So, what they have is something that will support the daily problems you feel like heel pain, plantar's fasciitis, Achilles tendonitis," says Dr. Lopez.
He adds, "What's good about Vionic is it's got arch support and the material is soft when you step on it. If the shoe that you wear is really hard, it will cause pain. That area of your feet is mostly bone, skin, and fat. There's no muscle to cushion your weight."
We ask Dr. Lopez: Will Vionic cure flat feet?
He replies, "Flat feet are progressive in nature. What Vionic can do is it will try to prevent this condition from getting worse."
With Vionic, the heels are alive!
* * *
Vionic has stores at Uptown Bonifacio and Ayala Malls The 30th. For more information on Vionic, visit www.vonicshoes.com.ph, like them on Facebook at Vionic Philippines, and follow them on Instagram @vionicshoesph.