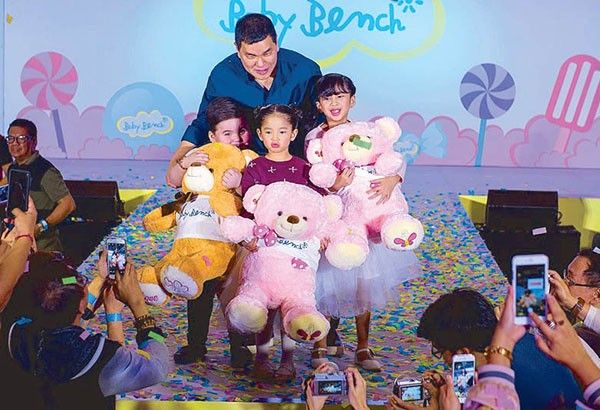 For kids and kids-at-heart: Ben Chan, founding president of Bench, the Philippines' most popular retail brand, and the country's most loved child phenomena, Sebastian "Baeby Baste" Arumpac and superstar sisters Talia and Julia Concio, celebrate the universal, ageless appeal of Baby Bench scents.
Meet Bench's youngest (and cutest) tastemakers
MANILA, Philippines - Once, there were child wonders, those tots who could steal the spotlight with their talents in song, dance, and comedic punchlines, their infectious cuteness as the cherry on top. Their star presence meant box-office hits, TV-rating gold, even a bestselling album or two.
But in the age of instant clicks, likes, and follows, a new breed of child stars is making it big in our small, digital screens. Still armed with extraordinary skills in performing, snappy personalities, and pinch-worthy cuteness, they capture our imagination further by being irresistible fixtures on our social media feeds, and, in doing so, adorably find their way into our daily lives. Welcome to the world of child phenomenon.
Trust global Filipino retail brand Bench to snap the best our pop culture can offer, even before their explosive rise, its line for infants and toddlers — Bench Baby — just found the sweetest young personalities whose stardom is just about to skyrocket.
Like its line of hypoallergenic, baby-friendly colognes in delightful candy-inspired flavors, as well as the neatly scented Bambino line of eau de toilettes, this new breed of child superstars and Bench endorsers has the same universal appeal that has instantly endeared them to fans and followers, both young and old. And just like these young ones' early career trajectories, the infectious Bench scents remind the kids and the kids-at-heart that just about everyone can make life so much sweeter, by making a splash in chasing their dreams ... and smell irresistibly lovable.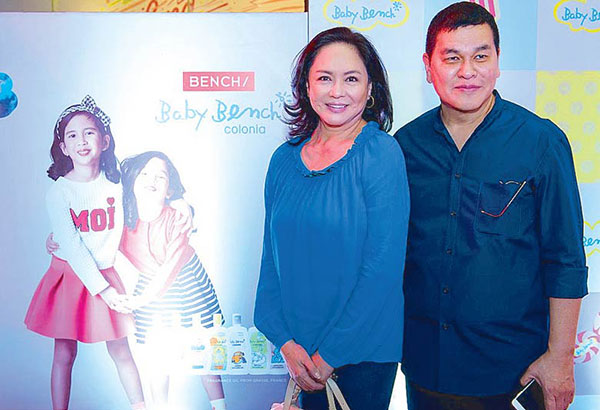 National Bae-By
It took a chance TV encounter back in 2015 for the country's longest-running variety show Eat Bulaga to realize that its Dabarkads needs one more person to make it complete, the presence of the Pambansang Baeby. It was the height of the AlDub craze, and the show needed a third wheel to complete the meteoric equation. Thus entered Sebastian Benedict Arumpac, widely known as Baeby Baste, the pint-sized boy wonder who soon became a larger-than-life noontime celebrity.
Some can call it luck, but meeting Baeby Baste up close can quickly reveal his captivating charm. Despite his young age, (he's only four years old), he has flawless comedic timing that can match his Dabarkads seniors. Add to that his rosy-cheeked good looks, and roundish features, and you got yourself a bundle of joy that is quick to bust a dance move, flash a smile, or serve up a punchline. No small feat for a four-year-old.
No wonder, Baeby Baste bagged Child Star of the Year at the 3rd PEP List Awards, as well as Best New Male TV Personality at the 30th PMPC Star Awards. But the most telling of his celebrity command are the numbers that tick on his social media accounts. He now has more than 962,000 followers on Instagram (@iambaebybaste) and almost 364,000 followers on Twitter (@BaebyBaste), making him the most popular toddler in the Philippines today.
"But who can resist Baby Baste?" asks Bench founding chairman Ben Chan. "Looking at him relieves me of my daily stress. He is simply adorable, lovable, and huggable."
Despite all this adulation, the not-so-tiny tot from General Santos still remains level-headed and humble, with just about the same dreams and desires as any four-year-old boy. And while it may seem like everything is fun and games, for Baeby Baste, being a child celebrity is something to work hard for, but always with some laughs on the side.
The Philippine Star: What is your favorite food?
Baeby Baste: Chicken and fish.
Wow, those are healthy. What about junk food or sweets?
Bawal kasi, mataba yon. Magagalit si Ma'am Jane (his manager). (That's forbidden because they're fatty. Ma'am Jane will get mad.)
What about school? Where do you go to school?
Hindi na. Graduate na ako. (Not anymore. I already graduated.)
OK, you're very advanced. Now, you can focus on work. What is it that you look forward to when you're not working?
Gusto ko sumakay ng airplane para pumunta sa Boracay, kasama si Mommy at si Papa. Gusto ko mag-beach tapos si Mommy dun lang sa hotel. (I'd like to ride the airplane to go to Boracay with Mom and Dad. I'd like to go to the beach while Mommy stays in the hotel.)
Sounds like a good plan. But do you ever miss General Santos?
Hindi na. Love ko dito sa Manila at sa Boracay. Gusto ko dito kasi dito na ako nakatira and nagwowork. (Not anymore. I love it here in Manila and in Boracay. I like it here because this is where I live now and where I work.)
When it comes to your workmates, among your Dabarkads, who are your favorites?
Si Ate Pia (Guanio), si Ate Pauline (Luna) at si Bossing (Vic Sotto). Hindi na si Bestfriend (Alden Richards) kasi lagi nalang siya nasa barangay. Love ko rin pala si Yaya Dub (Maine Mendoza).
And when it comes to Baby Bench, what do you like most about it?
Gusto ko yung colognes kasi mabango. Gusto ko yung Ice Mint. Ginagamit ko siya sa Eat Bulaga tuwing nagda-dance.
Sister Act
"My sister likes Elsa, but I'm more of Anna," says the younger Talia of the older Julia, calling dibs on the characters of the hit Disney sisterhood fairytale, just like millions of other tweens around the world would. But they clearly aren't your average sisters.
Julia and Talia Concio have a combined following of 51.3k followers on Instagram (@conciosisters) and their photo diary, updated almost daily, involves plenty of dressing up in frothy pastel dresses, superhero costumes, mix-and-match accessories, afternoon arts and crafts, and bonding with their parents. But what shines through most of their feed is the genuine love the two sisters have for each other.
The older, Julia, six, is a bit more poised and reserved, while the younger, Talia, five, is a bit more expressive and candid. But despite the Concio sisters' polar differences, theirs is a picture of how sisters can become the closest of confidants.
"Julia and Talia Concio are sisters who are not only young fashionistas, as you can see on their social media feed, but also very talented performers," observes Ben Chan. "They're kids every parent would want to have and kids their age can look up to."
They first commanded the spotlight together when they serenaded their grandmother Charo Santos-Concio with a heartfelt rendition of Somewhere Over the Rainbow at the 2015 Star Magic Ball. Other than a thunderous applause from the star-filled room, a leaked video on YouTube reached close to 50,000 hits.
Julia Concio
The Philippine Star: You're a really good singer. Is there a singer you look up to? Do you have a favorite song?
Julia Concio: I like Taylor Swift. I love her song Shake It Off. My sister also loves it!
What is your favorite color?
Jc: Purple! (Frozen's) Elsa's cape is purple, that's why I like it.
Who is your life inspiration?
Jc: My mom. I like the way she wears her necklace and her bracelets.
How do you see yourself when you grow up?
Jc: Maybe a singer. Also a preschool teacher. That's my ultimate dream. I also dream about being a cashier of a glasses store.
What do you love most about Baby Bench?
Jc: The colognes. I love Bubblegum and I sometimes wear Gummybear, too.
Talia Concio
The Philippine Star: What is your favorite candy?
Talia Concio: Lollipops. The most (flavor) that I like is strawberry because it's yummy!
It looks like you're a very talented actress. Is there an actress you look up to?
Tc: Yes. Kathryn (Bernardo) because she's good and pretty.
Who do you love most in the whole world?
Tc: My mommy... but I also love daddy. And yaya and my sister. I love my sister because she's my best friend.
How do you usually bond with them?
Tc: We play My Little Pony and Monopoly. Sometimes I win, sometimes I lose.
What do you want to be when you grow up?
Tc: I want to be a vet. I love animals. We have a puppy named Chewy, and a Yorkshire terrier named Gordon and a poodle named Bono. But Gordon is very makulit and Bono barks at strangers. Even Chewy is makulit because she's still a baby.
What do you love most about Bench Baby?
Tc: I love the colognes. I like the smell. I like Ice Mint.
* * *
The Bench Baby line of colognes and Bambino Eau De Toilette are available at all Bench outlets nationwide.