12 top tips to stay fit this holiday season
December 27, 2016 | 12:00am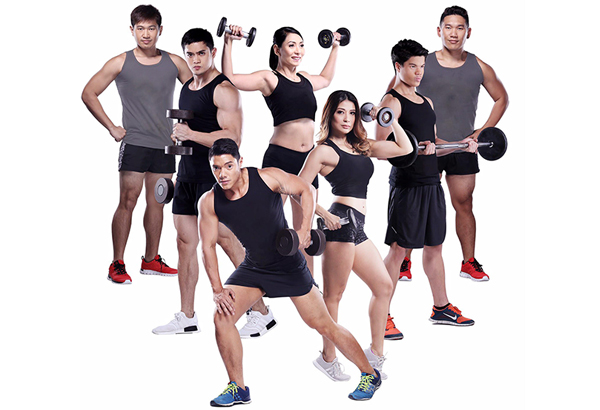 Christmas parties and reunions left and right, with buffet spreads and drinks a-plenty. Boxes of sweets and treats keep coming, how do you stop the pounds from adding?
This is the 19th year I am writing about this topic, so instead of gathering tips from foreign fitness experts like I used to, I asked local gym gods and goddesses who have become the shining beacons of hope for others still struggling to control their weight in pursuit of their best possible shape.
Here are the tips I gathered from one question: How are you going to maintain your weight/physique during this season of nonstop feasts?
Arnold Aninion, 2015 Mr. Muscle & Fitness Philippines
Lately, I have had a ton of people asking me what I do during the off-season and what I can recommend to them (in terms of eating and working out). Now, speaking for myself, I don't really have an off-season. I always stay ready, now what does that mean? It means ready for what life has to throw at me and that could be anything ... like a chocolate cake or roast chicken. Haha! So, how do I deal with that?
1) I exercise self-control and good discipline and don't binge on food ... as much as possible, focus on eating healthy. A great way to take attention away from eating too much is to give attention to the company around you. So, invest some time in sharing more stories with that long-lost cousin or the sibling you hardly see.
2) I will work out when I can (it's a habit I just can't break), but I won't be prioritizing the gym as much as spending time with my loved ones because the holidays are a time to celebrate all the great things we have achieved in the last year and to reflect on things we can improve or change next year.
But when all is said and done ... it's a time to celebrate your own greatness and it doesn't hurt to enjoy some of the finer things in life, like flavorsome dinner meals and a Christmas cake, but remember to stay active and go for a walk, bike with friends or hike. Wherever you are these holidays, I encourage you to find ways to be actively healthy so that you may enjoy many more holidays to come.
* * *
Sherelyn Go, Ms. Fitspiration 2016
No off-season for me. I still work out five times a week, watch my calorie intake, do macro counting when I need to attend parties, and stay focused on my goal.
* * *
Edsel Vengco, running coach
I still follow the basics, which is 80-percent nutrition and 20-percent exercise. Specifically, avoiding fast foods, processed foods, and alcohol (beer). I prefer to eat freshly cooked foods while watching the portions. For exercise, continue compound exercises (to burn more calories), variety (hiit, mobility & core, weights, and cardio) and consistency. I'm better off doing 30-minute workouts four times a week than two-hour workouts twice a week.
* * *
Joaquin Pedro Valdes, Mr. Gold's Gym Philippines 2016
Food choices. The best thing about Christmas and New Year is the spread of food ... more food means more choices. I'll head straight for the salad bar/greens options, then the beef or chicken options. A roasted turkey is always better than the fried stuff. Ditch the sauces or go light-handed on them if you can. Skip the starches if you're trying to cut, and hit the fruits instead of cake. But most importantly, have fun and create memories. Taste the treats but savor the moments. Fitness is only good when you're able to share the living.
* * *
Hilary Isaac, Ms. Gold's Gym 2016
My plan is to really just keep doing what I've been doing — making #smartchoices, which is one of my hash tags. It's all about knowing when to give yourself room to enjoy and let loose and then still being disciplined enough to put in the work! I start back on my daily cardio come January. For now, I'm enjoying catching up (finally!) on some naps and some sound sleep. But gym time is still a consistent thing as well as sensible eating. Fitness needs to be fun and attainable if it's meant to be sustainable.
Have small portions of a few things you don't normally get to eat, so you don't miss out, but also don't overindulge!
* * *
Ralph Du, BodyCon 2016 finalist
For me, I think enjoying the holidays is a must. And how I enjoy it is that I get to see food as more of a necessity when I hit the gym or have my workouts done. Parties are everywhere so for you to enjoy both sides of the coin, squeeze in a good workout before going to a party so your food has its purpose, as well as choose food smartly! Also, remembering that December 25 and January 1 are just two days and I won't let myself go as much like the holiday period is from Dec. 23 to Jan. 3.
* * *
Toni Roman, Youth Fitspiration 2016
Still consistent with my workouts even during the holidays, I try to squeeze in a 30-minute cardio session after each workout as well. It's still important that I keep a good mindset when it comes to my diet and I try to stay away from sweets as much as possible. At the same time, it's important that we enjoy this holiday season, don't be too hard on the diet but still keep the discipline and keep going with the daily grind.
* * *
Christian Du, BodyCon 2016 finalist
This holiday season, we as a family utilize the abundance of food to build muscles by scheduling all workouts, hours before and after a feast while still focusing on the macros.
* * *
Rey Talosig, Mr. Gold's Gym Philippines 2015
Contrary to the "philosophy of excess" that is being promoted by the media at times like these, I suppose this is a time for moderation. Sounds counter-intuitive, I know. All year-round, we are absorbed with work and how to inspire others. Now is the time to temper that and balance that with spending time and inspiring our inner circle, our family. Proximity-wise, now is the time to influence and inspire them through our lives, our actions. With the indispensable training, dieting tips, and the wealth of information provided above by our ambassadors of health and fitness, I just could not add more. Culturally speaking, it is extremely difficult to exercise control of our appetites, but it is all the more difficult to have our families exercise with us. There in lies the challenge. Hence, I plan to live the holidays by inviting the closest of my family members to train with me. Go to the gym. Run. Stay active. For as much as I love sharing a table with them, I would also love sharing a bench and a treadmill. After all, to some extent, we are who we eat with.
* * *
Culver Padilla, Mr. Fitspiration 2016
Training is nonstop during the holidays. When I'm faced with the delicious food, it's a conscious effort to control my intake. If the gym is closed, I resort to body weight exercises. But it's all about discipline.
Philip Abadicio, TV host
Eat the greens and the proteins. Not too much sauce and gravy. Skip all the fatty stuff. Control with the sweet stuff. And work out whenever you can!
* * *
Post me a note at [email protected] or [email protected]