Homeschooled kids to hold benefit concert for the urban poor
(Philstar.com) - June 17, 2016 - 10:47am
Today's youth are sometimes portrayed as passive or even spoiled, but I'd like to believe (and hope!) that our young people are the hope of the future, and the hope of our country as well. This belief and hope is affirmed whenever I come across children and teens who give back to others in their own way, no matter how big or small.
This is also why my husband and I are homeschooling our children, among other reasons. We want to expose our kids to service and, for us at least, making the world our "classroom" is one way to do so.
That's why we are thankful for the opportunities that come our kids' way to help those in need – opportunities like the upcoming "Musikalinga 2" concert on July 3, 2016 at the Tanghalang Nicanor Abelardo, UP Diliman, Quezon City.
Our son, along with other homeschooled children ages 5 to 17, will be performing at the concert. It is a collaborative effort of the kids, their music teacher Mr. Ford Pundamiera, and us parents, with the objective of helping and providing support for the less fortunate children in our society. The Homeschool Orchestra, as the kids are called, actually began holding fundraising projects in 2014, where they would not just showcase their musical gifts but also support a worthy cause.
The first Musikalinga Concert was held in 2014 and the concert's beneficiaries were public school children from Palo, Leyte. Those kids were victims of Typhoon Yolanda in November of 2013. Moved to make a difference using their talents, the Homeschool Orchestra traveled to Palo on four mission trips in partnership with Focolare Youth for the Start Again Project.
Our son was not able to join those mission trips but we were able to hear about what happened there from our friends who went. During the outreach trips, the kids and their families witnessed the devasatation that occurred in the Visayas and through the generosity of different sponsors, more than 400 children were given their own flute recorders and learned to play music—music that the trip organizers hoped would help them in their healing.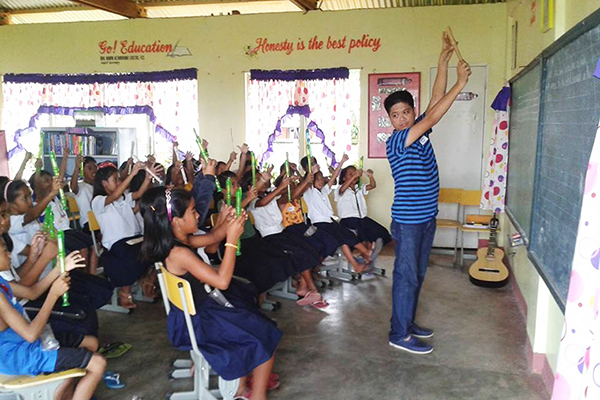 Later in 2014, our son was able to join the orchestra in a benefit concert for Pregnancy Support Services of Asia, an organization that ministers to pregnant women in crisis. It was another venue for using his talents to serve others in need.
Fast forward to today: As a continuing effort to be of assistance to others, especially in this Year of Mercy, The Homeschool Orchestra has identified the Tahanan ng Panginoon community as the beneficiary of Musikalinga 2 on July 3.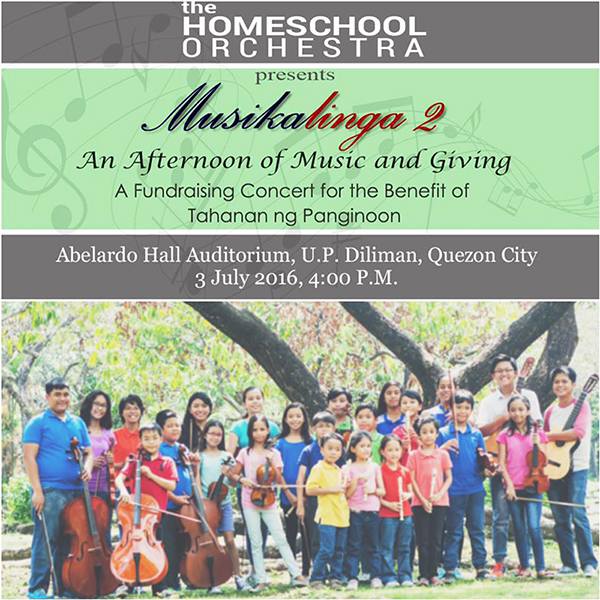 Tahanan ng Panginoon is an urban poor community that comes together once a week to learn about Jesus through Bible study, prayer meetings and Catholic teachings done in the vernacular. Elementary, high school and college-aged children join these gatherings and some wish to serve in the music ministry.
The proceeds of Musikalinga 2 will go to conducting music workshops for the Tahanan ng Panginoon children and even provide financial assistance for their studies through contributions to the Tahanan Educational Assistance Program (TEAP). This is because many of the kids drop out of school for lack of money, as is the case in many urban poor areas in the country.
We, the parents of The Homeschool Orchestra kids hope that these efforts will help plant the seeds of kindness and generosity in the hearts of our kids, and whoever will watch and support their concert. We know it may be just a drop in the ocean, but we're praying that God will bless our efforts – even just one life changed indirectly by Musikalinga 2 will make a big difference!
If you want to watch Musikalinga 2 or would like to share your blessings by becoming a concert sponsor, please feel free to contact me here or e-mail thehomeschoolorchestra@gmail.com.