Scorpion fish and beautiful corals in Verde Island
My sister Berta and her husband Ting are avid divers. They have a dive house in Anilao that they regularly go to. So, when I was approached by the California Academy of Sciences to do something for marine biodiversity, the first persons I thought of were them.
That was five years ago — since then, the idea has blossomed into what is now known as the SEA Institute, which they are finally launching.
We are such an amazingly gorgeous country gifted with rich agricultural land, breathtaking beauty, spectacular marine life, and exquisitely charming people.
With swelling pride, I present to you my sister Berta's vision: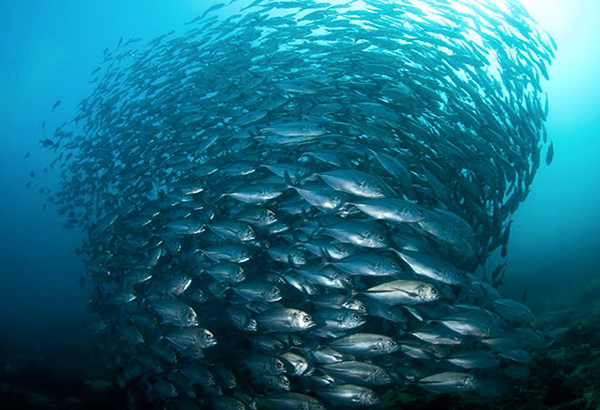 A school of jacks numbering in the thousands in Anilao.
Photos by BOOGS ROSALES
Have you been to the California Academy of Sciences (CAS) in the Golden Gate Park of San Francisco, California? You must go. Not only is the Philippines featured prominently in a permanent reef exhibit and Gutsy Tuason's iconic picture of diving in the Philippines plastered on the wall as you go down the steps, it is also a living museum of the natural world. It is a place to behold and where you can learn. This is where the germ of an idea took hold after years of patting and gently shaping a shared vision to conserve, preserve a natural habitat that would ultimately benefit many but first those that see it, breathe it, and know it so intimately — the communities along the Verde Island Passage (VIP).
Do you scuba dive, free dive, or snorkel? Then you know the VIP. You must have seen your first school of jacks numbering in the thousands, or felt the rip tides in Mainit, or spent hours muck diving in Bubbles, or felt an underwater high in Beatrice or any of the other dive sites around Sombrero Island.
The VIP covers the seas along five provinces from Batangas, Oriental and Occidental Mindoro to Marinduque and Romblon. And believe it or not, as early as 2004, Kent Carpenter and Victor Springer, renowned scientists, in a study for the Smithsonian Institute, despite much debate, said that the VIP was the center of the center of marine shore fish biodiversity and evolution in the world! And Anilao, a much-loved dive destination, closest to Manila, is part of the VIP.
There have been major expeditions sent to study the VIP. One of them was the Hearst Expedition in 2011, and the ongoing one is funded by the National Science Foundation during which more than 100 new species were collected during dives 150 to 500 feet deep called the Twilight Zone, at the California Academy of Sciences (http://ctknetwork.org/newsroom/more-than-100-new-marine-species-recently-discovered-in-the-philippines/). The treasures, both shallow and deep just 2.5 hours away from the metropolis, along the coastline of Anilao, in particular, are nothing short of amazing. To know more about nature is to know more about the evolutionary processes — our history in a physical sense. And if any of the recent political events have taught us something, it is to know one's history, so as not to repeat mistakes from the past.
So, this takes me to The SEA Institute. SEA stands for Science, Education, and Advocacy. We are made up of scientists, professionals, divers, businessmen, and, yes, even a yoga instructor, who all want just one thing — to protect the immense riches within the VIP not only for scientific purposes, but more so for the communities that border these waters. We want to use science in a practical manner and improve the lives of the people who make their living and get their food mainly from the sea. We want to duplicate our successes and share them with the rest of the coastal communities throughout our incredible nation. And closest to our hearts, we want to leave a living legacy to our children and their children.
Please help us make this dream come true. Come and learn more. Come and support our cause. Join us at our coming-out party on June 1, Wednesday at Shangri-La Makati as we also celebrate a senior artist, Fernando Modesto. Modesto has generously offered to make The Sea Institute the beneficiary of his art exhibit. We'd love to make a connection and join hands in doing what we can for the seas!
You may contact Alain Maullion at 09063145423 or email seainstitutevip@gmail.com if you are interested. Visit the website seainstitute.org for more details.
In this light, I would also like to share with you that we will have our first Verde Island Passage (VIP) Open Swim Challenge on June 12, Sunday at 7 a.m. The competition is actually for professional swimmers: varsity swimmers, triathletes, national and executive swimmers, age 17 years old and up. The swim will be a 2.5 to 5-kilometer course from Lobo beach to the beautiful Malabrigo Sanctuary and back. Unfortunately, the registration is already full. Many people booked in advance because the place is really gorgeous. Ecotourism is really the way to go. My incessant conviction: We can jack up the economy by protecting the environment.
The Philippines is so very blessed. We need to join hands and hearts protecting what we have for the benefit of all.
* * *
I can be reached at regina_lopez@abs-cbn.com.