And now, on-the-go pants for people who wear catheters
It is said that necessity is the mother of invention (and ingenuity is the child), but this creation is much more than that. It was born out of a son's love for his father who has a malfunctioning kidney and has to wear a catheter and a urine bag taped to his leg probably all his life.
And now come the on-the-go pants that feature ginormous pockets that could hold catheters, ample space for proper tubing, and zippers on the pockets so the wearer can check if the bag is already full or not. This ingenious product, made with tender loving care, is the brainchild of designers Dennis Lustico and James Reyes, along with Campaigns & Grey creative director Raymund "Mon" Pineda Jr. and executive creative director Noel Orosa, who put their heads — and hearts — together to help people wearing catheters, particularly the elderly, achieve quality of life unhindered by a catheter — or give them back their life before they started wearing a catheter.
Mon and his dad Pete, now 84, enjoy a lot of bonding activities, like traveling together. Mon recalls a frustrating and embarrassing moment when his dad was still catheter-free. They were on a bus on their way to Sagada and his dad, feeling so helpless, could no longer control his bladder as it was getting too painful. Mon gave his dad his jacket as a coverup.
This advocacy is actually close to designer Dennis Lustico's heart because he's a licensed nurse. He earned his stripes during his on-the-job training at Polymedic Hospital and Fabella Maternity Hospital. "You interact directly with the patients; you take care of them, you do night shifts. That gave me first-hand knowledge of what patients needed and what I could give," Dennis asserts. "So, these things altogether helped me in coming up with this pair of pants."
Who, What, Wear
Weaving together his nursing background and RTW expertise, Dennis came up with this functional wear that's simply heaven-sent for those who have to go through life wearing a catheter.
Indeed, a lot of care is in the details. "We took into consideration the comfort the pants should offer to the patient," Dennis explains. "After that, the visual or what's on the outside. We had to come up with pants that are not so clinical and hospital-oriented. We challenged ourselves to come up with an outfit with a hip style — something not too obviously patient-oriented. But we could only do so much because the main purpose of the pants is that it is to be used on a daily basis. We could not go too artsy."
He adds, "In developing the pants, as a nurse first, I had to take into consideration the patient — how the tubing should go to the catheter, how to anchor it properly — think of the technical side. Then as a designer, I had to put myself outside of the box — how to come up with a good functional and utilitarian design."
Trust Dennis who's worked with patients with catheters. "Just the insertion of the catheter would already give patients a hard time. Some patients would complain so you know immediately the discomfort and pain that they feel. Yes, it's the nurse's job to insert the catheter and you must be careful when you attach the garter or you might dislodge it."
How do you drain the urine bags with these pants?
Dennis describes with a little demo, "Draining is just removing the bag and putting it back for tubing. The pants feature a side zipper where you can actually pull out the bag easily."
Senior-Friendly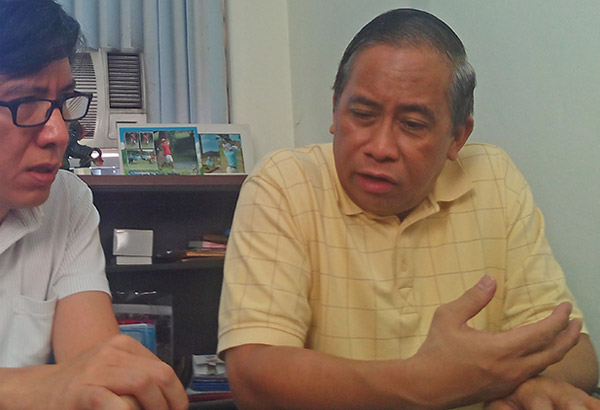 The doctor is in: Dr. Alfredo Uy, head of Urology Department, Veterans Memorial Center, with Noel Orosa of Campaigns & Grey.
How about senior patients, will it be easy for them to attach everything together or will they need help?
"Ideally, help would be great, but they can assemble it themselves because the garments are easy," says Dennis. "We make sure all connections are exposed so that they will be able to attach and detach the tubing."
Sadly, the incidence of people wearing catheters is on the rise.
"I do have a lot of patients using catheters — Foley catheters," says Dr. Alfredo Uy, head of the Urology Department, Veterans Memorial Center. "Majority of these patients, due to their age, usually have enlarged benign prostate glands. Drugs and medications do not work to alleviate these conditions, and the patients themselves are unfit for surgery or operations — or become too risky to operate on. So, the only alternative is to put them on catheters."
He adds, "Yes, their number is increasing. Say if I had 10 patients who were screened for enlargement problems, one or two of these patients must undergo catheters. And it's not only under my field, urology, other specialists may require catheters for particular conditions."
Patients who wear catheters have to carry their own urine bags and they need to develop their own coping mechanism as to how to carry their urine bags.
Dr. Uy notes, "What I usually observe in patients is that they hide their urine bags in the pockets of their pants. Majority of these patients carry the urine bags themselves, or these bags are taped to their legs, which are visible, as the tube sticks out, as well as the bags themselves because of their size. People around them will be able to see these bags."
"This was the problem of Mon's father who had a catheter and a urine bag taped to his leg," relates Noel Orosa, Campaigns & Grey executive creative director. "The problem is, his dad is an active person, and he wants to travel, go around, but what hinders him is his condition. It is also a sort of embarrassment for these people. So, Mon thought of a messenger bag to hide the urine bag, and I thought a better solution might be cargo pants that will provide a less bulky and more mobile solution than the messenger bag idea. Once we conceived the idea of the cargo pants, that's when we realized we would need the help of a designer. Initially, we sought James Reyes. He made sketches, but he eventually referred us to Dennis Lustico. And so with Dennis Lustico's help, we were able to come up with a final design of the cargo pants that conceals the urine bag while providing mobility. Instead of walking around with a urine bag, patients would be able to walk freely and confidently."
Dennis elaborates, "What we did initially was to make studies of pants. We made sketches and we made samples out of those sketches. Originally, the problems involved the passages of the tubing. We also took into account how to anchor the tubes to the pants, we took note of how we would be able to drain the bag once it's full. So, after taking all that into consideration, we came up with some more details, like putting zippers in the pockets for the patient to easily drain the bags. As for the tubings, we made the tube passages longer so that the tubes won't easily dislodge within. We also put garters so the pants could accommodate different size types."
The pants are available in five sizes: extra small (29 inches), small (30-31 inches), medium (32-33 inches), large (34-35 inches) and extra large (36 inches).
For now, Dennis is using cotton twill as material for the pants, to add to the comfort of the patient and give the latter a sense of dignity despite the burden he literally carries around.
Where and how much will these pants be available?
"We have plans of distributing it later on, but right now, it can be purchased only through us," Dennis informs us. "And since it is sort of an advocacy, we offer it at a very low price. Right now, it's P1,000 per pair."
According to Orosa, the problem was actually production and they went through many manufacturers just to minimize the cost for the patients.
A Female Version, Too?
Are they planning to come up with a similar product for women?
"Actually, the design for women will not be significantly different from that of the men," Orosa points out. "In fact, it will be less problematic to design for women, especially when it comes to the 'snagging' part. The only adjustments will be in the hip area, etc. But yeah, it will be economically viable for women as well, considering the changes will be less to modify for women."
What are the advantages of the anchors?
Dr. Uy explains, "The anchor is important because it increases mobility and prevents the tube from irritating the rest of the body or leg. There's really a need to integrate and fix the tubing to the anchoring. It's easier for the patient to replace the tube and the bag with the design. One important aspect considered as to why the slanted anchoring was added is that you have to prevent the obstruction of the tubing through twisting or stretching. So, I think that with that design, it'll be easier for patients to handle their catheters and urine bags instead of just being taped to one's leg, or put inside the pockets. These practices do not allow proper drainage, and may be prone to infection or spillage, when the tube is suddenly removed. These patients may have stones inside their bladder. If there is no anchor, when people walk, the catheter may also move. There's more friction and some trauma inside the urethra may occur. And from this trauma, an infection may occur."
Dr. Uy, who has never seen anything like this anywhere, says, "It is a unique way of trying to solve the problem of mobility for patients with catheters."
Mon Pineda's dad, Pete, an octogenarian, totally agrees. "I was very active; I was into ballroom dancing. I exercised. Then, because of my condition, I became more introverted, mainly because the urine bag was visible. But aside from mobility, I think the best benefit these pants gave me was it restored my confidence and social interaction with my friends and family. Before, I would have difficulty to even go outside my home to interact with people."
Will they be doing shorts, too?
Dennis quickly replies, "Pants are better because you can go out with it and it can match any piece of clothing."
What do the doctors say about this?
"Right now, we are working closely with physicians, we're trying to get their feedback on this one and hopefully, later on, they can offer it to their patients," Dennis discloses.
Yes, there are plans to launch this unique product on the international market. "We've only just developed it, but hopefully, we will let the world know," says Dennis.
Now, that's pants-tastic news, don't you think?
* * *
For inquiries on the on-the-go catheter pants and to order, call Dennis Lustico at 09178334717.