Are you sure your drinking water is pure?
Think before you drink. That's one life-saving dictum you should bear in mind, especially if you're not sure if the water you're drinking is pure.
Well, at this press event, everybody's 99.99999 percent sure that the water we're drinking is truly pure. After all, today, Unilever is launching two new models of the Pureit water purifier brand.
Unilever is into water purifiers now?
Yes, the company, better known for personal care, homecare, and food products, is behind the Pureit brand. "Unilever could not simply turn a blind eye to the world's most pressing social problems, one of which is the lack of access of many to clean and safe drinking water," says Benjie Yap, Unilever Philippines VP for homecare and foods. "Some two billion people in the world do not have sustainable access to clean and safe drinking water. Eighty percent of diseases in developing countries are water-borne, such as diarrhea, cholera, typhoid fever, amoebiasis, and Hepatitis A. Every year, 1.5 million children die of water-borne diseases. In fact, diarrhea is the leading cause of mortality for children below five years old."
Now comes Unilever, armed with its global resources, to help tackle the problem spot-on.
Benjie Yap confesses, "We were inspired and encouraged by WHO (World Health Organizaion) and Unicef's own findings that simple, low-cost interventions to treat water in the home through the combination of chlorination and filtration can have a big impact, reducing the risk of diarrheal diseases by 50 percent."
But the big BUT is "these methods are tedious and inconvenient and people may be willing to put up with them during disasters and calamities but not in the long run."
Unilever looked around all over but could not find any "easy-to-use, scalable solution. So we started creating one," declares Benjie.
Thus, the Unilever team, composed of scientists, engineers, and marketers based in Unilever's R&D facility in Port Sunlight, UK, rolled up their sleeves and started to work on a rather ambitious project.
The "ambitious project" has the following stringent standards:
• The product has to meet the international germ-kill criteria for water purifiers set by the United States Environmental Protection Agency. EPA is a US federal government agency tasked to create and enforce standards and laws that promote the health of individuals and protect the environment. It is known internationally to have the most stringent standards for safe drinking water.
• The output water should not only be safe to drink but should look clear, odorless, and have a good taste.
• The product should not require electricity and pressurized running water.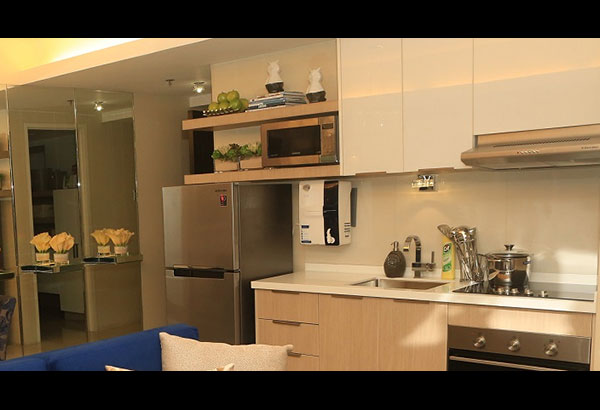 A Pureit Marvella UV is mounted on the kitchen wall inside an Avida Land showroom unit. ?
• The product should be affordable, below US$100.
Consider these humongous figures for this grand project: 100 scientists from all over the world working on the product, 200 design changes spanning four years to eliminate all technical hurdles.
And now comes a product that meets all the foregoing criteria except for the price. So, it's back to the drawing boards "to find ways to dramatically reduce cost without compromising on quality," stresses Benjie.
Finally, Unilever came up with just the right product that met all the stringent criteria minus the stiff price. The product was test marketed in India, where access to safe drinking water is a big issue, in 2004. It was launched nationwide in India in 2008 and in Indonesia, Mexico, and Brazil in 2010. Pureit is now available in 14 countries, including the Philippines, where it started selling — and selling quite fast — last year. The world's fastest selling in-home water purifier brand, Pureit has sold more than 10 million units.
At the Pureit press launch, we enjoy a delicious lunch catered by Red Chef at the Avida Showroom in Glorietta, Makati. And we treat ourselves to glass after glass after glass of probably the purest, cleanest water we've ever tasted, fresh from the Pureit Excella, Marvella, and Ultima water purifiers.
Let's get to know more of Pureit, the brand behind this awesome threesome. Here are some pure, unadulterated facts: Pureit works with a breakthrough "programmed germkill technology" which removes visible dirt with its sediment filter. A germkill processor, it targets and removes harmful viruses and bacteria. With its microfiber mesh, it removes precipitated metallic impurities such as lead. Its carbon polisher removes harmful parasites and chlorine, making the water clear, odorless, and natural tasting. It's got a microcharged membrane that purifies the water again and removes harmful parasites, assuring double protection.
We watch a lab test conducted by SGS comparing E. coli bacteria-spiked water and water purified by Pureit. There's not the slightest trace of bacteria in the Pureit water.
"What differentiates Ultima from all the others using reverse osmosis is that while removing all the bacteria, germs, parasites, etc., it also takes out all the hardness of your water as well as salt, and puts back a certain level of calcium, magnesium, and salt that's good for the health," explains Pureit brand manager Brian Duruin. "If you live in places near the sea and your only source of water is a deep well, chances are there's salt in your well so you need the Ultima. Also, if you have gall bladder problems and can't metabolize salt, Ultima is recommended."
The added advantage of Pureit is that water is purified at the point of source. "Sure ka because no one else touches or transports your water so there's no recontamination," Brian points out. "The safety of your water is not up to strangers, you have all the control. And you have it on demand, you get it when you want it."
It's practically like having your own water refilling station in your home. "Yes, there's free installation, because mounting the Marvella and Ultima on your wall would require some drilling as the unit is connected to your tap water," says Brian.
According to Brian, compared to other sources of water, Pureit is far more economical (Excella costs P5,000; Marvella is P11,000 while Ultima is P16,000) and practical. It can keep on working as long as you maintain it. "Since we launched Excella, it's been working for the past seven years."
Through Pureit, Unilever is launching its "Sure Ka Ba?" campaign to empower household consumers to question the safety of their drinking water and, thus, protect the health of their families.
Let's drink (pure water) to that!