Why rest & recovery are important for runners
November 11, 2014 | 12:00am
MANILA, Philippines - We all know what a good dose of rest can do to the human body. Studies have shown that getting regular hours of sleep for a sustained period of time, for example, helps you keep your weight in check and clears your mind of any unnecessary stress to help you make better decisions.
For runners, resting is a very important aspect of training. "People may not know it, but resting is where you really get better," said The Bullrunner Dream Marathon coach Lit Onrubia in a lecture he gave recently at the Run United Philippine Marathon (RUPM) 2014 at the Mall of Asia grounds in Pasay City. "It is all about the training effect. It's the result of being in a constant state of 'active rest' where our bodies get stronger, more durable, and more used to the physical, mental demands of running."
"When I was just starting, I used to join a couple of races, one after another. What I learned was that, if you run a marathon, you need to take at least a month for your body to recover. Give your mind some free time. You need to allow your mind to take a break, indulge in other stuff, and think about running again only after you feel your body has become strong enough once again," said Jaymie Pizarro, The Bullrunner herself.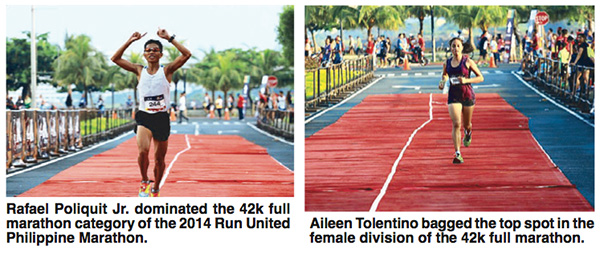 Rest and recovery were the two main concepts that running experts emphasized to the thousands who joined and finished their respective races at Unilab's Run United Philippine Marathon this year. The final leg of this year's Run United Series highlighted Unilab Active Health's thrust to help runners become better athletes to exceed themselves further. Through the Active Health Village, a regular feature in every Run United race event, runners got access to free health diagnostics, fitness consultations, and various nutrition zones where they enjoyed lectures from renowned running coaches about nutrition education, training regimen, and rapid recovery techniques.
Local and foreign runners headlined a stellar cast of race finishers for RUPM 2014, the final leg of Unilab Active Health's Run United Series. Rafael Poliquit Jr. topped all local placers at the Enervon Activ 42K men's category, crossing the finish line with 2:50:21 across his name. He was followed closely by Mario Maglinao (2:51:48) and Rene Desuyo (2:53:16).
Aileen Tolentino, on the other hand, ruled the 42K women's category for local runners with 3:31:56, followed by Cinderella Lorenzo (3:35:42) and Jocelyn Elijeran (3:40:24).
It was an all-Kenyan cast for the 42K foreign men's category, with Jackson Chirchir placing first (2:29:00), trailed by Elphiz Kiptarus (2:34:02) and John Samoel (2:41:11). The women's category, meanwhile, saw another Kenyan runner, Irine Kipchumba, cross the line ahead of everybody else at 3:00:12, with Belgium's Isabelle Marfko (4:13:06) and Malaysia's Silamie Apolistar (4:30:39) trailing her.
Others who finished at the podium for other categories were: Anthony Nerza (1:23:55), Andrico Mahilum (1:25:38), Juan Gabriel Velasco (1:29:48) for the men's category of the Alaxan FR 21K; Criselyn Jaro (1:34:30), Victoria Calma (1:52:02), and Jennelyn Isibido (1:54:28) for the women's category of the 21K marathon; Richard Salanio (0:32:26), Eliud Kering (0:32:38), and Blair McWhirter (0:33:01) for the men's category of the Enervon HP 10K; and lastly, Marion Kim Mangrobang (0:40:53), Cellie Rose Jaro (0:42:37), and Janette Lumidao (0:44:08) for the women's 10K.
Another ULAH activity that athletes can look forward to is the Tri United 4 on November 23 at Fontana, Clark, Pampanga. Schedules of ULAH events may still change, so visit www.unilabactivehealth.com or www.runrio.com for updates.