How to make your own Halloween candy bouquet
October 24, 2014 | 10:12am
MANILA, Philippines — It has been a tradition in our home to giveout candies and sweet treats for Halloween. And since the only kid in the house is all grown up now, we really look forward to all the little boys and girls who pass by on Halloween with their eager faces as they hold out their open bags waiting to see what candy we would drop in.
This year, we're planning to do things a little differently. We're still giving out candies, but for some lucky little kids, we're giving out some "dressed-up" lollipops just to add a bit of fun!
Besides, we love candy and the month of October is the only time we have an excuse to buy more.
Here's a simple idea for a Candy Bouquet that can also double up as a table centrepiece for all you Halloween lovers out there.
You will need:
Lollipops
White cotton material
Plastic googly eyes
Scissors
Twine
Instant glue
Floral foam
Plastic pumpkin container
Easy how to:
Cut out 4" x 4" inch squares of white cotton material from scrap cloth like old t-shirts or socks. Drape over lollipop and secure with a piece of twine. Dab on some glue, attach a pair of googly eyes, and you're all done!
Trim floral foam to fit your pumpkin or any container you'd like to use and simply stick in your little ghost lollipops.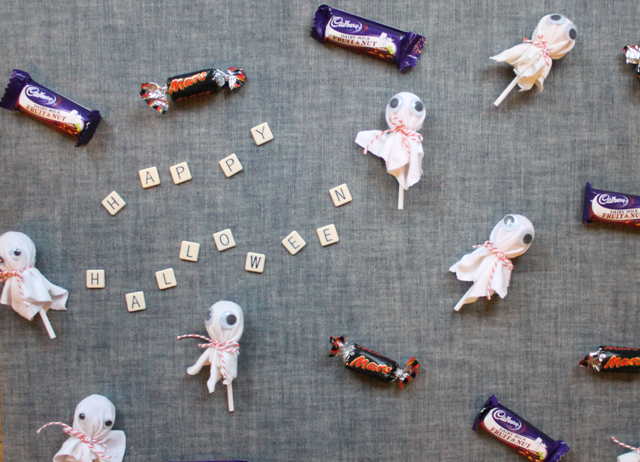 We had so much fun making this easy Halloween craft while eating lots of candy too. Happy Halloween!
Come join Cyn and Bianca on their mother-and-daughter adventures at shesaidshesaidph.com. Follow them on Facebook and Instagram.
-----
Check out SheSaidshesaid's previous post: Staycation at Aruga by Rockwell