Baron Method: Making healthy, wiser food choices
August 12, 2014 | 12:00am
MANILA, Philippines - Nowadays, Harvie De Baron is the embodiment of healthy living. With an enviable fitness regimen and a well-planned approach to eating, there is indeed no better man to serve as prime example of how the Baron Method actually works.
The new diet practice, which is steadily gaining traction among the health-conscious crowd, was formulated by Harvie in 2009 following his desire to help people towards the path of change that will improve their quality of life.
The impetus stems from Harvie's own experience, which can be traced back to the early 2000s, before he became the health-conscious fellow he is now. "I loved to eat out back then so I wasn't making any conscious choices about my food. I was into some physical activity, sometimes I played basketball with friends, but nothing was consistent. My lifestyle then was so different," Harvie shares.
The inconsistency and lack of discipline in his eating and exercise habits gave Harvie ulcerative colitis, a condition which he had to battle for several years. Ulcerative colitis, an inflammatory disease which gives the colon multiple lacerations and ulcers, is caused by stress and unhealthy eating. "Those were terrible times. It was hard to live with that disease. When it got really bad, I became practically paralyzed because I couldn't do anything," Harvie recalls.
Harvie underwent steroid treatments to help alleviate his condition, but they were just a temporary cure. Moreover, the treatments caused him to balloon to 226 lbs. They made him consistently sleepy and Harvie wasn't at all pleased with how it affected him physically. He says, "That's when everything changed for me. I decided that I wanted to drop all the medicines, so I made an effort to cure myself the natural way."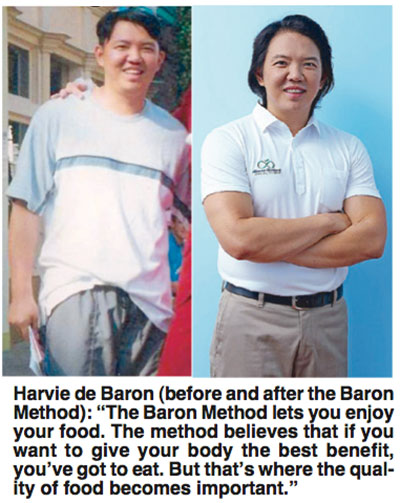 Based on his knowledge of food, Harvie chose which type of diet would make the perfect fit. In the end, he chose raw food. "I was a raw food eater for about 12 months. I also slowly gave up processed food. Little by little, I felt that I was getting better. And I was. I went to the doctor and the lacerations were gone. They said it was a miracle."
Inspired by the way food transformed his life, Harvie formulated the Baron Method. The method, which goes against the grain of the usual diets, believes that there is no need to cut down on food intake for one to achieve his or her fitness goals. Harvie explains, "The Baron Method lets you enjoy your food. The method believes that if you want to give your body the best benefit, you've got to eat. But that's where the quality of food becomes important."
He expounds, "What we do basically is we recreate your food, like 'reverse engineer' it. We focus on making good choices in terms of the ingredients and the type of food you consume so you don't have to starve. This method is not just a temporary fix for you to achieve what you want. Our aim is to promote a lifestyle upgrade that is sustainable so you can make wiser, healthier choices that will be beneficial for you in the long run."
Harvie owes his extensive knowledge on food from his education in London's Oxford College, where he graduated with a diploma in Sports Nutrition with distinction. His wife, former beauty queen Eizza Lim De Baron, was the one who prodded him to study and formalize what he knows from years of practicing the diet himself, to make the knowledge useful to more people.
For someone who has managed to do triathlon for 10 years after his stint with ulcerative colitis, Harvie is every bit a survivor, which is why his clients see him more than just as a nutrition consultant. "I've been through what they're going through. I had a really awful time in my life when I was eating bad food and living a sedentary lifestyle, but I was able to pull through. That's what I want to make possible for my clients, a lifestyle upgrade that will change their lives."
Asked what his main motivation is for continuing to live the healthy lifestyle, Harvie responds, "I want to watch my son grow up and have a family of his own. I want to be there when my daughter fulfills her dreams. I want to be with my wife every single day. I guess when you want to be around the people you love for a longer time, you become more inspired to take the necessary steps to make that possible."
For more information, visit www.baronmethod.com or call 0917-8522854.