Watsons' new generics line: Affordable healthcare for Filipinos
With today's high cost of branded medicines, the price of staying alive can be quite exorbitant. And family-oriented as we are, when one member gets sick, the rest of the family shares the health cost burden. Which is why Watsons, a leading pharmacy retail brand in Asia, now gives families more options for high quality but affordable generic medicines with the recent launch of its own generics line.
So, now, along with your shampoo, hair, nail, and body care needs (as well as other stuff you thought you didn't need), you can buy a wide assortment of medicines and health supplements and health essentials from Watsons Generics for the whole family.
There are vitamin supplements that most of us can't live without. There are the basic cough and cold meds we especially need in this fickle weather. There are the everyday pain relief medications, a line of effective and affordable antibiotics. For the beauty-conscious (most of us are), there are affordable beauty-in-a-jar solutions like collagen and glutathione. For our elderly, Watsons Generics has a wide range of maintenance medicines to help them manage their diabetes, hypertension or high blood. With these affordable maintenance medicines, our beloved Lolo and Lola will now be able to manage their high blood pressure and other health concerns, and add not just years to their lives but life to their years, too.
"We recognize that each family will have specific needs when it comes to their health," says Danilo Chiong, Health Business Unit director of Watsons and the Generics Line. "However, with the rising cost of not just medicines but all commodities, families may have difficulty meeting each specific need. With the launch of Watsons Generics, we aim to help families by giving them more healthcare options and the ability to purchase affordable, high-quality medicines. This will not just give them access to quality healthcare products, it will also enable them to focus their finances on other important matters."
Watsons' generics line carries the following: maintenance medicines for diabetes, hypertension, and cholesterol; antibiotics to ward off the common bacteria; dietary supplements for skin enhancement, anti-aging, and over-all wellness; basic vitamins; oral analgesics and other over-the-counter medicines.
This is only the beginning as Watsons intends to continuously launch generic medicines to provide wider healthcare solutions.
But how can we be sure of the quality of the medicines?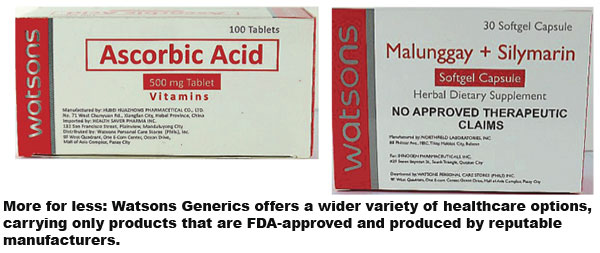 "To ensure the quality of Watsons Generics, our partner manufacturers undergo a screening process that meets multinational standards," replies Chiong. "Our generic medicines are produced by trusted partners. All of these go through a rigorous screening process and a third party audit. These methods, on top of Philippine Regulatory Agency standards, assure consumers that they are purchasing high-quality products."
Fret not, FYI: Watsons Generics medicines have all passed the regulatory requirements of local and international quality assurance agencies. The medicines are registered with the Philippine Food and Drug Administration (FDA), hold bioequivalency certificates, and are manufactured by facilities with certificate of Good Manufacturing Practice (cGMP).
On top of these quality assurances, Watsons Generics offers up to 90% savings vs. the leading brands in terms of medicines for allergies, cough, diarrhea, pain relief, fever, constipation and cholesterol, relief of hyperacidity, improved eyesight, stronger immunity, improved nerve function, iron deficiency/anemia as well as beauty products such as for younger-looking skin, liver detox and skin lightening (glutathione, but of course).
"For more than 170 years now, Watsons has been providing health and wellness products to its customers worldwide. We are excited to do the same in the Philippines by allowing Filipino families to take charge of their health without the fear of financial burden," stresses Chiong.
Watsons answers some oft-asked questions:
What is Watsons Generics?
Watsons Generics is the Watsons brand's own line of high-quality and affordable generics medicines.
In the Philippines, Watsons is mostly known to carry health and beauty products. Why is Watsons introducing a generics line?
Watsons was a pharmacy first, with heritage that can be traced back to Hong Kong in the 1840s. It is the largest health and beauty retail chain in Asia with a network of over 2,500 branches in 37 countries.
Watsons has been selling its own branded beauty products in the Philippines for many years now. We felt that it was time to launch our own brand in the health sector and go back to the roots of our history of being a pharmacy.
Why is Watsons Generics more affordable than branded medicines?
As a matter of policy, we cannot disclose pricing schemes, but Watsons ensures that it balances the cost of operations in order to maintain affordability. In addition, we were able to cut costs in operations as we were no longer required to do repeat testing as these are off-patent products, which means that these generic medicines have already been proven to be safe and effective.
With the low cost of your medicines how can consumers be sure that these are as potent as their brand-name counterparts?
Watsons Generics medicines contain the same active ingredients as the original formulation, and are identical to the bioequivalence range of its brand-name counterparts.
Are your generic medicines available at all Watsons outlets nationwide?
Watsons ensures that its entire generics line is carried by all Watsons outlets nationwide. At present, it operates over 330 stores and will be present in all future Watsons outlets.
Who are Watsons Generics' drug manufacturing partners? Do you have partners locally?
The generic drugs carried by Watsons Generics are all manufactured by trusted pharmaceutical partners. Our local partners are United Laboratories Inc., Pharex HealthCorp, and Innogen Pharmaceuticals Inc.
On the other hand, our international partners include Now Foods (USA), Sandoz (Slovenia, Germany, Austria, Turkey, and indonesia), and Steinbach Products, Inc. (India and China).
How does Watsons Generics support the government's Generic Drugs Act?
First and foremost, Watsons Generics aims to provide a wider variety of options for Filipinos; this supports the Generic Drugs Act to make generic medicines more affordable for all. Secondly, Watsons Generics only carries products that are of quality and produced by reputable manufacturers and are FDA-approved for both generics and branded medicines.