Which food is healthier? (Part 1)
In a head-to-head comparison of healthy foods, do you know which food comes out as the winner? Orange or apple, coffee or tea? See if you can guess the healthier (or less fatty) food item among the pairs listed below.
• Cream soup vs. clear soup. Creamy soups are usually milk-based and have more calories and fat content. Because of this, you can gain more pounds if you choose creamy soups. For those on a diet, clear soup is the clear winner.
Winner: Clear soup.
• Dried fruits vs. fresh fruits. Dried fruits like raisins, dried mangoes, and preserved fruits have little water content but more calories per serving. Fresh fruits, on the other hand, have around 80-percent water content, complete with vitamins and fresh nutrients. Dried fruits are okay, but fresh fruits are better.
Winner: Fresh fruits.
• Shrimp crackers vs. boiled peanuts. Nuts are nutritional powerfoods, packed with protein, minerals, and fats. Don't worry, the fats found in nuts are the good fats — monounsaturated and polyunsaturated. In addition, nuts can reduce your bad cholesterol (LDL) while raising good cholesterol (HDL). Nuts also contain vitamin E, a potent antioxidant.
Winner: Peanuts.
• Fresh tomatoes vs. tomato sauce. Tomatoes and tomato products are extremely high in antioxidants, especially carotenoids like beta-carotene and lycopene. Tomatoes may reduce one's risk for heart disease, prostate cancer, and other cancers of the digestive tract. However, lycopene is readily released from the tomato cell walls only when you cook it. Moreover, lycopene is fat-soluble, which means it's more easily absorbed with a little oil added. Because of this, tomato sauce is probably healthier than fresh tomatoes.
Winner: Tomato sauce..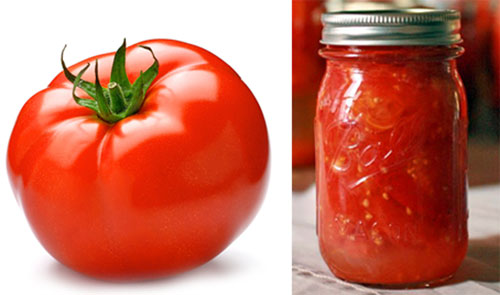 • Fried egg vs. hard-boiled egg. As a general rule, fried foods are less healthy, compared to boiled and roasted foods because of the fat and calorie content in oil. One hard-boiled egg will give you approximately 76 calories while a fried egg will cost you 92 calories, all for the same amount of nutritional value. Also, hard-boiled eggs are safer than soft-boiled eggs because higher temperatures will destroy possible bacterial contamination (from Salmonella). Hence, avoid eating raw eggs and only buy eggs from reputable sources.
Winner: Hard-boiled egg.
• Soup vs. green salad. In most situations, a salad of vegetables, mixed greens, and tomatoes is healthier than your ordinary soups. Just make sure that you use a light dressing or vinaigrette dressing for your salad. Salad also contains more healthy fiber and is more filling than soup.
Winner: Green salad.
• Two big meals vs. several small meals a day. Is it healthier to eat a large lunch or to spread your meals to a light lunch and snack? Based on its effect on the blood sugar, eating several small meals a day is better because it does not cause a sudden spike in one's blood sugar. Small meals are likewise easier on the digestion and prevent after-meal sleepiness.
Winner: Eating several small meals a day.
• Coffee vs. tea. Did you know that Asian people (Chinese and Japanese) have fewer heart attacks, compared to Western people? Experts believe it's because of the Asian people's tea-drinking habit. Hot tea kills bacteria and cleanses the body. Tea contains a secret ingredient called catechin, which acts like an artery protector, antibiotic, and possible anti-cancer agent. Green tea has the highest concentration of catechins, followed by oolong tea and black tea. Drinking coffee in moderation is fine, but green tea is better.
Winner: Green tea.
• Pork fat vs. fish fat. Oily fish, like sardines, tuna, mackerel, and salmon, are filled with healthy omega-3 fatty acids, a type of fat that makes your blood less likely to form clots. Oily fish are those fish which have oils throughout their body and in the belly cavity. Omega-3 fatty acids may prevent sudden death, reduce triglyceride levels, and reduce the risk of stroke. To get the full health benefit, fresh oily fish is better than canned fish where omega-3 levels are reduced. Needless to say, pork and beef fat have the bad kind of fats (saturated fats), which have been associated with heart disease and cancer.
Winner: Fish fat.
• White wine vs. red wine. Red wine contains resveratrol and other phytochemicals, which are the healthy substances found in red grapes. These chemicals can boost your good cholesterol and lower bad cholesterol. Moreover, the plant chemicals found in grape skin (used for making red wine) may also prevent cancer. The key to drinking wine, of course, is moderation. Drink no more than two wine glasses a day for men and one wine glass only for women. A word of warning: If you have a history of alcoholism in the family, or if you are diabetic or pregnant, I would advise you to avoid wine and just eat red grapes instead.
Winner: Red wine.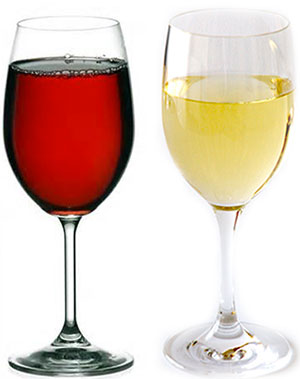 In Part 2 of this article, we will be discussing 10 more pairs of food items, including orange vs. apple, and rice vs. spaghetti. Do you know which is healthier? Stay tuned.