Payatas residents benefit from PascualLab's healthcare program
MANILA, Philippines - Over 450 residents of Bistekville I in Payatas, Quezon City received free medical checkup and medicines courtesy of Pascual Laboratories' (PascualLab) ongoing community health-building effort dubbed Health for Humanity.
Conducted last March 29, the activity was a follow-through on a pre-medical mission conducted by PascualLab a month prior, in partnership with HMO provider Intellicare, which provided routine diagnostic testing, x-rays, lab tests, urinalysis, and stool exams to determine the health condition of residents. In addition, results of the medical tests were used to get a baseline health profile of the beneficiaries and were shared with Habitat Bistekville home-partners and residents to better equip them to take care of their health.
"In the past, we have relied solely on the skills of our volunteer doctors. However, through the generosity of Intellicare, we will not only be able to concretize the findings of our doctors better but will also be able to provide remedies to address any other ailments that were identified in the tests," remarked PascualLab president and CEO Jose Augusto Pascual.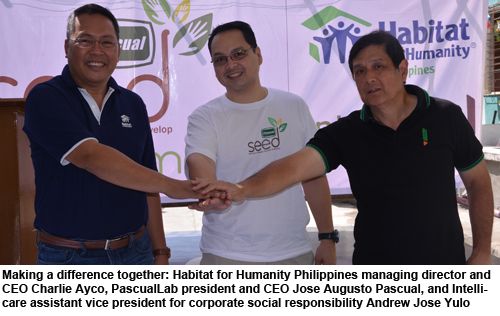 Health for Humanity was launched in 2007 as a sustainable community development program focused on improving the health of impoverished communities in the country, which have little to zero access to proper healthcare.
The project is under PascualLab's CSR program called the SEED (Sowing to Empower, Educate, and Develop) initiative. SEED addresses three key areas — health, education, and environment. Described as "CSR with Heart," SEED is rooted in successful partnerships and the compassion of its employee volunteers.
"In the first few years of the program, we helped build houses in collaboration with Habitat for Humanity, our partner since 2007. But lately, we decided to focus more on health because it's our expertise. Habitat builds the houses, we conduct the medical missions. First, we were in Baseco; then in 2012, we had it in KarismaVille in Malabon. Now, we've moved to our third community in Payatas," said Mia Pascual-Cenzon, PascualLab's corporate communications director.
It is the intention of PascualLab to monitor the progress of and follow up on the health of Bistekville residents for the next couple of years. Alongside the medical missions, residents can look forward to basic health tips seminars and environmental talks from Operation Blessing and WWF (Worldwide Fund for Nature), two other long-time PascualLab partners. "Truly, the success of this long-term project is made possible through PascualLab's partnership with like-minded organizations," Pascual-Cenzon added.
"This is an extension of our enduring partnership with PascualLab. We have been the HMO provider of PasucalLab for the past 11 years. Our relationship has evolved over the past years and now, we're here partnering and sharing the same vision and advocacy," said Andres Jose Yulo, Intellicare's AVP for corporate social responsibility.
Habitat for Humanity managing director and CEO Charlie Ayco said, "Where we live affects our health. That is why everyone deserves a decent home. And we are blessed to collaborate with PascualLab with whom we share the same vision."
An MOA signing and ribbon-cutting ceremony was also held last March 29 to formally seal PascualLab's partnership with Intellicare and Habitat for Humanity, while PascualLab ambassadress Rep. Lucy Torres-Gomez graced the occasion and sat down with the children of Bistekville for a story-telling session.
"Our district was badly hit by Yolanda and I know what helplessness looks like. But I also know what hope looks like and hope comes by way of companies like PascualLab, Habitat for Humanity and Intellicare. Projects like this give people a new lease on life because it's one thing to give them housing; but when it's layered with programs that focus on health, it becomes an integrated system that benefits the communities on many different levels," she said.
For more information on Health for Humanity and The PascualLab SEED initiative, e-mail helpdesk@pascuallab.com, or send a message through FaceBook at www.facebook.com/PascualLaboratoriesInc.