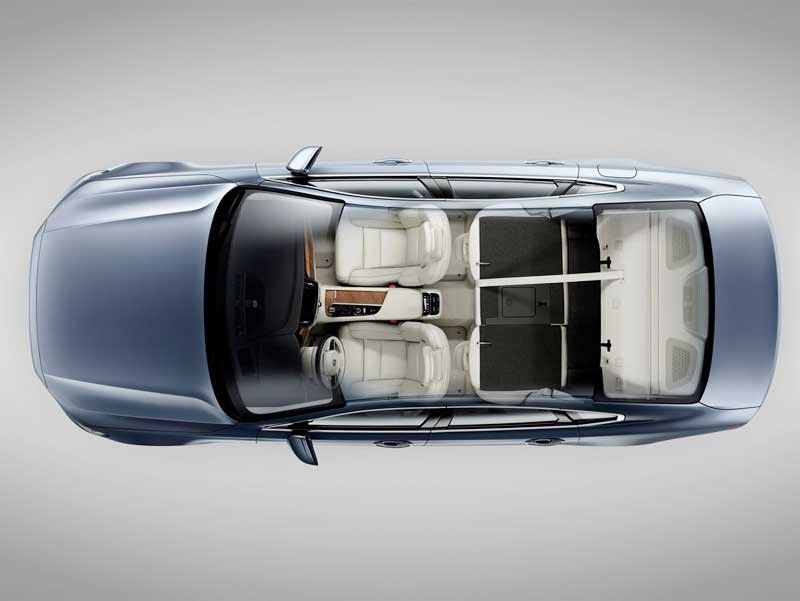 Sit safely: Birds eye-view of theVolvo's seats
For as long as I have known about cars, SUV, sedans, trucks and any vehicle that occupies our roads — that must be over 40 years now, I have been told that the Volvo is that safest vehicle on the road.
I must have been nine years old when my dad, a car lover himself, told me this fact. I didn't know what a Volvo was or what it looked like since the cars we had back then were big American ones.
So, when I got to test a Volvo S90, safety is what I looked for first. And I was not disappointed. Volvo's leadership in the field of automotive safety is confirmed in the S90. Volvo's City Safety Technology, standard on all Volvo models, combines automatic breaking functionality and collision-avoidance systems to cover a range of potential accident scenarios and help keep you safe.
I guess it is what any mom would look for in a sedan — safety. I remember I trip I made to Sydney many years ago, when my sister-in-law had started driving. She had a Volvo because she said my brother wanted her to drive a safe car when ferrying the kids to and from school and other places, which she drove them to.
So, even if I was the expert driver between us, I felt safe knowing that she was behind the wheel of a Volvo.
And, like all good things, if they ain't broke, why change them? So it is with the Volvo safe features. City Safety's functionality is further extended in the S90 with Large Animal Detection, designed to help avoid or mitigate collisions with large animals such as moose or deer. An auto-steer functionality, which helps to keep you on the road, called Run Off Road Mitigation, has also been added.
Volvo's overall safety offering, called IntelliSafe, encompasses both active and passive safety systems and forms the groundwork for Volvo's leadership in the field of autonomous drive. The S90 already offers semi-autonomous drive with Pilot Assist, which works up to 130 km/h on clearly marked roads. Pilot Assist is another step towards Volvo's Vision 2020, which states that no one should be killed or seriously injured in a new Volvo by 2020.
Something New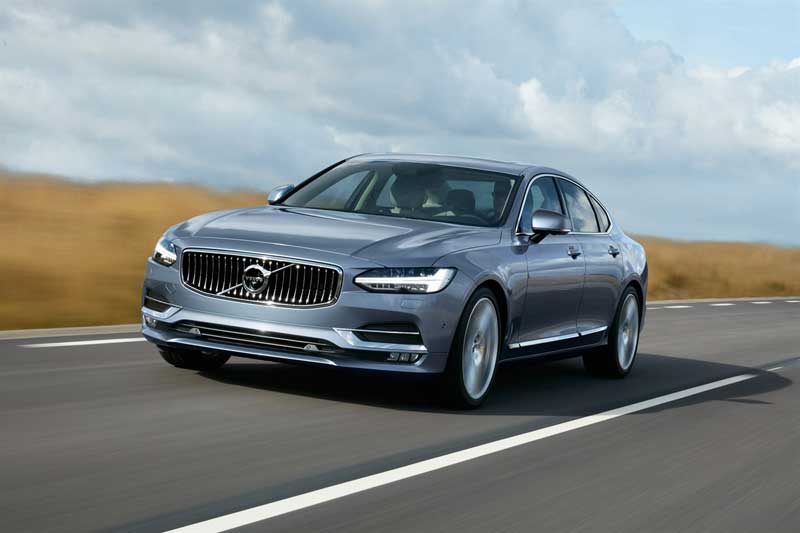 A looker: Volvo S90.
Let me be honest, I haven't been in the cockpit of a Volvo for several years now. So, when I was asked to test-drive it — I had no inhibitions. The S90 is Volvo's new premium four-door, five-seat flagship sedan. It is built on the new Scalable Product Architecture (SPA), Volvo's advanced modular product platform that will underpin all new Volvo cars in the 90 and 60 Series.
I knew that even if the years have gone by, the Volvo still hold its place as a safe car — so Jeepneys and buses be warned.
Like its siblings XC90 and V90, the S90 carries the proud and confident face of Volvo's new design language, along with classic Volvo styling cues. Key features include the iconic "Thor's Hammer" LED headlight design, the new grille and Volvo Iron Mark, and the expressive use of the Volvo word mark on the rear.
In the cabin, Volvo has taken cues from the success of its XC90 model and raised the bar with new details on the dashboard and instrument panel, including new air blades that stand vertically on each side of the Sensus user interface.
In the cabin a small driver like me feels safe in the warm embrace of the Volvo S90. It is much like being hugged by a big man' like your father.
And though Dad has gone to the other life many years ago, I can still hear him say how safe a Volvo is. There are lessons that I never forget.
It Connects
All new Volvos are now connected, thanks to Volvo's connectivity offering called Sensus. It delivers an intuitive touch-screen interface that combines car functions, navigation, connected services and in-car entertainment applications such as Spotify, Pandora, Baidu or TuneIn. The portrait-oriented touch screen enables easy and fast access to a host of functions and features.
The S90 is powered by Volvo's Drive-E powertrains, including petrol, diesel and Volvo's T8 Twin Engine, a petrol plug-in hybrid mated to an 8-speed automatic transmission. Volvo's T8 Twin Engine delivers all the benefits of a high performance, low emission petrol engine with an electric motor that delivers power on demand with CO2 emissions at just 44 g/km, more than 45 km of pure electric range and a combined power output of around 410 hp.
As I drove the Volvo for the days it was with me I thought a lot about my late father and how he would have enjoyed being driven in this Volvo S90. I drove the sedan alone when I had it — and it was the silence of knowing that it is the sedan that all moms with kids should be driving.