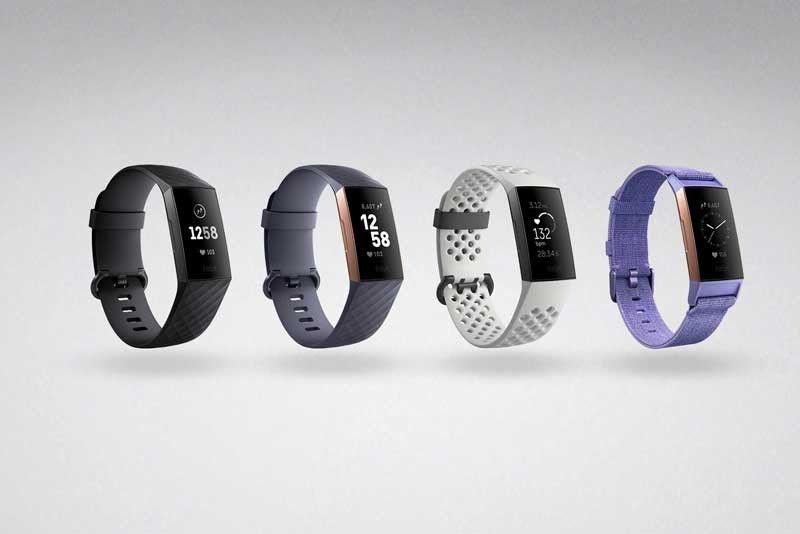 Watch your health: Fitbit Charge 3
All good things come in 3s like your health
Kathy Moran
(The Philippine Star) - December 25, 2018 - 12:00am
MANILA, Philippines — I recently got to try out the Fitbit Charge 3. There is not much one cannot like about the Fitbit brand — it tracks all your steps and fitness habits in one go. And best of all, once you have one it is easy to set up the next one.
I read that the Fitbit Charge 3, the latest evolution of the Charge family of devices, delivers a premium swimproof design with a large touchscreen display. It has the most advanced health and fitness features on a tracker, and is our smartest tracker to date and the best news — it is powered up to seven days of battery life.
I liked that the watch was light — I had been using the Adidas Ionic previously —and although I really like the Ionic ' the Charge 3 gave my wrists a little breathing space.
The new device is crafted from exceptional, lightweight materials, including an aerospace grade aluminium case and Corning Gorilla Glass 3 display for a slimmer, modern silhouette, increased durability and more comfortable fit. It features a crisp, touchscreen display that is larger and brighter than its predecessor, offering a more intuitive experience with easy access to your most important information.
When one owns a Fitbit there is no reason to seek any other fitness tracker. I like the Fitbit because it does what it says it will do — and I stick to it. There is no need for me to try out other brands — for now.
Charge 3 continues to build upon the success of the best-selling Charge franchise, with initial pre-order sales indicating strong adoption among both new and existing consumers. In fact, 54 percent of Fitbit.com pre-orders are from loyal and engaged customers who have owned two or more devices before ordering Charge 3. This initial consumer demand is supported by IDC estimates, which predict shipments of fitness trackers will continue to drive a significant portion of the overall wearables category for the next several years.
"We've seen amazing consumer reception and strong pre-orders for Charge 3, which are even better than Versa in its first six weeks, underscoring why the Charge family has been our most popular product line for the past few years," said James Park, co-founder and CEO of Fitbit in the statement. "With Charge 3, we're offering consumers a purpose-built sleek, premium device for those who prefer trackers and want advanced health and fitness features along with the smart features they need to stay connected. Charge 3 is our most innovative tracker yet, featuring our most advanced sensor technology, bringing the relative SpO2 sensor to the tracker form factor for the first time"
Three's the charm
1. Take action with Fitbit's most advanced health and fitness sensors and algorithms (PurePulse heart rate tracking and relative SpO2); plus 15+ goal-based exercise modes, swim tracking, an on-device health dashboard, female health tracking, automatic Sleep Stages & Sleep Insights, and more.
2. Premium design, intelligently crafted: Featuring a swimproof, premium and lightweight design for the ideal fit, comfort and durability. Charge 3 is also the first wearable with an inductive button, plus it features a more intuitive, interactive on-device experience for enhanced usability.
3. Fitbit's smartest tracker yet: Stay connected, not distracted, with essential smart features, including expanded smartphone notifications, quick replies on Android (coming soon), convenient everyday apps with Charge 3 Special Edition — all with up to seven days battery life.
For information, visit https://www.fitbit.com/charge3
Fitbit Charge 3 is available at retail partner stores nationwide, including Digital Walker, Beyond the Box, select Toby's stores, iBOOK, iCENTER, Mobile1, Globe, Gadgets in Style, Hivemind, Lazada, Zalora, Timeline, The Inbox Store, iLiberty and Rnnr stores. The device is available for sale at major online retailers like Lazada and Zalora for P9,990 in black with a graphite aluminum case or blue gray with a rose gold aluminum case; accessories range from P1,690 to P2,990. Fitbit Charge 3 Special Edition is available for P10,990.