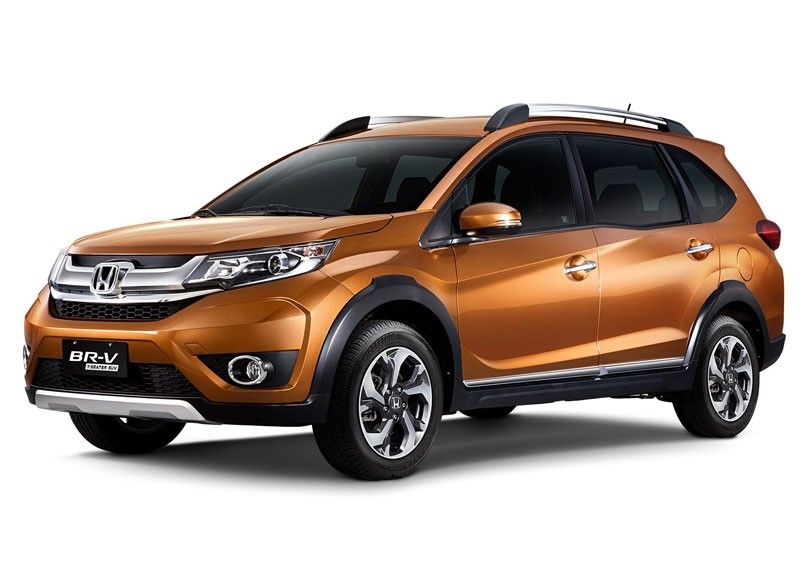 SUV for families: The all-new BR-V
Honda BR-V: An SUV for me
Honda introduced earlier this year, at the Philippine International Motor Show, it's all-new BR-V, a 7-seater SUV.
This SUV is really more like what most would call a "mom-mobile." It is the perfect SUV for families with kids to have because it has a place for everything a kid might need for his after class activities — and the best part it drives really safe.
The all-new BR-V, which aptly stands for "Bold Runabout Vehicle," was conceived from the "Advanced Scene Hunter" grand concept, an idea that underscores confidence and boldness in embarking on new adventures with family and friends, wherever the destination may be.
When I got this SUV for a test drive recently, I was not disappointed. For starters, the BR-V is really understated — yet it delivers the driving performance that only a family car can. It is achieved through the BR-V's bold stance, high ground clearance, sleek body, and premium driving feel. But, let me state here that I am not a mom to kids — only pets.
Honda R&D Asia Pacific Co., Ltd. developed the all-new BR-V through extensive market research to cater to the Filipino family's taste for style, practicality, and adventure. The BR-V comes in two variants—the 1.5 S CVT variant and the 1.5 V Navi CVT top variant. I was lucky to get my driving skills on the Navi CVT variant.
It's got the look
The BR-V looks quite masculine — the type of vehicle that a woman driver like me swoons over. It has a host of exterior garnishes inspired by the "Active-Solid Motion" exterior design concept. The projector headlights with LED Guide Type Position Lights and Font Bumper Skid Garnish accentuate the powerful presence of the front fascia. The wide and striking front grille design effectively expresses the Honda front face identity. The Fog Lights, Roof Rails with Silver Finish, and 16-inch Alloy Wheels standard on both variants further highlight the black-clad, sporty profile of the All-New BR-V. The LED Tail Lamp in C-character also gives the BR-V's rear a broad appearance that perfectly complements the vehicle's wide-looking facade.
And, it was great that even as I loaded it with groceries and more it never made sayad because of its 201 mm ground clearance. With just the right body size, parking and maneuvering the BR-V was easy, even in tight spaces in the mall which are often challenging can often be a challenge for small drivers like me.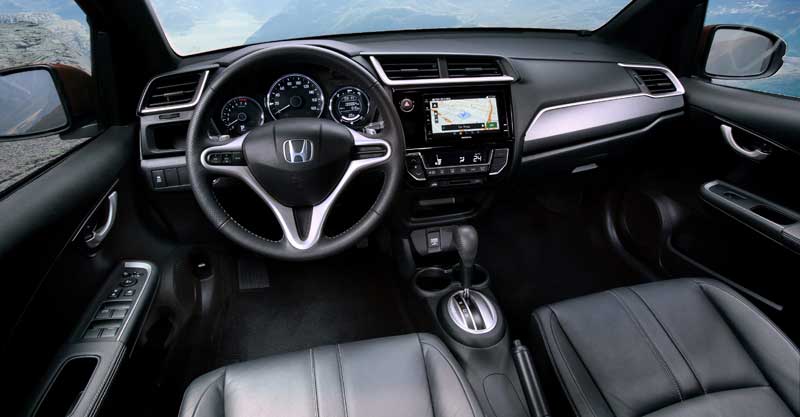 Tech like I like: The cockpit of the BR-V
I liked how easy and fun the BR-V was to drive — it really gave me the feeling that the destination is not the goal, the driving was.
Aside from being bold-looking on the outside, the BR-V is as impressive on the inside, for it embodies the "Premium & Active" interior design concept. High-quality materials punctuated by a stylish instrument panel comprise the All-New BR-V. Moreover, the 1.5 V Navi CVT top variant is equipped with Leather Seats for an upscale riding experience. Both variants have a spacious and comfortable cabin that provides ample knee clearance, head clearance, and leg room. The three-row seating configuration of the all-new BR-V can comfortably accommodate seven passengers, which is perfect for getaway trips with friends and family. Seats can also be adjusted for various hauling and cargo needs. The second row seats have a 60:40 Split, Recline, Fold, and One Touch Tumble Type function, enabling easy access to the 3rd row which has a 50:50 Split, Recline, Fold, and Tumble Type function.
The cockpit rocks
It also carries advanced features for occupants' convenience, like a 7-inch Touch Screen Display Audio and Digital air-conditioning Controls in the 1.5 S CVT variant. The 1.5 V Navi CVT adds a Smart Entry with Push Start System, an Automatic Type Front air-conditioning System, and a 7-inch Touch Screen Display Audio with Built-in Navigation Powered by Garmin.
What is good is that there is a rear air-conditioning system with ndependent controls located between the first and second row seats to expand air flow to all areas for maximum comfort of passengers. This meant that my passengers stayed cool to all through each ride without stealing my air.
It helps that there is a 1.5 Liter i-VTEC engine that powers this SUV. The engine is mated to an Earth Dreams Technology Continuously Variable Transmission (CVT), so customers are assured of a smooth, exhilarating, and fuel-efficient drive with the All-New BR-V. Additionally, the top variant has Paddle Shifters to feed a sportier driving feel and performance.
Honda's commitment to ensure passenger safety is maintained with the G-force Control (G-CON) Collision Safety Body Engineering. Standard are Driver and Front Passenger SRS Airbags; Anti-Lock Braking System (ABS) with Electronic Brake Force Distribution (EBD) that prevents wheel lock during sudden braking; Hill Start Assist (HSA) that averts backward roll when the vehicle moves from a static position on an incline; Vehicle Stability Assist (VSA) that restricts sideway skidding during cornering; and Speed Sensing Auto Door Lock that activates when the vehicle accelerates. Additionally, since the All-New BR-V was designed for families, it comes with an ISO-FIX Child Seat Anchor to securely latch a child seat.
With these top-notch safety features, how could I not relax as I drove and know that my passengers and I were safe.
It is no wonder that there was a need for Honda to bring a a newer rebooted version of the BR-V for drivers like me who look cool, safe and affordable SUVs.
Got to go — there is still much driving to be done.