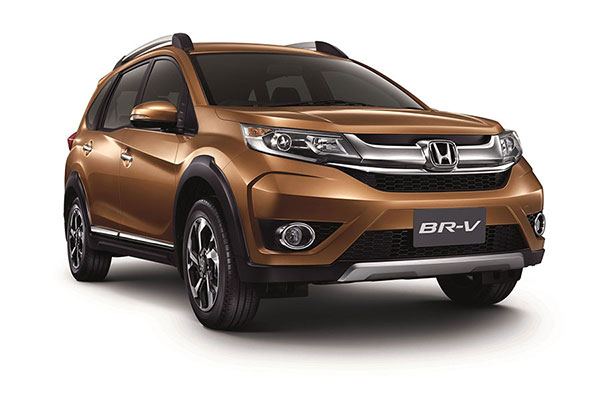 A bold new adventure in Honda's BR-V (Bold Runabout Vehicle)
All loaded up and ready to drive the Honda BR-V
When I am behind the wheel, the world always is a better place. It was no different when I recently took the Honda BR-V for a test drive recently.
The joy of driving comes not necessarily from the destination, but rather from the journey and the driving.
As I sat behind the wheel of the BR-V my mind wandered towards the journey ahead. I was thinking about how the BRV, which aptly stands for "Bold Runabout Vehicle," was conceived from an idea that underscores confidence and boldness in embarking on new adventures with family and friends, wherever the destination may be.
The Honda BR-V through extensive market research was developed with the Filipino family's taste for style, practicality, and adventure. Yet, I had not set my sights on any new place — but rather just a frequently traveled road — on the special, oh-so comfy BR-V.
The journey started by getting behind the wheel of the Honda BR-V Seven-seater SUV.
It only gets better
Honda car engineers are always looking for ways to make their SUVs even better — and the BR-V is no exception. After all, the BR-V features smooth suspension because of its additional ground clearance (totaling 201mm). Add to that the its flatter and more stable cornering characteristics and what one gets its a smoother ride. I guess, all these developments are must because the BR-V is made for seven passengers — and on the day I took it for a test drive I made sure to bring a long a few friends so that I could get a feel of how this cool SUV performed with a full load.
There were five of us in the BR-V, and each of my passengers told me they felt comfy and, from where they were seated, they did not feel that the 1.5 L BR-V was having difficulty ferrying the almost full load.
I must add here that my happy campers loved the seats of the BR-V, which they said were oh-so comfy.
After all, the BR-V offers adjustable headrests on all three rows, keeping in touch with the SUV's more premium positioning; the seats are better bolstered, too. The seats were easy to slide and recline into a comfortable position. The third row of east allow for split folding.
Well-seated, we were ready to spin.
Under the hood
As I started my drive — destination still undetermined — I felt the 1.5-liter i-VTEC engine start the rev. Its 120hp and 145Nm of torque, easily giving the BR-V a smooth start. The Earth Dreams CVT winds the engine up to get that power (it drones constantly at 4,000-5,000 rpm). Also, the CVT does help in making the BR-V achieve close to 10 km/L in the city and around 15 km/L on the highway. On a full tank of 42 liters, road trips in excess of 600 kilometers without refueling are possible — all depending on how efficient my driving is, of course.
As I drove out onto the SLEX, my passengers hollered that a trip to Tagaytay would be great. It would take us about 45 minutes to an hour to get there — and a stop at Bag of Beans would be a great place for a yummy snack.
Destination was set.
Drive, Drive
If there is one thing that makes driving the BR-V a joy, it is this: having four friends in on the ride and being behind the wheel of a vehicle that is just the right size and nifty to handle.
Driving down the SLEX was literally a breeze because the BR-V is the perfect size. I felt confident that I would be able to do a quick overtake of the slower moving vehicles while behind the wheel. I felt this even more as we exited Sta. Rosa and the two-lane provincial roads took over.
The BR-V was just perfect in handling these two-lane situations. Its light steering made it easy to slot in and out of crowded spaces, but the compact body size allows this 7-seater to turn in just 5.3 meters.
We were nearing Bag of Beans and it was time to check out the safety features of the BR-V. I must state here that the BR-V is geared towards family driving and has also received a perfect 5-Star ASEAN NCAP score.
It is equipped with dual SRS airbags, ABS with electronic brakeforce distribution (EBD), Brake Assist, and ISOFIX child seat anchors. A big plus is putting in Vehicle Stability Assist (VSA) as standard equipment. Normally reserved for more expensive vehicles, VSA helps keep the car in control during emergency handling situations.
All these safety features give you road trip confidence whenever you're bringing your most precious cargo: your family or in this case, the barkada.
It was a fun drive — not just because this SUV was such a joy to ride but also because the barkada was spilling over with jokes all throughout the drive.
I normally prefer my drives to be quiet ones — but I allowed this one to be rather rowdy. Once in a while, rowdy equals fun.
Yes, it was also quite chilly inside the cockpit. The BR-V's air-conditioner is equipped with dual blowers and automatic climate control.
To coolness and beyond.
Another day of driving, another wonderful experience.