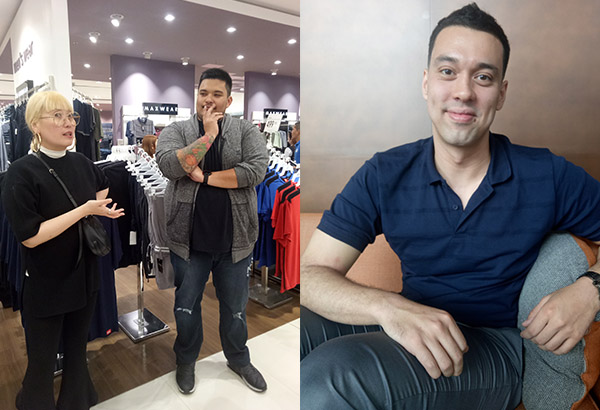 From left: Preview magazine fashion director Daryl Chang giving style advice to Luigi Muhlach, son of actors Aga Muhlach and Janice de Belen; PBA star and 2017 Governor's Cup Player of the Conference Greg Slaughter. Philstar.com/Jan Milo Severo
Plus-sized like Greg Slaughter? Fashion editor gives style tips
MANILA, Philippines — Do you consider yourself plus-sized like basketball star Greg Slaughter and chef and restaurateur Luigi Muhlach?
Preview magazine fashion director Daryl Chang believes that when it comes to fashion, there is little difference between a plus-sized one and a "regular" one.
"I think it's just more of your choice of clothing. Parang if you really like going all-out fashion, then you just pick what's there and do fashion. But if you want really basic, then you can be very basic. I think at the end, it's just really finding the right brand that has your size. That's always the problem for plus-sized people," she told Philstar.com during the recent SM Men Plus event.
As the stylist for the campaign, Chang advised plus-sized men to stick with fabrics that breathe, so the clothes can stretch and make them comfortable, even when they are on the heavier side.
Chang added: "I think it is depends on the person's personality. If you're more on the bold side, you pick more colorful colors. But if you like to blend in, just go with the monochromatic look, so maybe just a black top and a dark pair of pants. The monochromatic look is always slimming because it gives you a straight vertical line, so mas payat."
In general, Chang recommended dressing appropriately depending on the event you will be going to.
"Of course, if you're going to dinner, you don't wear shorts. Wear a polo shirt and nice pants. I think it's more of that. At the end of the day, the person who's wearing that should feel comfortable. When you're happy with what you're wearing, it shows."
During the launch, SM Men Plus also introduced three new ambassadors to revolutionize the meaning of plus-sized men. These endorsers are Philippine Basketball Association player and 2017 Governor's Cup Player of the Conference Greg Slaughter; chef and restaurateur Luigi Muhlach; and culinary blogger Alexis Deocaris.
"I'm pretty stoked. This is actually the first time I will be representing a clothing brand. My advice for plus-sized men is not to be discouraged, as there is a brand available that is both stylish and suited for us," Muhlach said.
Slaughter agreed, saying: "Clothing was always limited to me in the Philippines. It's like I lived in my basketball clothes because that's all that ever fit me here. But this new clothing line has given me a whole new range of options."
"Whatever your size is, there should be no hindrance in terms of expressing yourself through clothing. Happiness is what comes out when you express yourself," Deocaris assured.