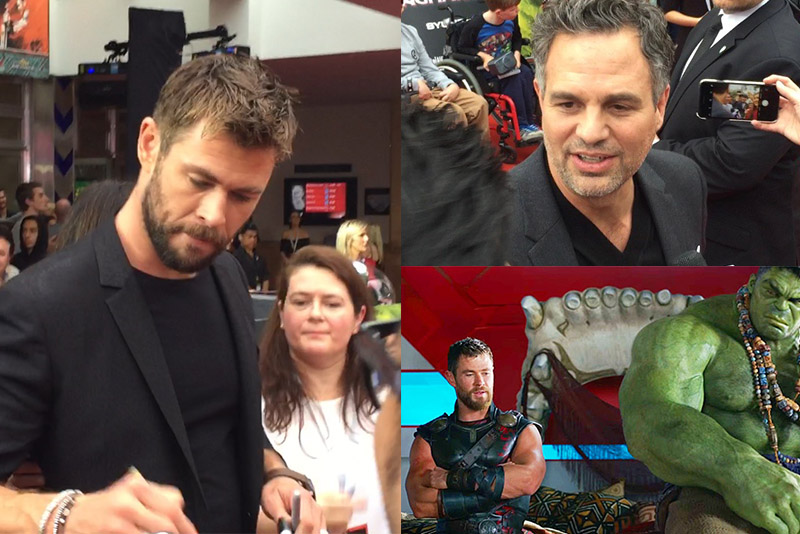 From left: Chris Hemsworth signs for the fans in Sydney; Mark Ruffalo (top right); Buddy movie: Thor (Chris Hemsworth) and Hulk (Mark Ruffalo) in Marvel Motion Pictures' "Thor: Ragnarok" released by Disney Studios (bottom right). The STAR/Scott Garceau
Exclusive: Marvel's ultimate fighters, Hulk and Thor, meet up at Sydney premiere
SYDNEY — All Marvel fans' eyes were riveted down under this weekend for the Asian premiere of "Thor: Ragnarok," released by Disney Studios Motion Pictures in a smashing rollout in Sydney, Australia.
Australia, of course, is home to Chris Hemsworth, the beefy actor who plays the God of Thunder in his third installment. This time around, Thor is trying to save his home of Asgard from an apocalyptic threat, a task made more difficult after he's held prisoner on planet Sakaar and forced to fight Avengers colleague Hulk in a gladiator-type arena. It's rage in the cage as two of Marvel's ultimate fighters battle it out to survive.
Both Hemsworth and Mark Ruffalo, returning as Hulk, tore up the red carpet outside of Hoyts IMAX, with a row of press and fans on hand showing the love. Also on hand for the press junket was New Zealand director Taika Waititi, who promised a more lighthearted, comic tone to the franchise — and on this he delivered. This is the first major Marvel project for Waititi, who also plays the NZ-accented prison guard Korg, after dazzling Marvel with a "sizzle reel" that showed the direction he planned to take the latest entry.
Hemsworth, comfortable in his home turf of Australia (where much of this Thor outing was filmed), was game enough to pose for selfies with fans and sign autographs. Ruffalo, flying in from the States, seems to have an equally ardent fan base, whether he's Bruce Banner or a hulking green monster.
Missing from the premiere were other Brit and Australian actors including Sir Anthony Hopkins (Thor's father Odin), Tom Hiddleston (returning as Loki), Idris Elba and Cate Blanchett (playing twisted sister Hela). But as fans who've watched theThor: Ragnarok trailer know, the main event was between these two buffed-up badasses, to see which one gets to lay claim to being the "mightiest Avenger."
In a press roundtable, Hemsworth spoke about his push to work more adventure and humor into the new Thor installment, after doing its "Shakespearean period" in Thor: God of Thunder and Thor: The Dark World. It shows: this is the funniest Thor yet. Part of the plan was working with director Waititi, who favored improv between actors, and channeled '80s pop references such as video games, Duran Duran and Big Trouble in Little China. "I just remembered how excited I was coming out of the theater as a kid watching movies like Back to the Future, just going, 'Whaaaat!!!?' I wanted people to leave cinemas thinking they'd had a really cool adventure."
Working with Ruffalo was a blast as well. In earlier Marvel installments, "Thor and Hulk had never spoken on camera together, so we got to sort of invent that chemistry and relationship. And (Ruffalo) is so much fun, especially improvising together, because there's this so sort of childlike, innocent, uncertainty he put into that character which Hulk didn't have before."
On screen they smash each other stupid. On the Sydney red carpet, they took selfies with fans and signed autographs. And they ended up giving each other a big bro hug for cameras before heading off to the next adventure.