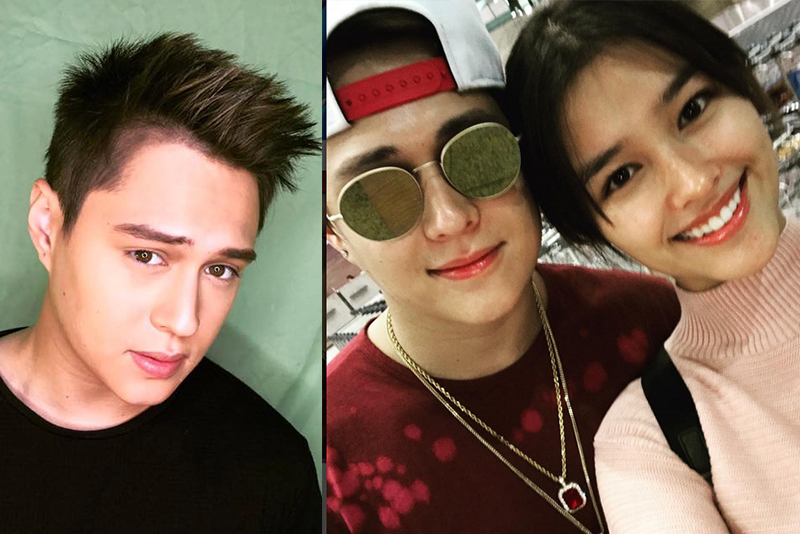 From left: Actor Enrique Gil sporting his new 'do; Enrique with real-life girlfriend and "My Ex and Whys" co-star Liza Soberano Instagram/Enrique Gil
Enrique Gil answers X's and whys of men's grooming
Apart from being a multi-awarded actor and dancer, Enrique Gil is also known for his conic hairstyles that fit his many roles.

"Our hairstyles are not just about good looks, they also allow us to express ourselves," the ABS-CBN star said during his recent launch as Grips endorser in B Hotel in Quezon City.

In "My Ex and Whys," his latest movie with reel-and-real-life girlfriend Liza Soberano, Enrique sports a clean, spiky cut.

In an interview with Philstar.com, Enrique explained why taking care of one's crowning glory is more than just vanity.

Q: How important is your hair to your career and love life?
E: For me, that's the most important thing. I guess, you know your hair will determine how you are as a person. It shows your personality. And one thing I notice lalo na sa mga Pinoys, they're super, super vain. In high school, doon sumikat yung mga hair wax and everything so high school pa lang everybody's doing the spiky look. And for me kasi what I notice about Pinoys is whenever they come out, lagi silang pormado with their hair. Their hair is always nice and fixed and that's how you present yourself. That's the first impression and also the last in people's minds, so para sa akin, how you present yourself and look tidy and clean and show off what style you are from hair color pa lang. Sa hairstyle pa lang, alam mo na ang ganda pala ng tao. Kung may taong naka-dreadlocks, parang naka-spike out, ganito syang klase ng tao. Medyo edgy so it's the most important thing I guess lalo na sa career ko as an actor, whenever you come out, you know, you have to look presentable to everybody.

Q: How about love life?
E: Love life? Men… love life…Syempre 'di ba kailangan.. usually pag nandun 'yung 'pag nasa date ka, something na everyday when I go out, you know you need to look presentable... Kahit ako nasa kotse, last minute, bago bumaba, before ako pumasok sa mall, papasok muna ko sa CR to check the hair bago tuluyan nang to show yourself to the people, so it's super important. I think the most important thing is hair.

Q: How do you take care of your hair?
E: My Hair? Of course, shampoo. People use conditioners the wrong way. Like when you put conditioner, usually sa roots parang shampoo. The right way to do it is parang from the end of it pataas. That's the proper way of using conditioner…Ako dati nag-conditioner, deretso lang. Mali pala, dapat pababa pataas. That's the right way. You can search it on the Internet.

Q: What hair problems have you encountered? Do you have hair problems?
E: Yes. Kasi my hair compared to other people, I have a lot of hair but yung strands are very thin. So, there's some hair products out there na I've tried before na its so heavy and so oily na bumabagsak. It's meant to stay up…

Q: How do you manage your hair problems?
E: My hair problem is… I really have a limp hair nga, so if I don't go out for a shower and you don't put any wax or clay, bagsak lang yung buhok ko. It's super fine and hindi naman ito tatayo kung walang product eh, so I really need (a good hair product) to put my hair up and to (give) it volume and to style it kasi kung wala, bagsak talaga 'yung hair ko. My problem is worse than other guys'. Sa ibang lalaki, makakapal buhok nila, eh.

Q: Why and how should Filipino men groom themselves?
E: Why and How? It's how you present yourselves. Like, if I've met somebody the first time, first impressions lasts in people's mind…It's like going to a job interview…It's how you present yourself that will determine what kind of person, personality you have, so it's a good thing to show the best of you to other people. (If you're) presentable, people take you seriously and respect you.