Will we soon see a superhero team composed of manananggals, dwendes and tikbalangs scaring their way into the international comic book arena?
We damn sure will, if Pinoy comic book rockstar artist Whilce Portacio has anything to say about it. In the early '90s, Whilce built his name in the comic book industry by drawing the most popular Marvel Comics characters — including the X-Men, Punisher, Hulk and Iron Man — until he left to help establish Image Comics with several other popular Marvel comic book artists. It was at Image Comics that he introduced his creator-owned comic called Wetworks and Stone.
During an exclusive interview at the recently concluded AsiaPop Comic Con, I reconnected with Whilce to talk about his role in bringing Pinoy artists to American comic books, his plan to bring Pinoy mythology to the world stage, and if there was ever a Filipino member of the X-Men.
RJ LEDESMA: I understand that Bishop (a comic book character Whilce created who appeared in the movie X-Men: Days of Future Past) was supposed to be a kababayan? Was he the subject of historical revisionism?
WHILCE PORTACIO: (Laughs) I had taken over the artistic duties starting on Uncanny X-Men No. 281 and the editorial team felt that our (X-Men) team didn't have enough "firepower" because Wolverine was on the other X-Men team (at the time, there were two X-Men teams running around). So they asked me to create a new character, and to do in two weeks!
It's a good thing you have the mutant ability to beat deadlines.
At the time, I was living on the West Coast. So I called my editor Bob Harras in New York and pitched my new X-Men character. Apparently, he liked the character. But before I could tell him the big surprise — "The character is Filipino!" — Bob said that upper management wanted a black hero because there was a clamor among teenage African-American fans for a black character.
Well, there could still be a Filipino in the X-Men. Rex Navarete has always suspected that Wolverine's got some Pinoy blood in him. All the pomade in his hair alone is a dead giveaway. You've been visiting the Philippines more often of late. Are you doing another local project?
I can't be too specific, but I'm opening up a new studio. It will be dual studio that will do intellectual property servicing and produce it across different media. We can take a concept and produce it into an intellectual property, but at the same time we'll be producing our own intellectual properties, too.
So we might finally see Jollibee, Popo and Hetty getting a gritty superhero makeover as well?
And this will probably be all over social media next month, but I'll be in partnership with Wattpad to translate their stories into graphic novel format. Wattpad's next stage is hopefully allowing comics on their website. For me, it's opening up another distribution channel for local indie comic book creators.
That's so dating a gangster!
There are actually two artists with whom I have been working with for quite a while now. I'm also partnering up with a big local producer and a director. Together, we are envisioning a universe of everything that is about Pinoy mythology and the supernatural. We're going to imagine a fairytale-like world where all these (mythological creatures) co-exist: they will have relationships and backstories. Then we're going to franchise (that universe) into the movies.
So you'll eventually be like the Jollibee of Pinoy pop culture?
(With the studio), I'm finding out that this has become the new love of my life — teaching and nurturing new artists. But also to start offering them jobs. There are so many good Pinoy artists out there, but they are often shy and aren't that great about keeping up a relationship with their editor or even asking for work.
During the AsiaPop Comic Con, one of the legendary comic book artists — Mike Zeck — who was a guest at the con said that you don't get enough credit for introducing a new batch of world-class Filipino artists into the US comic book scene. How does it feel knowing that many of these Pinoy artists owe their careers directly or indirectly to you?
I'm really proud of that. They're all great. For example, Leinil Yu (who has drawn practically every major Marvel character) is not only a fantastic artist but he's a really good person as well. And he really loves the medium. Our artists are really different. I'd really like to discover more of our artists and explore with them.
Do Filipino artists lend a distinctive style to the comic book medium?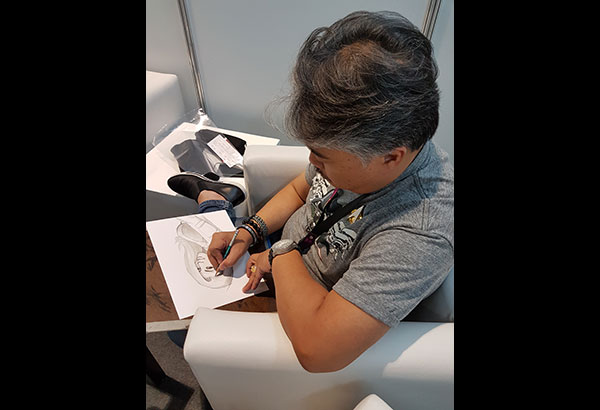 Portacio took a break between signing to finish off commissioned artwork of Jean Grey, a popular X-Men character whose costume he redesigned in the early '90s.
Right now, (Pinoy artists) are really lending another visual style that is not too far from existing styles. But what I really hope is that, in the future, we will start getting our Filipino (comic book) writers recognized. And these writers can start writing stories about real Pinoys.
#AlyasRealPinoySuperHeroes.
I would like our writers to tackle Pinoy concepts like pagkikilala or tropa or barkada or ate or kuya. In the Philippines, we're still very much family and relationship-oriented. I think that's the real basis of who we are and that's the base of what we have to teach the world. Or re-teach the world.
Hugot right there. How do you plan to bring Pinoy writers to an international audience?
There are a lot of existing Pinoy comic book writers right now: Gerry Alanguilan, Budjette Tan, and you've done some writing yourself. Now it's time to take those stories and spend more time planning them. We have existing stories, but our writers — and our artists as well — have to juggle writing and drawing with their jobs and their families. It's people like me who need to help our local creatives to position themselves so that they spend more time crafting their stories or working on their art.
I would like nothing more to do than to spend my days hanging around grown men wearing their underwear on the outside and punching each other senseless!
For example, anybody can have a tikbalang or manananggal story. But have tikbalangs or manananggals ever met? Do they hate each other? Love each other? Was there a war between them before? Which side were they on? How do they feel about dwendes? We need to think about the interlocking of these stories to make it one whole world. This way, we don't reinvent everything because it's already all in our psyche. But it's about time for our writers and artists to seriously sit down and put it together so that we can present it to the world.
I look forward to the day we find a manananggal stuffed toy in every kiddie meal.
* * *
For comments, suggestion or a manananggal stuffed toy, email Ledesma.rj@gmail.com or visit www.rjledesma.com. Follow rjled610 on Instagram or @rjled on Twitter.