It's time to discover this hidden gem in Manila's restaurant scene
August 18, 2022 | 12:00am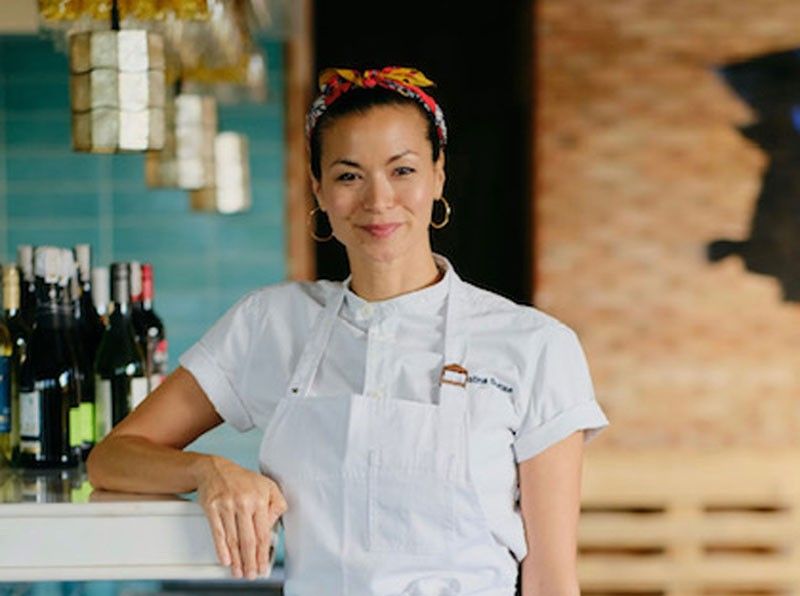 One of the hidden gems of Manila's restaurant scene is Sunae Asian Cantina, the eponymous eatery of chef Christina Sunae, who's Korean-American but was raised in Pampanga by a Filipino family who fed her not only with love but also the region's incredible cuisine.
Now based in Argentina, where she named her restaurant there Apu Nena after her Pinoy grandmother, Sunae is back in the Philippines to launch a new menu for Sunae Asian Cantina that's right in step with the trending plant-based movement, and showcases the chef's inventiveness with umami flavors.
The new Tiger Cracker appetizer is an appropriate gateway. Named so because the cracker is in the form of a little tiger head, it's completely vegan, filled with vegetables, rice noodles, fried tofu, and hoisin peanut sauce.
Another delicious vegan starter is the generously sized Curry Puff, filled with chickpeas, coconut curry, potato and carrots. "I decided to put a lot of attention to more vegetarian dishes," Sunae says. "We put a little Sriracha for spice and the masa (dough) is a little bit on the fattier side, but it's vegetable fat."
The cantina is part of Carlo Lorenzana's Nikkei Group, known for restos that pair modern cocktails with excellent food, and Sunae is no different. For the launch event they had an Aperol Spritz cart that served bottomless glasses of the popular tipple, and they also feature Engkanto beer and Luisita rum made by the Cojuangco family in new cocktails like Tikling (Luisita Jungle Bird), a mix of Luisita Oro rum, pineapple juice and Campari; and Antigo (Coco Old Fashioned), where the rum is blended with coconut sugar syrup and orange bitters. An all-day deal is three cocktails of your choice for only P550.
Chef Sunae said, "Talking to Carlo, he's like, 'You know, everyone wants more things to have with drinks,' that's why we have the empanada, the curry puff, things you can have with cocktails — because we have a great cocktail menu to eat with that — but at the same time focusing on bringing more vegan dishes here because the public here are asking for it."
Even in Argentina, a meat-eating country, she says the plant-based movement took hold before the pandemic.
"I opened a restaurant in a trendy young neighborhood where you can go bar hopping and everybody wants vegan dishes," notes Sunae. "People want to eat healthier, are working out and taking care of themselves."
Which is why she tried doing a burnt-cabbage dish a few years ago "and I really liked it; it came out really nice. Actually it's a dish from Apu Nena, my restaurant in Argentina. We put it on the menu there because we have a charcoal grill right in the middle of the restaurant, and it's a bar that goes all the way around.
"So a lot of the dishes are dishes that I've been doing in Argentina and I'm bringing them here based on what we think the public would like here. And I love cabbage and peanut sauce together. It's two things that just go really well."
Thankfully she's brought her Burnt Cabbage dish to Manila, and it's a unique must-try. The cabbage is charred black on the outside but pure white inside, sliced to show the layering of the leaves, and I loved its crisp freshness contrasted with the richness of the peanut sauce.
For me, it's this kind of dish that highlights chef Sunae's creativity, and I wish more people would taste and discover her innovative twists on Pinoy, Asian and global food. (For meat lovers there are many dishes to try, like Sunae's Sisig and Lechon Liempo.)
Lorenzana notes, "We have a lot of Mindanao food, Zamboanga food, Pampanga food, Bicol food... all developed by Christina in her own style. I would say it's elevated."
He would know. Carlo travels the world in search of the best food and inspiring concepts he can bring to Manila, and when he met Sunae in South America, he was so impressed with her and her food he decided to open Sunae Asian Cantina in BGC.
The willowy chef still has family in Pampanga, and they came to the cantina to eat a few days ago. Sunae's Apu Nena passed away in October, so the chef went to pay her respects in Pampanga. "Yesterday I was with three of my aunties, my ate and my little nephew."
Her favorite dish from home is bulanglang, so when she got to her aunt's house and opened the door, she sniffed the air and it smelled like home. "Ah, bulanglang! I was talking to my mom, and my mom said she called my aunt. She was like, 'What are you going to make her?
"She's like, 'Bulanglang! What do you think I'm going to make her? That's what she likes! (laughs) But the bulanglang in Pampanga is guava and pork with kangkong and taro, or gabi. That's the way I like it. With sawsawan, dark soy sauce and chilies."
Maybe in the future, chef Sunae can include that tribute dish to her home province on the menu as well.
* * *
This Sunday, Aug. 21, the resto will offer a brunch featuring the new dishes, plus a surprise from chef Sunae.
Sunae Asian Cantina is located on the 2/F View Deck of One Bonifacio High Street Mall, PSE Tower, BGC, Taguig, with tel. nos. (0916) 607-4903, (0956) 469-2836, and 7746-9046.