Why you need a gin lover as a friend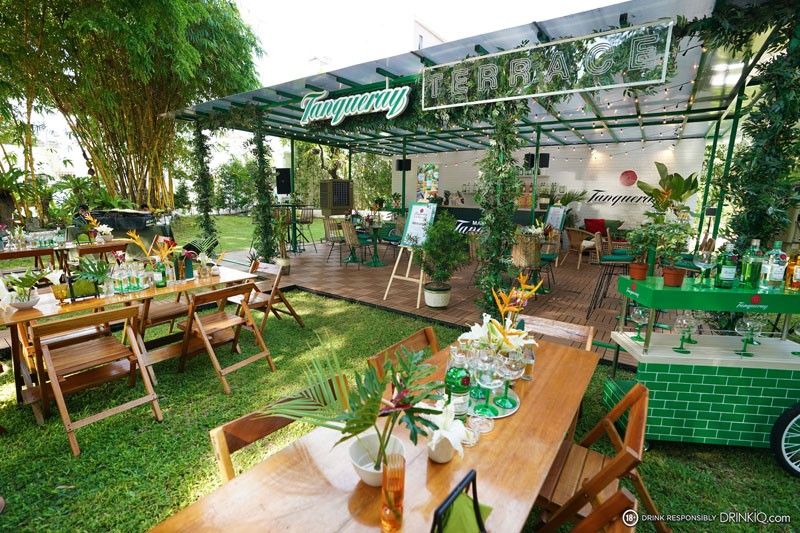 Everyone has a friend that's obsessed with gin. My friend carries pink peppercorns in her bag, always ready for a gin and tonic at whatever hour, preferably in the afternoon.
There's even a lot of gin merchandise on the internet for fanatics, from "Forgive me, I Have Ginned." to "Home is Where the Gin Is." Gin lovers have a good sense of humor.
On May 27, Tanqueray opened its first pop-up bar, Tanqueray Terrace, at Palacio De Memoria, a historic mansion in Parañaque.
With the lush greenery surrounding the bar, expert mixologists served T&T's (Tanqueray and Tonic) accompanied by pizza and burgers. It was a gin lover's dream.
This place is where gin lovers can bring their family and friends together for an afternoon cocktail, away from the traffic and noise of Metro Manila. Think of it as a bar you can visit for a first date, a festive family occasion, or even after the end of a stressful workday.
To match the cocktails, the food is by The Loggia by Margarita Forés, which specializes in Italian-Filipino cuisine. In the future, there will also be cocktail master classes and DJ sets.
At the center stage of Tanqueray Terrace are five varieties for every gin lover:
Tanqueray London Dry Gin - Best enjoyed with a tonic and wedge of lime. This spirit is a classic, rooted in an almost 200-year-old unchanged recipe. It is crafted from four balanced botanicals: refreshing juniper, peppery coriander, aromatic angelica root, and sweet licorice. If you are new to gin, start here.
Tanqueray No. Ten - Best enjoyed with tonic water and a wedge of pink grapefruit. This spirit is the standard for premium gin. Distilled in small batches with the same four botanicals of the London Dry Gin, there is the addition of grapefruits, oranges, limes, and chamomile flowers. Try this if you love citrus fruits or are looking for the ideal gift.
Tanqueray Flor De Sevilla Distilled Gin - Best served with tonic water and a wedge of orange. No other gin offers such warmth. However, the addition of Seville oranges and orange blossoms to the four botanicals offers something different. Charles Tanqueray's Andalusian travels inspired this bottle. Try this one if you like an adventure.
Tanqueray Malacca - Best served with tonic water, fresh mint, and peppercorns. This gin features exotic botanical ingredients with notes of peppercorns and cloves. Its secret spice mix has been guarded for years. If you like to be surprised, this variety is for you.
Tanqueray Rangpur Lime Distilled Gin - Best enjoyed with tonic and a wedge of lime. This spirit blends Rangpur lime, ginger, and bay leaves. Rangpur lime is a rare fruit originating from India with the zest of lime and the juiciness of mandarin. Try this if you'd like something exotic.
I love gin lovers because they know how to switch gears from work to play, so it's never hard for them to de-stress from a day's work. And it's always happy hour as long as there is gin.
Gin lovers know how to make the most out of any situation. Just think of Charles Tanqueray, the founder of the 200-year-old brand. With just the simple combination of only four botanicals: juniper, coriander, angelica root, and licorice, we have one of the most celebrated spirits to this day.
* * *
Tanqueray Terrace at Palacio de Memoria is open from Thursdays to Sundays, 5 p.m. to 10 p.m. Keep updated through www.instagram.com/tanquerayph .
Recipe File
Leafy cooler
(Recipe from David Abalayan, Diageo World Class Philippines Bartender of the Year 2019)
30ml Tanqueray London Dry Gin
15ml Ketel One-infused Japanese cucumber
22.5ml lime juice
15ml mint syrup
7.5ml celery syrup