Summer eats and beats 2022: Hottest dining spots, food treats to check out
February 28, 2022 | 4:56pm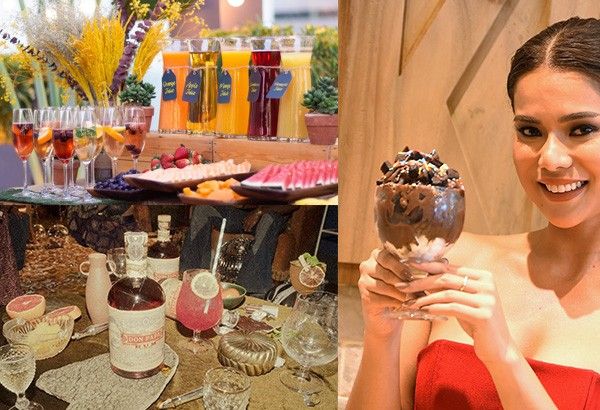 MANILA, Philippines — We are already feeling it: the cool, refreshing fun of the summer season.
And what better way to enjoy our sunny days than indulging in "delish" dining treats and yummy food options that we can enjoy with our loved ones and friends.
New strawberry delight
What do you remember most about your childhood? As you grow older, the fun and exciting memories are usually the ones you can easily look back to. Reminiscing the days spent playing games with your childhood friends while enjoying goodies can instantly put a smile on your face. And with Jack 'n Jill Nips' new flavor, Strawberry Delight, you can reawaken that inner child in you and fall in love again with one of your favorite childhood treats.
The new Nips Strawberry Delight is a yummy and affordable treat that is made with creamy ruby cocoa, balanced with a luscious strawberry flavor — all lovingly embraced by a crunchy candy coating that we all grew to love.
There's no doubt that Nips played a huge role in our childhood. Its irresistible, creamy, and delicious chocolate flavor makes reminiscing about the good old days the best. But the good days don't have to stay in the past. You can relive and experience these moments with your friends – both old and new. Nips will surely give you a blast from the past with a twist of new and exciting flavor with Strawberry Delight.
For only P16 SRP, it comes in a 40g pouch that makes it easy to bring and eat anywhere and anytime. Just head on down to your favorite supermarket or local stores to grab a bag or two for you and your buddies. Nips is a product of Universal Robina Corporation (URC), makers of well-loved Pinoy snacks and drinks such as C2, Great Taste, Jack 'n Jill Piattos, Cream-O and Maxx. to know more about URC and its brands, visit www.urc.com.ph.
New peanut butter collection
Seattle's Best Coffee is adding some nutty goodness to your favorite drink as it unveils the new Skippy Peanut Butter Collection. Now available at all Seattle's Best Coffee branches nationwide, the collaboration brings a unique taste with every sip of your chosen drink from the collection.
For chocolate lovers, satisfy your love for decadent treat with the Skippy Hot Choco. This non-coffee-based drink is made with the luscious combination of dark chocolate sauce, rich milk, and Skippy Creamy Peanut Butter. For coffee enthusiasts looking for a different take on their favorite drink, there's Iced Choco Java. This cold drink is crafted with a shot of espresso, white chocolate mix and peanut butter.
A truly rich drink that's sure to perk up your day, the Dreamy Cookie Javakula is an ice-blended beverage with rich flavors: a shot of espresso, dark chocolate sauce, creamy peanut butter, and garnished with whipped cream and peanut cookies.
The collection is available for dine-in, take-out, and delivery through Facebook Messenger (https://www.facebook.com/seattlesbestcoffeephilippines), Grab Food, Food Panda, and Pickaroo.
Krispy Kreme introduces new duo doughtnuts
Doughnuts brand Krispy Kreme continues its celebration for all things chocolate with new doughnut flavors: Kit Kat & Kreme and Swiss Chocolate & Caramel.
Kit Kat & Kreme is an unglazed dark chocolate doughnut spread with mashmallow "kreme" icing, Kit Kat spread, and topped with chopped Kit Kat chocolate bar.
Meanwhile, Swiss Chocolate & Caramel is unglazed dark chocolate doughnut topped with vanilla "kreme" and rich dark chocolate, topped with sliced Swiss Nougat chocolates and drizzled with caramel.
These new flavors are available for a limited time for P59 per piece. Call 888-79000 or visit now.krispykreme.com.ph.
Max's brings back old school Pinoy desserts
Filipino restaurant chain Max's is welcoming the summer season with old school Pinoy desserts by bringing back childhood favorites for a dose of sweet nostalgia.
Since the summer heat is starting to kick in, customers can enjoy its Classic Pinoy Samalamig to stay cool and refreshed. Guests can choose from any of these two new treats:
Knickerbocker –.Max's Halo-Halo now has a fruitier version with this cooler inspired by the popular dessert in Zamboanga. It's made from a delectable concoction of fresh watermelon, mango, buko strings, gulaman, milk, and topped with Selecta's strawberry ice cream and bits of our iconic Caramel Bar.
Ice Scramble – A classic Filipino summertime treat made from shaved ice, skimmed milk, sugar, and topped with colorful sprinkles, mini marshmallows, and chocolate syrup. It comes in two enjoyable flavors – Classic and Ube.
Another favorite Filipino snack is Turon. Both kids and kids at heart can't get enough of this deep-fried dessert. Max's puts a twist on the usual Turon by combining two appetizing flavors to it. Ube-Cheese Turon is a Pinoy dessert made with ube and cheese wrapped in crunchy spring roll wrappers. It's also served with Selecta's ube and cheese ice cream for a complete tropical treat.
These new summer offers are available for dine-in, take-out, and delivery in all stores nationwide. Orders can also be made through delivery.maxchicken.com or 888-79000.
Cast your cups: 7-Election is back with SpeakCUP
Starting March 9 to April 27, 7-Eleven will hold 7-Election 2022, its unofficial and unscientific yet fun and creative mock poll. Now on its third run, the brand gives everyone, regardless of voting age, the freedom and opportunity to cast as many votes as they want by choosing the cup of their presidential bet.
There is so much going on in the country, especially with the upcoming presidential elections just months away. The toxic conversations, spread of false information, and the rise of 'cancel culture' can be so overwhelming. So if you need a break from it all, the brand is here to bring convenience — and provide a safe space to SpeakCUP and be heard!
The 2022 edition is also made better with City Cafe joining the campaign together with Gulp. Now with more beverage options, the public can have fun, keep cool, and stay woke while participating in political conversations!
There are six available cups, each representing a presidentiable namely: Ping Lacson, Bongbong Marcos, Isko Moreno, Manny Pacquiao, and Leni Robredo, and one undecided cup for those who have yet to make a decision.
Despite being an unofficial and unscientific way to vote, the campaign claimed to have correctly predicted the winners of the presidential elections since it began in 2010. Customers can participate in this fun mock poll by availing a GULP or City Cafe drink from over 3,000 7-Eleven stores nationwide, starting at P35 for Gulp and P39 for City Café. One scanned cup equates to one vote. Votes are tallied daily and are reflected on the microsite www.7-election.com.ph. Customers can visit and view their specific store's leaderboard tally, which is updated every Friday.
It's only during 7-Election that registered and unregistered, of-age and underage customers alike can vote for their presidential bet more than once, and even change their mind midway.
While the campaign gives people a fun break from all the seriousness, 7-Election aims to promote voter awareness, encourage responsible voting, and ultimately, give the public a chance to be heard while engaging in healthy conversations with fellow Filipinos.
Score great deals for a summer cook out
The Metro Stores is back with its first big sale event of 2022. It's all about making life easy with affordable shopping of extensive product selections at The Metro Stores Sidewalk Sale from March 18 to 20. In a bid for an exciting invitation for customers to march back to the stores and to re-engage them with the shopping experience they missed, The Metro Stores is kicking off it's first sale event of the year with up to 70% off discount, and Buy 1 Get 1 deals on great finds. It happens in-store at Metro Supermarket and Department Store branches nationwide or online at www.shop.themetrostores.ph.
Need an upgrade on home appliances? Big discounts for even bigger savings await at the Metro Department Store on houseware, storage essentials, electronics and major appliances and furniture. Metro shoppers can avail P8,995 off on a 65" UHD LED TV with a free soundbar, or bring home a new aircon at P15,497 off. Add in some cooking ware and save P899 on cooking pots and P575 off on portable barbeque grills for more delectable dishes at home. Make comfort and affordability meet with up to 40% off on sofa sets and recliner chairs for your living room or give your room a quick makeover with storage and organization products at nothing over P300. Take advantage of bundle deals with free items on meal staples, such as fresh meat and vegetables, snacks, and even toiletries, cleaning items and more from Metro Supermarket.
Customers can also avail of personal shopper services through call, text, or Viber. Visit https://www.themetrostores.ph/orderonline/ for more information. Visit the nearest Metro Supermarket and Department Store to get first dibs.
From fidget toys, poppits now come as ice cream
Filipino ice cream brand Sebastian's recently launched its new Poppits in a Pint, their bite size ice cream nuggets which are a popular item at their ice cream shop and now available in their earth-friendly biodegradable paper pints at 14 pieces to a container. Poppits are their bite-size ice cream nuggets hand scooped and dipped in thin shells made from chocolate and other coatings. These Poppits are drip-free and you can eat them with your hands, with no spoons needed.
"The inspiration of Poppits came about because our Podium shop was situated next to the Movie theaters. Pre-pandemic, many people would buy ice cream as a movie snack to eat in the theaters. I thought about how potentially unwieldy it could be to eat ice cream in the dark; how you needed to spoon it up in the darkness and how it would melt and leave a mess," Ian Carandang of Sebastian's explained in a statement.
"We thought about the ideal movie snacks: popcorn, raisinets, Goobers, fries, nachos. The common thread with all of them was that they were eaten with your hands with no additional utensils required. Which of course ice cream could not be. There was an additonal fun aspect to eating bite sized chunks of food with your hand in the theater, and from there Poppits was born."
Although Movie theaters are finally open again, bringing in food is still prohibited, so the brand made these Poppit Pints to make it more convenient for people to enjoy them as they watch their favorite movies and tv shows in the comfort of their own homes. The flavors include vanilla, dark chocolate, Cookies n' Creme, Hazelnut Crunch, Oreo Mint, Buzz Balls (cold brew coffee ice cream made from a special custom Sagada bean rost by SGD Coffee, in a mocha chocolate shell); and the latest, bubblegum.
"This flavor (bubblegum) has been long requested by fans who have fond memories of it going back to the Coney Island Ice Cream days, and we are finally glad to bring it back, in a shape that resembles an actual gumball to boot!"
For those who can't decide (or down want to), you can order the Party Mix Pint, which includes all seven Poppits flavors at two pieces each. All Poppit Pints are 14 pieces per pint and retail is P260, available now for delivery and pick up at sebastiansicecream.com.
Summer fun at F1 Hotel's The Canary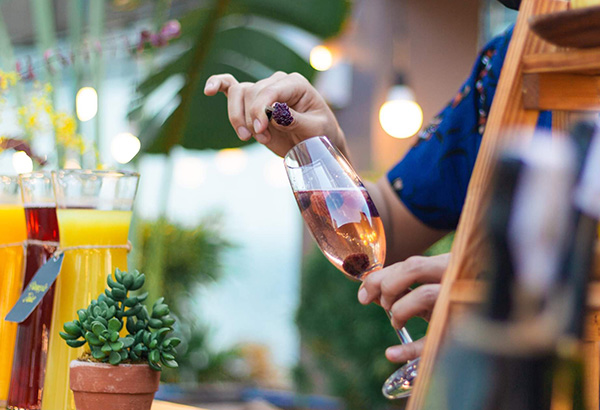 The Canary at F1 Hotel in BGC, Taguig City
The Canary at F1 Hotel in BGC, Taguig is a cool lounge to hang out, especially with its fun K-BBQ Nights with live acoustic music every Friday, from 6pm to 11pm for only PHP 1,300 net per night. You can enjoy a round of free Soju Cocktail available at the bar where you have 3 options to choose from – Soju Bulghida, Melon Hwalgi and BTS inspired cocktail, Army Bomb.
You may also enjoy The Canary's Sunday Brunch – a delectable brunch buffet complemented with unlimited drinks at the Mimosa Bar for only PHP 1,350 net per person available every Sunday from 11AM to 2PM.
Avail your summer staycation not far from home this sunny season with F1 Hotel Summer Weekend Room Package for only P4,600 net per night. You may book a Deluxe Room and P5,100 net per night for a City Suite available every Friday to Sunday. The package includes breakfast and two access cards to the Play zone and Summer Activities at The Canary.
For more information, book your reservations by calling 8928-9888 or 09199124802. You may also e-mail our reservations team at [email protected]
Kuya J launches solo meals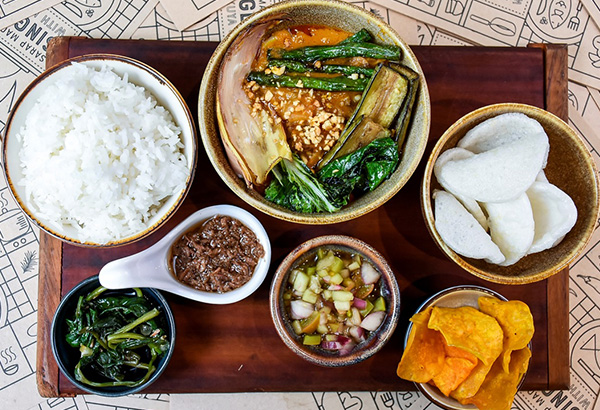 Favorite Filipino dishes now come in smaller solo servings at Kuya J. Enjoy delicious Pinoy faves like Kare-kare, Beef Caldereta, Sinigang na Baboy, Kuya J Bulalo, Beef Tadyang Sinigang, Puchero Bulalo Tagalog, Beef Pares, Chicken BBQ, Chicken Halang-halang, Chicken Sisig, Quarter Roast Chicken, Lumpia Prito, Crispy Bangus ala Pobre and Sinigang na Bangus at purse-friendly prices.
To celebrate the launch of its exciting Solo Meals line up, actress Bianca Umali, and celebrity influencers Leren Bautista, and travel enthusiast and blogger Angel Juarez "The Lakwatsero" recently got together at Kuya J Restaurant in Park Square, Makati to join guests in sampling these truly flavorful single-size Pinoy favourites.
Any Solo Meal meal order gets you a chance to win a brand new Vespa scooter, or Kuya J Sarap Maging Single premium items and meals til March 31, 2022. Visit Kuya J's Facebook page for more info.
Premium dark chocolate takes spotlight in Blizzard of the Month
With its rich and complex flavor, coupled with its numerous health benefits, dark chocolate is a treat that is truly in a league of its own. Inspired by this beloved superfood, Dairy Queen (DQ) is shaking things up this summer with a new roster of cold desserts featuring Belgian dark chocolate made from cocoa beans. It's time to beat the heat with DQ's latest Blizzard of the Month offering, the Dark Chocolate Fest, available from March 15 to May 16.
Indulge in a blend of creamy and crunchy with the Dark Chocolate Cashew Blizzard. DQ's signature soft serve is elevated to greater heights with premium melted Belgian dark chocolate, roasted chopped cashews, and chocolate topping, for a creation that will surely satisfy chocolate lovers.
Premium cocoa and tangy strawberries intertwine in the Dark Chocolate Berry Blizzard. It is made with creamy DQ soft serve mixed with premium melted Belgian dark chocolate, chunky strawberry fruit topping, and mini marshmallows—a concoction inspired by a classic dark chocolate and fruit pairing.
It's two all-time favorite sweets in one with the Dark Chocolate Cheesecake Blizzard. The creamy DQ soft serve mixed with premium melted Belgian dark chocolate is made even more delectable with a generous topping of cheesecake cubes, for those who are craving both chocolate and cheesecake.
In addition to the new Blizzard flavors, there is also the Dark Chocolate Almond Tin Cake. A sweet and nutty number consisting of cake crunch, chopped almonds, premium Belgian dark chocolate, and creamy DQ soft serve all contained in a re-sealable tin can, it's a cold dessert that you can savor and enjoy at your own pace.
And finally, there is the Dark Chocolate S'mores Blizzard Cake. Go all out with layer upon layer of dreamy delight made with cake crunch, cold fudge, crushed grahams, roasted peanuts, mini marshmallows, premium melted Belgian dark chocolate, and creamy DQ soft serve. It's the perfect cold dessert to share with family and friends.
The new Blizzard flavors are priced at P79 for Mini, P99 for Regular, P119 for Medium, and P149 for Large. The Dark Chocolate Almond Tin Cake is priced at P399, while the Dark Chocolate S'mores Blizzard Cake is priced at P599 for the 6" variant and P999 for the 8" variant. Visit your nearest DQ branch for dine in and take out orders, or order for delivery by calling the 8911-1111 hotline or by logging on to www.dairyqueen.com.ph. You can also order through DQ's official delivery partners GrabFood, foodpanda and Pickaroo.
Free birthday pizzas for March celebrators
Mimi & Bros celebrates its fourth birthday this March and beams "Happy" to its patrons. For the entire month of March, free pizza is on Mimi & Bros for lucky customers born in March. The free pizza is none other than the Mimi & Bros signature Pepperoni Dirty Bird Pizza. This best-selling pizza is a unique Crispy Fried Chicken experience topped with pizza sauce, pepperoni, and mozzarella.
The rule is simple and straightforward. Customers who are born in March can avail themselves of one free signature Mimi & Bros Pepperoni Dirty Bird Pizza when they purchase any food from Mimi & Bros' menu. No minimum amount is required.
To avail of the promo, customers must present proof of birth through a valid ID (Government ID, company ID, Passport, etc). The customer must then like or follow Mimi & Bros on Facebook or Instagram. A screenshot is enough to serve as proof.
The promo is valid for any food purchase and is exclusive only for in-store purchases. Those in groups must bear in mind that a maximum of two free Dirty Bird Pizzas may be claimed per group.
Mimi & Bros is a concept restaurant that was started in 2018 and was inspired by the walk up bars in Los Angeles with immediate access to the street outside. Through the years, the restaurant has put a strong emphasis on "Happy" as its decor exudes precisely this carefree vibe, and more importantly, Mimi & Bros' food brings about instantaneous happiness to customers.
Head Chef of Mimi & Bros, Edward Bugia stated, "We are so excited to have this promo for the month of March. This is our way of thanking our loyal customers and as well as attracting new ones to enjoy our brand of Happy with our food. We know that times are tough and so this is a sure way to give people a reason to smile through what we know best -- food."
The restaurant is open for Al Fresco Dining from 11 a.m. to 12 a.m. on weekdays and 7 a.m. to 12 a.m. on weekends at Crossroads BGC, 32nd St.
Don Papa Rum launches 'Manila Disco' cocktails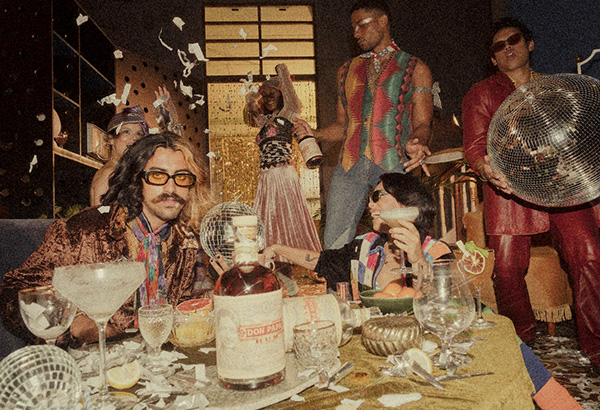 The Don Papa Manila Disco campaign debuts 4 new cocktails created by Aaron Goodall
Don Papa Rum, the premium single island rum from the Philippines, has unveiled 'Manila Disco' photo and cocktail series. 'Manila Disco' took inspiration from the decadent modern playground of dance and drinks amidst a glimmering oasis that is Manila's answer to Studio 54 – the wildly eccentric and gritty Coco Banana nightclub.
The campaign debuts four new Don Papa cocktails created by Aaron Goodall, the brand's Manila-based Cocktail Maestro. Coco Sour pairs the rich notes of Don Papa Rum with the spiced pimento dram, bright notes of grapefruit juice and lemon, and adds a tropical twist with a coconut syrup, while Manila Kiss is a mix of Don Papa Rum, Dragon fruit syrup, lemon juice, and rose lemonade, layered gently to create a marvellous gradient for this bright pink number.
Chocolate Wonderland is a fusion of Don Papa Rum, red wine, cognac, cacao, dried apricots, star anise, and salt & pepper infused overnight to create a holiday-inspired cocktail. Lengthen with hot water to warm you on a cold night, or stir up on the rocks for a spirit- forward hit, the Chocolate Wonderland delivers an air of mystery, sophistication, and the rich flavours of Don Papa Rum
Malate Martini replaces the traditional vanilla vodka with Don Papa Rum, along with pineapple juice, passionfruit syrup, lemon juice, and egg white, this cocktail bridges the world of the classic Pin?a Colada with the recently the Pornstar Martini. Served in a large coupe, and topped with a splash of Prosecco, this cocktail is the hero serve of the Manila Disco.
Enjoy these delectable cocktails at Run Rabbit Run until March 31.
Greenwich unveils new seafood flavors
Discover the star of the SEAson! Greenwich is introducing two new savory seafood offerings to its menu starting February 25 (in Luzon) and March 1 (in Visayas and Mindanao), but for a limited time only.
Featuring its Cajun Shrimp Overload Pizza and Creamy Shrimp Spaghetti, Greenwich is putting its own spin on its pizza and pasta favorites with fresh seafood flavors.
"Greenwich aims to continuously elevate the experience of every Filipino barkada and famkada, by introducing exciting offerings that respond to their meticulous cravings. We know that they will enjoy our new ultimate seafood discoveries that is shrimply overloaded in deliciousness and perfect for every bonding moment," said Pam Reyes, Greenwich's head of marketing.
One cannot go wrong with the Cajun Shrimp Overload Pizza which has an interestingly unique flavor. Its crust is topped with flavorful cajun sauce and is loaded with a generous sprinkle of seasoned shrimps, mushrooms, green bell peppers, sauteed onions, and three types of cheese. A 9-inch double-size pizza is priced at P319 only, whenever a pizza craving calls or when just spending quality time together.
Then there's the Creamy Shrimp Spaghetti that you shouldn't miss out on. The medley of pasta and the creamy aligue-flavored sauce with shrimps and mushrooms give off a fresh yet familiar taste. It is topped with grated parmesan cheese and fresh parsley to further accentuate the hearty flavors. A solo serving of this mouthwatering dish is priced at P109 only, while a shareable pan good for 3, best enjoyed with one's family or friends, is priced at P240 only.
These non-meat, seafood-based offerings are every seafood lover's dream, giving you feelings of comfort in every bite. Greenwich's newest pizza and pasta flavors will be available in www.greenwichdelivery.com, via #5-55-55 hotline, Greenwich Barkada Messenger, GrabFood, Foodpanda, take-out, or for dine in in any of our stores found here: https://stores.jfc.com.ph/greenwich.html.
'Less-guilt' milk tea
Southeast Asian milk tea brand Tealive opened its first outlet in Manila located at SM Jazz Mall, Makati. Born in 2017, the brand has quickly grown to over 700 outlets worldwide.
The brand is known for its unique way of drinking milk tea: flip your cup upside down so you can enjoy its flavorful, yet healthy signature sweetness: its signature Aren Palm Sugar Series.
Behind the flip is Aren Palm Sugar, an all-natural sweetener sourced from Arenga Pinnata palm trees in Borneo. With its sweet-yet-savoury taste profile, it serves as an even healthier sweetener than brown sugar.
The thick texture of Aren Palm Sugar creates a truly distinct drinking experience. Each drink in the Aren Palm Sugar series is served flipped, allowing the sugar to beautifully flow to the top of the cup like lava. Once the sugar has settled, customers then flip the drinks upright, mixing in the aren palm sugar to add a rich, complex layer of flavor to the brand's drink of their choice.
The brand's Aren Palm Sugar Series comes in a selection of 5 flavours, Aren Palm Sugar Pearl Milk Tea, Aren Palm Sugar Signature Chocolate, Aren Palm Sugar Signature Coffee, Aren Palm Sugar Milk with Black Diamond, and Aren Palm Sugar Nishio Matcha.
Keto-friendly options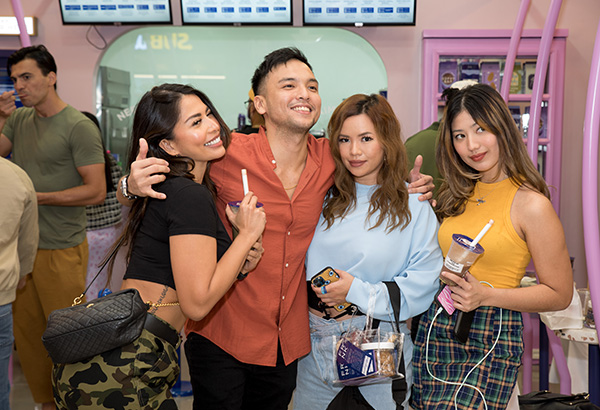 Isabel Galeria, Jerik Santos, Ash Cayuca, Phoebe Fructuoso
FRNK Milk Bar, claiming to be the Philippines' first authentic Japanese milk bar co-owned by Isabelle Daza, introduced its purse-friendly Keto Series. The Keto options are the Maccha Dream Box with layers of chia pudding, as well as Uji Kyoto maccha and sugar-free chocolate. Other Keto-friendly options are the Kokoa Dream Box with its layers of moist chocolate cake topped with chocolate chia pudding and a hard chocolate shell; and finally the Rare Chizu Dream Box, a refreshing Japanese-style cheesecake made with fresh yogurt, creamy cheese, and an almond biscuit crust with fresh flower toppings.
FRNK also launched its doors to its latest branch at SM Grand Central, as it introduced its new digital store on the ground floor as part of the brand's continued effort to provide #IndulgeHealthy experiences for customers. The Self-checkout Kiosk is an intuitive, contactless ordering system that allows customers to select their favorite beverages and desserts from a digital touchscreen – encouraging virtual payments, improving order accuracy, and reducing wait times.
The brand, touted to be the country's first authentic Japanese milk bar, reimagines the beverage experience through authentic Japanese flavors and honest, healthy ingredients shipped directly from Kyoto, Japan through their partnership with established Japanese green tea brand, Morihan.
New panda in town
A Panda sighting to welcome the Year of the Tiger. Panda Express, the world's largest American Chinese dining concept, is ringing in Lunar New Year with a new store scheduled to open on February 19 at Level 1, Pedro Gil Wing, Robinsons Place in Ermita, Manila.
"We are thrilled to celebrate the Lunar New Year with another milestone. Opening a new store in the country's capital city Manila means giving us the opportunity for us to serve the local community with Panda's freshly made and wok-tossed American Chinese dishes with our guests," said Ned Bandojo, Business Development Head, Foreign Franchises Brands of the Jollibee Group.
The new store is the sixth Panda Express in the whole Metro Manila area, since opening its first location at SM Megamall in Ortigas, Pasig City in late 2019.
The continuous expansion of Panda Express is a response to the clamor and cravings of Filipinos for delicious American Chinese cuisine, particularly, Panda's world-famous entrée, The Original Orange Chicken®, a crispy chicken dish wok-tossed in a sweet and tangy sauce; or Panda's award-winning Honey Walnut Shrimp, a mouth-watering entrée made with premium crispy shrimp wok-tossed in a honey sauce and topped with glazed walnuts.
As part of celebrating Lunar New Year, Panda Express is offering its Family Feast in special carriers. Families can customize their entrees and sides with all their Panda favorites in a Family Feast. For health-conscious foodies, Panda's Wok Smart entrees offer dishes with at least eight grams of protein and 300 or less calories, such as Panda's Black Pepper Chicken, a flavorful stir-fry with marinated chicken, celery and onion, coated in a bold black pepper sauce; or Kung Pao Chicken, a Sichuan-inspired dish made with chicken, fresh vegetables, crunchy peanuts and dried chilis for a slight kick; and the classic Broccoli Beef, a tender beef entrée with fresh broccoli wok-tossed in a savory ginger soy sauce.
Panda Express also offers plant-based options on its menu. A fan-favorite entrée, Eggplant Tofu, is the ultimate comfort food made with lightly browned tender tofu that is crispy on the outside, simmered in a sweet and spicy sauce with eggplant and red bell peppers and pairs well with White Steamed Rice, Mixed Vegetables and some Veggie Spring Rolls.
"Panda Express invites Filipinos to enjoy authentic American Chinese cuisine, prepared fresh and made in small batches. We're thrilled to bring our world-famous entrees made with quality ingredients to the community through our sustained expansion plans and store openings throughout the country," said Bandojo.
Panda Express Robinsons Place Manila will be open for dine-in, take-out and delivery through order.pandaexpress.com.ph, GrabFood, or foodpanda. Delivery locations include select areas in Manila, Pasay and Makati City.
Say 'Cheez' with Hidilyn Diaz
When kids have grit, determination, physical activity, plus strength-building nutrients from Cheez Whiz, they become unstoppable and unbeatable. Filipinos love an underdog. This is why the story of Hidilyn Diaz—a girl in a man's world overcoming all to win the gold — resonated so much with everyone. By now, how she worked her way up to becoming a full-fledged Olympian is known all over the country. But what hasn't been put in the spotlight much is what the normal Filipino and Filipina, kids, most especially, can do to reach their dreams, just like how Hidilyn did it.
Grit and determination were always present in Hidilyn's life, even when she was young. Curiosity brought her to lift her first weights, but it was grit and determination that kept her going back, even when it was difficult. When she was starting, she didn't dream of an Olympic goal right away. All she wanted was to become better and better at it, every single day.
Having grit and determination is not just for Olympians or people with big dreams. When you don't let anything stand in the way of you and who you want to be, you do everything in your power to make it happen! For example, grit and determination show up when you wake up at the time when you set your alarm because you were determined to make it to work early that day. It's the small things that count!
Hidilyn didn't let anything get in the way of her weightlifting, no matter how tough things got. She showed her grit and determination at a young age, saying, "Nung grade six ako, mahirap yung buhay. Pero naghanap kami ng paraan para makapag-training. Malayo yung gym namin, a two rides din 'yon, pero pumupunta parin kami kahit malayo, basta maka-train." Tween Hidilyn was already a force to be reckoned with, even back then!
Hidilyn wasn't born with the tools and traits necessary to become an Olympian. She had to start somewhere and keep pushing herself, even when things got hard. When it comes to grit and determination, it's not something you have or don't have. It's something you do every day, in everything you do, until it becomes second nature. Hidilyn says, "How to handle the situation and knowing how to respond sa mga sitwasyon, being determined sa mga ginagawa mo, matutunan yan ng mga bata sa sports at sa buhay."
Why not try approaching all that you do with a "can do" attitude? How you do small things is how you do big things—the determination you have to get up every morning is the same push you need to get through to finish that big project. Grit and determination are like muscles—when you keep using them and working on them, they'll get stronger!

When what you do shows results, it feels like a reward for all your hard work, doesn't it? Doing physical activity is like that. It's not just important to stay healthy and fit, but seeing your progress pushes you to keep on going, giving you the grit and determination you need to reach your goal.
Eating well must be done in tandem with physical activity. Think of food as fuel, and your body as a vehicle. It won't run properly without the right fuel! Hidilyn says that growing up, her mom fed them vegetables and other food that built their bones and stamina. Hidilyn says, "Kailangan disiplinado sa kinakain, kasi naka re-reflect din yung iyong performance namin as an athlete and anong long-term mangyayari sa performance namin." Calcium helps strengthens bones and builds muscle, which help in any physical activity. Calcium and other strength-building nutrients are found in Cheez Whiz, making it a yummy way for your kids to enjoy eating their nutrients.
Hidilyn's grit and determination helped bring her to the podium. It shows that when you keep trying and get stronger each day, there's nothing you can't overcome! When asked about her secret to success, she says, Hidilyn has this to say, "Alam ko mga bata maraming pangarap. Work hard. Walang magic, walang instant success. Do the actions—the secret to success is yung attitude and response. Be determined and give your best in whatever you do."
Richeese Wafers now come with Mobile Legends Cards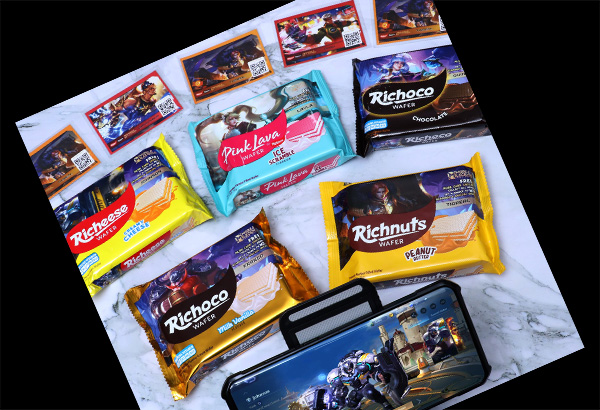 Participating Richeese wafer products are Richeese, Richoco, Pink Lava, Richnuts, and Coco Lava.
Richesse Wafers, as well as Richoco Wafers, launched a partnership with Mobile Legends (MLBB): Bang Bang, the leading multiplayer online battle arena (MOBA) game, through limited-edition MLBB cards that can be used to access exciting prizes, like free skins, diamonds, and other in-game features. The prizes are system-generated and reflected on the landing page via the QR code printed on each card. As such, the more cards the gamer has, the more chances of winning premium items.
Participating Richeese wafer products are Richeese, Richoco, Pink Lava, Richnuts, and Coco Lava.
Richeese Marketing Manager Lhenn Samson said that the collaboration of MLBB and Enerlife was borne out of the two companies' desire to support the Filipino gaming community by giving them a happier and more rewarding gaming experience, which they can share with their families and friends.
Convenient, inexpensive, delicious snacks from Richeese and MLBB prizes can be enjoyed together. "Food brings people together and that's the essence of MLBB. We want to bring that same spirit everywhere. Even those who don't really play," Samson added.
Foodpanda launches 'Take Out with Pickup'
Don't have time to whip up your breakfast? Foodpanda's "Take Out with Pickup" is an efficient and easy way to kickstart your busy day.
Skip the queue when you order ahead of time here. Just show up to the store you ordered from and pick up your treats. The best part is you can use the code RISEANDSHINE and get P70 off on top of regular pick-up discounts when you check out from selected restaurants.
Make sure you avail of this promo from 6 AM to 10 AM daily from February 1 until March 31.
Red Ribbon introduces new flavors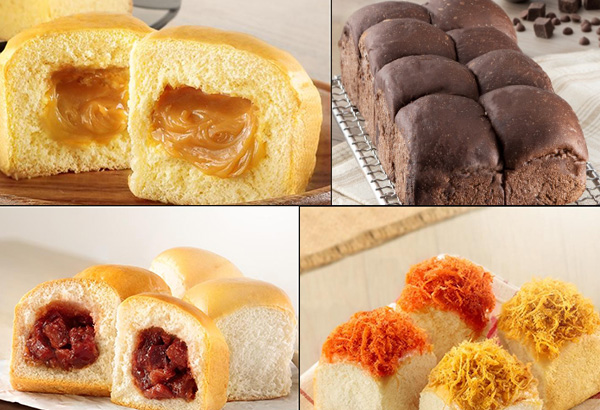 Red Ribbon is launching new Bread Roll products: Savory Bread Rolls available in Asado, Spicy Chicken Floss, and Chicken Floss, and the Sweet Bread Rolls in Chocolate, Raisin, and Yema.
The Asado Yema Bread Rolls are available in Luzon only, while the rest is available nationwide. The Savory Bread Rolls are priced at P65 for a pack of four, the Chocolate and Raisin Bread Rolls are priced at P25 per four-piece-pack, and the Yema Bread Rolls are at P55 per four-piece-pack.
Dream collaboration
Ice cream shop Merry Moo partnered with Lola Nena to produce Triple Cheese Donut flavored ice cream that's perfect for the summer.
In its Instagram page, Merry Moo announced the collaboration which has doughnut ice cream base mixed in with doughnut chunks.
"We know how excited you are for this!! We're so happy to announce that we have partnered with @lolanenas to release our Triple Cheese Donut flavored ice cream," the brand wrote.
"We turned the Lola Nena's favorite Triple Cheese Doughnut into ice cream! Doughnut ice cream base mixed in with doughnut chunks. Get it at 10% off from today until March 31, just use code LOLA at checkout. Minimum purchase of P400, applicable to cups and pints only," it added.
Lola Nena, meanwhile, took to its Facebook page to promote the collaboration.
"Summer is here! And Lola has a surprise for you. In collaboration with Merry Moo, we bring you Lola Nena's Triple Cheese Donuts Ice Cream with real donut bits in that creamy heavenly goodness. Get your tub now at merrymooicecream.com. Available in select Lola Nena's stores by March 3, 2022!" it wrote.
Whisky and chocolates
The Macallan has unveiled The Macallan Harmony Collection Rich Cacao, the first limited edition whisky in an innovative new series of single malts that will see the brand progress its journey towards sustainable packaging.
Inspired by The Macallan's deep-rooted connection to nature for nearly 200 years, The Harmony Collection is an exploration into the world of sustainable packaging, which will fuse innovative techniques with materials from the natural world at the end of their life to see them reborn with a renewed purpose.
To create the first edition in this new limited annual release series, The Macallan Whisky Maker Polly Logan embarked on a unique journey to Girona, Spain, where she immersed herself in the world of chocolate, exploring the chocolate-making process and uncovering the distinctive flavor profiles.
Polly collaborated with world-renowned pastry chef, Jordi Roca, the youngest of the acclaimed Roca brothers of El Celler de Can Roca, with whom The Macallan has a long-standing relationship. As part of the exploration, she visited Jordi's famed chocolate factory, Casa Cacao in Girona and she also spent time with master chocolatier, Damian Allsop. Through this unique experience, Polly drew inspiration from the duo's passion, knowledge, and creativity to create The Macallan Harmony Collection Rich Cacao, searching the sherry seasoned oak casks maturing at The Macallan Estate to identify rare, indulgent chocolate notes.
Crafted from a harmonious combination of European and American oak casks, the result is an exceptionally rich single malt whisky characterized by a deep, dark chocolate profile, which pairs perfectly with the richest chocolate for a luxurious sensorial experience.
In homage to its chocolate inspiration, The Macallan Harmony Collection Rich Cacao is encased in a beautiful fully recyclable and biodegradable presentation box, made using natural by-products in the chocolate-making process. The box is crafted without compromise using discarded husks from cacao pods and brings together The Macallan's renowned craftsmanship with contemporary packaging techniques aimed at minimizing waste.
Cloud 9 goes for gold
Getting through daily obstacles is no easy task, but that shouldn't stop you from going for the gold. It's time to reward yourself with a sweet treat: Cloud 9 Gold.
This new premium chocolate is a good partner in celebrating any achievement, no matter how big or small, because you deserve it. Indulge in its two variants - the fudge cream filling and crunchy almonds of Almond Fudge, or the sweet and salty, caramel peanut layers of Caramel Nut Crisp.
TLC for your well-being
Antipodean Salcedo is quickly becoming a very popular watering hole for people who live and work in the Makati area. It provides a most-needed respite for the tired and thirsty. After working hard all day, they head out to Antipodean Salcedo where they can enjoy refreshing cocktails, sample a dish or two from their award-winning menu, and be in the company of other like-minded patrons who just want to take a breather at the end of a long day.
The night life joint offers a variety of cocktails that suits the varied tastes of their patrons. Sangria, as what Mr. Evans said, is a popular choice. A sweet cocktail made from an infusion of red wine and seasoned fruits. Their White Sangria is also a great version alternative if you're more in to white wine for a deliciously refreshing adult beverage. They also have an impressive list of coffee-infused cocktails like Mr. Grey Martini, an espresso martini; Espresso Romanov, which is a combination of vodka, lemon, and a double shot of espresso; and Midori Mahori, a mixture of Midori vodka and a double shot of espresso.
Antipodean Salcedo's is serving Happy Hour every day from 4 to 8 p.m. Their signature cocktails ,wines, and Heineken Draught beer are at "Buy 2 Take 1" promo. It is located at Citadines Hotel at 148 Valero, Salcedo Village, Makati City.
Unleash your playful side
Working from home has made it harder for some families to find time for one another. The boundaries between work and home life for parents have become blurred, with Dads often tending to miss out on family bonding. But it is during mealtimes and snack times when parents get to spend time with their kids. And snack times can be made more memorable when it becomes a bonding time for fun and play. It only takes a few minutes, just add in Oreo in the mix and everyone will remember how fun it is to twist, lick, and dunk an Oreo.
If you want to take the bonding experience a few levels higher, take the Oreo Save Dads dance challenge. The kids will remember forever when their parents act like them. The challenge brings out the playful side of dad as they join their kids in a TikTok video, guaranteed to be filled with never-before-seen dance moves, laughs, and a whole lot of fun.
Kids won't stay little forever, and dads must bond and have fun with their children before they grow up. The challenge shows that at the end of the day, what the kids remember isn't how much dad spent on that grand vacation, or the number of hours their parents spent with them. What matters is their parents' attention, that dad was 100% present, and they all had fun as a family. — Reports from Deni Rose M. Afinidad-Bernardo, Jan Milo Severo