This way to Noche Buena
December 9, 2021 | 12:00am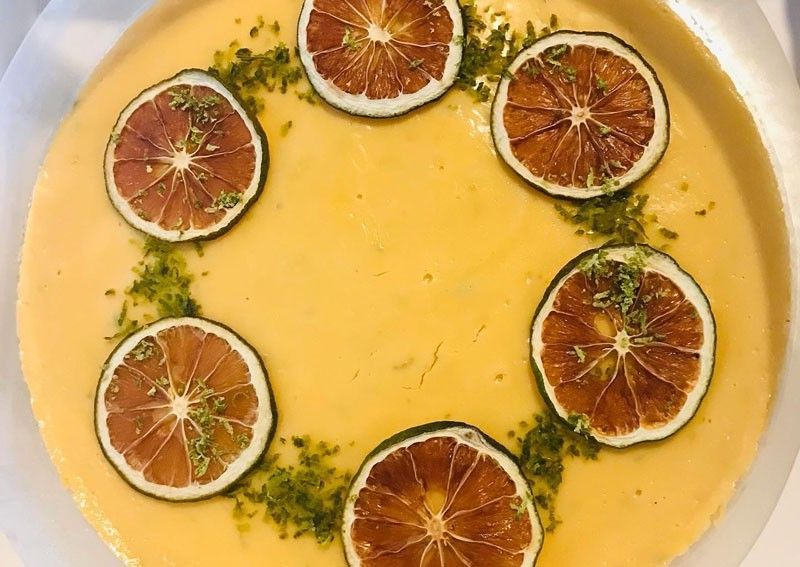 That time of year is fast approaching: noche buena stockpiling has begun in earnest, and people are putting in their orders (online and whatnot) for special food and dessert items this Christmas season. Here are a few recent finds.
Lemonlime Manila
Bea Jocson Ocampo and boyfriend Japee Baldonado started Lemonlime Manila during lockdown with P10k investment each. Landing steady suppliers and ingredients was hard, but "mouth-watering" IG photos of their 9-inch pies quickly expanded their orders, doing the work instead of paid advertising. None of it would matter if their pies weren't so good. Tangy, bright lime flavor, a graham cracker crust (with a hint of Speculaas perhaps) and creamy filling make this is an unexpected taste sensation. Filipinos have no cultural connection to this Florida dessert invention (though the key lime is native to Southeast Asia), but it goes great with tea or coffee. A tart taste that stands up to hot brews. A mouth-puckering delight. They sell large pies or boxes of four "minis": in addition to their Signature Key Lime Pie, try Fresh Lemon Cheesecake and Creme Brulee Matcha Cheesecake. Pick up or delivery through Lalamove/Grab. Visit @lemonlimemanila.
* * *
Wildflour holiday ham
Wildflour has been putting its Holiday Ham package for a few years now, and it's a wonderful combo. The neat little box comes with a half-kilo ham (P950, or P1,750 for a kilo), a package of Parker House rolls (Wildflour Bakery is justly known for its breads) and a jar of pineapple glaze. Don't set that jam aside: it's a perfect complement to this noche buena Christmas treat. Try slicing the whole ham and popping in the oven (20-30 minutes, or until crisp with a crunchy glaze on top) or just slice off a few pieces, pan fry, and make a sandwich with the rolls. Of course, there's a lot of nice drippy fat, but, um, that's part of the noche buena indulgence, innit?
The Parker House rolls — baked with lots of milk and butter — are great on their own as well. This is a treat that cries out for queso de bola this holiday season.
Order at Wildflour Bakery or through their app, Wildflour PH.
* * *
Netflix Noche Buena baskets
Netflix had a pretty cool gift idea for its Filipino fans this year: they gave away show-themed Noche Buena gift baskets online — for free! The baskets were available every day until Dec. 6, with themes ranging from Squid Games (with Squid Chips, Red Bean Buns and Soju) to Emily in Paris (baguette, salami, moscato, French coffee) and Money Heist to Amanda and Trese ("The Bentesingko" with choco peanut bar, holiday ham, pandesal). Ours was the Red Notice basket (bibingka mix, spaghetti, tomato sauce, salami, hot sauce and gin). Viewers could order online — a different basket theme every two days — and supplies were limited (only 150 baskets of each; they disappeared fast once word got out). But: free! Each comes with a gift tag from Judy Ann "Santa" Santos, who guested at the Netflix Media Party. Let's hope they do this noche buena giveaway again next year, with a new batch of shows.
Visit https://netflixnochebuena.com for information.
* * *
Moet pop-up offers personalized seasonal bottles
Moët & Chandon launched its first-ever Moët Pop-Up at Greenbelt 3 with radiant displays of its effervescent champagnes and a station where shoppers can have bottles personalized for the most glamorous gift this season.
With Moët Golden Glam Nights New Year's Eve festivities at Sofitel Manila, Raffles Makati, and Manila Peninsula, holiday window displays at Rustan's Department Store in Makati and Christmas displays at Rustan's Christmas Village and Supermarket in Makati, Shangri-La Mall, S&R and Landers, the brand is sharing the magic of champagne with this season. Personalized bottles of Moët & Chandon can be purchased at the Pop-Up store until Dec. 29, 2021.
Visit Greenbelt 3 or the brand's official e-retailer partner, winery.ph.
* * *
Remy Martin goes full centaur with gift boxes
This holiday season, Rémy Martin offers VSOP, Club, and XO, housed in stunning and exclusive gift boxes. The beautifully illustrated treasure troves bring to life the odyssey of the Centaur, the emblematic symbol of the House of Rémy Martin, one of the world's finest French spirits.
Each coffret comes with a golden key in the form of a QR code that opens the doors to fascinating content on the cognac of choice — including tasting tips, food pairings and a dedicated cocktail tutorial matching each product.
But what's inside is even better: Rémy Martin VSOP, with dominant notes of vanilla, ripe apricot and baked apple, either neat, on ice, or with ginger ale; Rémy Martin Club, presented in a multi-faceted, limited-edition coffret, served in a chilled shooter glass to bring out its candied fruits (apricots and figs), spices (ginger and cinnamon), and nut aromas; or lavish Rémy Martin XO, the signature cognac of the House's Cellar Master Baptiste Loiseau, enjoyed neat or on ice, poured into a glass with a lump of sugar and three dashes of bitters, garnished with edible gold flakes, and paired with chocolate or candied fruits to further bring out its aromatic richness.
For more information, visit www.remymartin.com.