A healthier way to snack
October 28, 2021 | 12:00am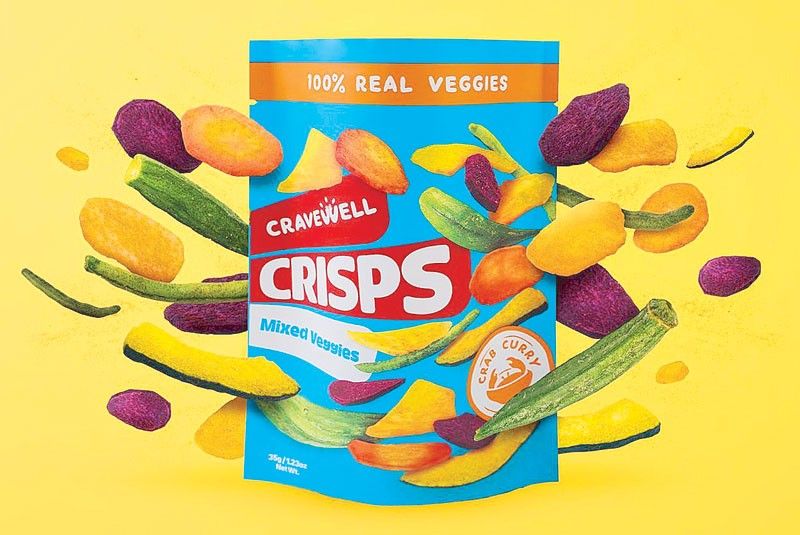 Pinoys love snacking on chichirya, even if such snacks may not be the healthiest in the world.
That's why Jennifer Tan, Joana Tan and Jessica Tan saw an opportunity in the Philippine market: "It's really difficult to find healthy, affordable and enjoyable snacks," observes Jennifer. "The ones you find in premier boutique stores are very expensive, so they're not sustainable. The perception with Pinoys is that when you say 'healthy,' it's tagged as expensive, tasteless, and not for them."
They noticed that the Philippines was behind other Asian countries in making healthy snacks available to the general public. "In countries like Taiwan and Singapore, they're very affordable and accessible to the average consumer. We know we all have cravings throughout the day for sweet, spicy, salty. Often we grab stuff that's not good for us."
Which is why she and her sisters decided to establish Cravewell, a line of healthy crisps made with 100-percent fruits and vegetables that are as tasty as regular chips. "A healthy lifestyle shouldn't be drudgery," Jennifer says. "Now with Cravewell, when you get cravings, you have zero guilt and total satiation."
Cravewell offers four product groups: Mixed Veggie crisps featuring six different kinds of vegetables: purple sweet potato, pumpkin, carrots, string beans, okra and sweet potato with flavors like Kimchi, Crab Curry and Wasabi.
"They're so unique that even until today customers are shook because pinakbet vegetables are in a snack!" Jennifer says, laughing.
Then there's Purple Roots, a mix of purple sweet potato and taro that is thinly sliced so they're light, airy and crunchy, in flavors like Sweet & Salty, Sour Cream & Onion, and Nori Wasabi. "They're the first of its kind in the market," notes Jennifer.
Tropic Fruits features five different kinds of fruits: pineapple, mango, coconut, jackfruit and banana, "so the natural sweetness of the fruit is perfect for those with a sweet tooth."
Cravewell's Banana Crisps are unlike typical banana chips in that they're savory, instead of sweet, with trendy Asian flavors like Sriracha, Tom Yum, and classic Hickory Barbecue. "We tried to create something different so you can enjoy an old favorite in a different way," Jennifer says.
Launched in June 2020 at the peak of the pandemic, "despite the situation we were able to bring this product to the market."
Cravewell's mother company Fourtify Inc. first launched the brand Founding Farmers, which also offers crisps and snacks made from veggies like shiitake mushrooms and okra.
Together with these farmers, the founders held focus-group discussions to discover what the market was looking for in snacks, and developed them through R&D to come up with Cravewell. "It's a local brand but all products are harvested in single facilities around Asia," notes Jennifer. "We have production partners in Thailand, China, and across Asia, so Cravewell is produced offshore, where the fruits and vegetables are processed and packed."
Cravewell's top four flavors include Hickory BBQ, Tropic Fruits, Sour Cream & Onion and the Crab Curry Mixed Veggies. Some flavors have taken on lives of their own on TikTok, and are currently sold out. "All other flavors are moving really well in the market now," notes Jennifer.
The founders received comments about making their solo 35g packs bigger, so this month they're launching 105g packs focusing on the Purple Roots variant, "because they're perfect for sharing and pairing with guacamole, salsa and chip dips." For Christmas they're also introducing a new Tomato flavor, which is addictive and sure to be another hit.
Cravewell's biggest consumers now are millennials who are WFH, study FH, Gen-Z, and moms who like snacking on real vegetables and fruits. "We get lots of tags and kwento from moms who are so shocked and crying because their kids eat them because they're in chip form," Jennifer says. "Fitness buffs get fueled by it because they're guilt-free snacks."
At present they're continuing to develop new flavor profiles, and don't discount adding Filipino flavors in the future like adobo or sinigang. They're also completing R&D for a beverage line, so next year expect the first Cravewell drinks to launch.
At P84 for a 35g solo pack and P149 for a 105g bag, Cravewell isn't as cheap as the unhealthy snacks that line supermarket shelves, but Jennifer says that Pinoy consumers are smarter and more mindful than ever before and hopes that once they try it, they'll realize the value of switching to healthier snacks. After all, good health is something you really can't put a price on.
* * *
Cravewell is available in all major supermarkets: Robinsons, Shopwise, Landers, Landmark, Unimart and the provincial Gaisano group. Online it's available at Lazmall, Shopee Mall, Grabfood, Pickaroo, Foodpanda, MetroMart and https://fourtifyinc.com/ .