China blue & art green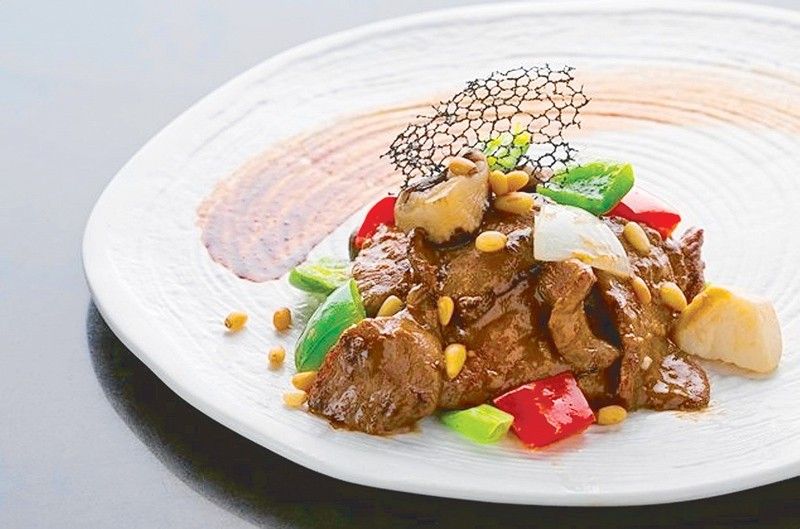 MANILA, Philippines — For those venturing back into nature and the real world, Conrad Manila has a little of both to offer. Celebrating World Nature Conservation Day, we returned to one of our favorite restaurants at Conrad, China Blue, for a welcome-back lunch prepared by Chinese operations manager Mary Jane Domingo. And next door, guests of honor were there to launch "Para sa Kalikasan," a joint Philippines-Malaysian art exhibit under the hotel's "Of Wine and Art" exhibition series.
Chef Jereme Leung's China Blue already reopened as soon as protocols allowed in July 2020, for the most part for pickup and delivery of its signature dishes, but now its spacious dining area overlooking the Bayside and Ferris wheel (and picture window featuring a constantly-churning wave formation) are here for sit-down lunch and dinner, observing the necessary social distancing guidelines, of course.
Sitting down again at China Blue, if you've been away for a long time, you're surprised by how much you've missed this food.
We had a luncheon menu of crowd-pleasing signature dishes that started with the mushroom-based crispy carrot, a plump and warm appetizer that's China Blue's version of a glutinous rice dumpling. "Usually it's a ball, we shaped it like a carrot, with barbecued pork inside," says Domingo.
Next came one of chef Leung's classic spins on Chinese cuisine: the steamed house specialty Truffle Mushroom Buns are dusted with bamboo charcoal for that heavenly button-mushroom look, and filled with deliciously subtle truffle mushrooms in sauce — a heavenly bun to remember.
We then had the homemade tofu with spinach, which is another favorite that return customers have been clamoring for. "We make our own tofu; very smooth and silky," notes Domingo. It's true: a forkful of this soft yet plump tofu makes even non-tofu lovers reach for more.
China Blue then served up its version of Kung Pao chicken: the wok-fried chicken with garlic and shallots infused in Shao Xing wine; it was paired with the equally savory wok-fried Angus tenderloin beef cubes. Domingo says it's the Vietnamese sauce that makes it "a bit sweeter."
While all this was going on, I noticed the lunch crowd filling in. "We've been very fortunate" since reopening after the pandemic, our host-chef said. "Despite the limited capacity due to government protocols, the guests have been coming still. The tables are filled up." With safe social distancing, of course.
The plates kept coming: the house specialty seafood XO-fried rice ("Normally, Chinese restaurants have Yang Chow fried rice, but here our bestseller is seafood with XO"); then the showcase five-piece dim sum platter — an artistic flourish that includes a corncob-shaped dumpling with minced corn and chicken inside, a steamed seafood flower-shaped dumpling, and the swan dumpling layered with flaky pastry sandwiching the roast duck inside.
After the rich and tasty sampling of battered, fried kalabasa — the local version of pumpkin fritters — we ended things with a piece of art on a plate. The dusky hue of the Black Gold Egg Custard Bun comes from bamboo charcoal mixed with flour; the gold dust coating might make you resist breaking it open, but inside is delicious salted-egg custard whipped to a curd, heated, then packed for an explosive finish when you slice it open. This is one of those final touches that make chef Leung such an outlier in modern Chinese dining.
Beautiful art depicting beautiful local species
Next door to China Blue, in the adjoining art space known as Gallery C, World Nature Conservation Day was celebrated with the "Para sa Kalikasan" exhibit launch, featuring art from PhilFAS artists, along with the Malaysian Art Society, Penang Art Society, and the Universiti Teknologi Mara Faculty of Arts and Design.
Guests of honor included Ambassador of Malaysia to the Philippines Norman Bin Muhamad, Conrad Manila GM Linda Pecoraro, SM Hotels and Conventions Corporation (SMHCC) president Elizabeth Sy, SMHCC executive vice president Peggy Angeles, SMHCC executive consultant Nestor Jardin and Bing Famoso, artist, nature advocate and founder of the Philippine Fauna Art Society (PhilFAS).
Others joining via Zoom were Ambassador of the Philippines in Malaysia Charles Jose, House Deputy Speaker Loren Legarda and DENR Executive Secretary Roy Cimatu.
Ambassador Muhamad pointed out the commonality between Filipino and Malaysian cultures, down to shared words and values. Certainly, a common love of nature also led to this exhibit, part of an effort to raise awareness of Philippine native fauna (a second exhibit devoted to "flora" is scheduled next), including the Philippine Eagle, Barbour's Seahorses and Tamaraw, all the way to the Visayan Spotted Deer and Palawan Porcupine: beautiful art depicting beautiful local species. As artist and curator Famoso pointed out, "It's amazing that the Philippines is among only 17 mega-diverse countries in the world. That means we have over 50,000 flora and fauna species that are endemic to the Philippines, meaning only found here."
She also created a virtual tour of all 151 joint artworks (viewable at https://philippinefaunaartsociety.cargo.site), part of PhilFAS' effort to raise awareness of the natural treasures found only in the Philippines.
"This was the first step," Famoso said of the RP-Malaysia art tie-up. "For the International Fauna Summit, we hope to invite some of the other mega-diverse countries. It's ambitious, but we'll see."
Pecoraro, who has led similar environmental advocacies while serving as GM to Hilton Kota Kinabalu, noted that sustainability is an ongoing aim for Conrad Manila. "We hope to spread awareness of Philippines diversity and abundance of natural resources through the medium of art, and a vibrant showcase of artworks that aim to conserve, preserve and protect Mother Earth."
But, as Legarda mentioned, "All this wealth is at great risk," so it's always important to remind people of the visual wonders found here and nowhere else. Indeed, as Amb. Muhamad added, "We need to fight on, because the world is full of beautiful things, such as art, and the wonders of the natural world."
"Para sa Kalikasan," on view until Sept. 4 at Gallery C, is a reminder of some of that wonder.
* * *
Visit China Blue on the third floor of Conrad Manila, and explore Gallery C, currently displaying "Of Art and Wine: Para sa Kalikasan."