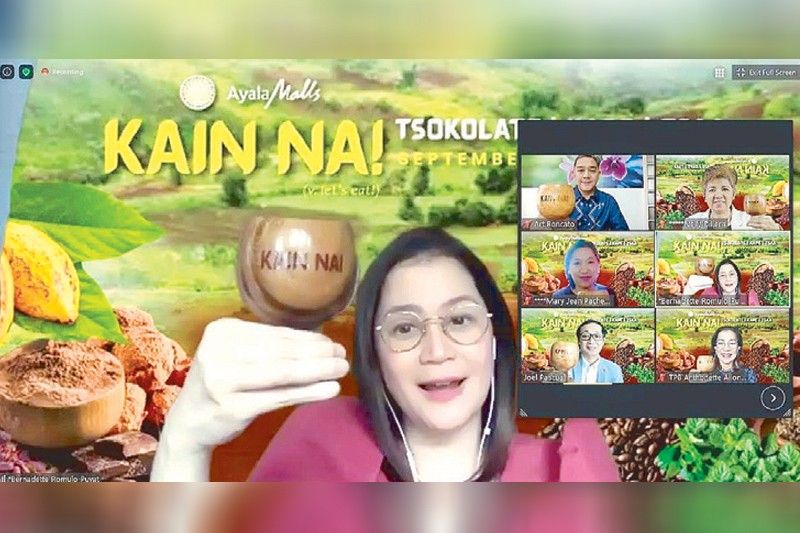 Tourism Secretary Bernadette Romulo-Puyat leads the virtual ceremonial toast of Kain Na! Food and Travel Festival 2020
Rebooting food tourism over tsokolate, kape and Tsaa
The Department of Tourism has been at the forefront of promoting Filipino food as a world-class cuisine for many years now. And to keep this momentum going in the new normal, DOT recently launched the Kain Na Food and Travel Festival 2020.
A virtual ceremonial toast of customized wooden chalices was held to open the four-day event last Sept. 15, with chocolate, coffee and tea taking the spotlight.
"This year, we have reconfigured Kain Na! into a virtual event, and in doing so, we are actually expanding our platform and will now be able to reach out to an even wider audience online," said Tourism Secretary Berna Romulo-Puyat, who led the toast at the launch. "We have crafted this year's program to be responsive to the needs of our stakeholders. Kain Na 2020 endeavors to prepare our stakeholders for the transition to the new normal."
Filipino products highlighted the launch of the virtual festival's thematic approach, in partnership with Ayala Malls. Virtual symposiums during the Food Tourism Exchange featured some of the most prominent chocolatiers, inspiring coffee entrepreneurs, and new and relaxing tea experiences around the country.
"I have been inspired about how communities have rallied together around food during the pandemic, from posting quarantine cooking videos that celebrate our culinary heritage, to donating meals to our frontliners, and supporting farmers, small entrepreneurs and restaurants by ordering for home delivery," added Puyat. "People have found ways to keep livelihoods and the morale of our people alive. And food has been at the center of all of this. This festival recognizes the spirit of Filipino hospitality in the way we eat."
One of the key features this year is the "Kain Na!" Trading Post, an online store featuring Filipino products. The online store (www.kainnastore.com) is open for one month.
With the Kain Na online store, DOT hopes to sustain the development and promotion of the Philippines as a center of food and gastronomy. The store also serves as a venue to enrich and promote farm and culinary tourism. The DOT envisions that the online store will carry products that will mobilize a network of industry stakeholders and practitioners for farm and culinary tourism and provide a platform to assist food and farm tourism.
The online learning modules offer much-needed e-commerce training for food and farm tourism and other micro, small and medium enterprises (MSMEs), in partnership with the Department of Trade and Industry's CTRL+BIZ Reboot Now program with the help of enablers Google, Facebook, Zomato, Eat In, GrabFood, Gcash, Air21, and Lazada.
The four day event also featured Food Tourism 101 Zoom conferences with Margarita Fores, JJ Yulo, Ivan Man Dy, and Michelle Cruz of Klook, who presented share-worthy food tourism experiences from food walks, market tours, foodie hotspots, and other inspiring food tourism experiences.
"Kain Na is a celebration of our heritage and culture," said Ayala Malls president Jennylle Tupaz at the launch. "We are glad to have been able to share in this opportunity for the past two years with the Department of Tourism, as we work together in promoting our country for both local and international tourism."
Grab, which has partnered with DOT, has a Kain Na! tile on the homepage of the Grab App to increase the discoverability of partner merchants.
To further promote the project, Guide to the Philippines (https://guidetothephilippines.ph) published an extensive guide on must-try tsokolate, kape, and tsaa binges around the country. Zomato also highlights Kain Na! in their Collections feature.