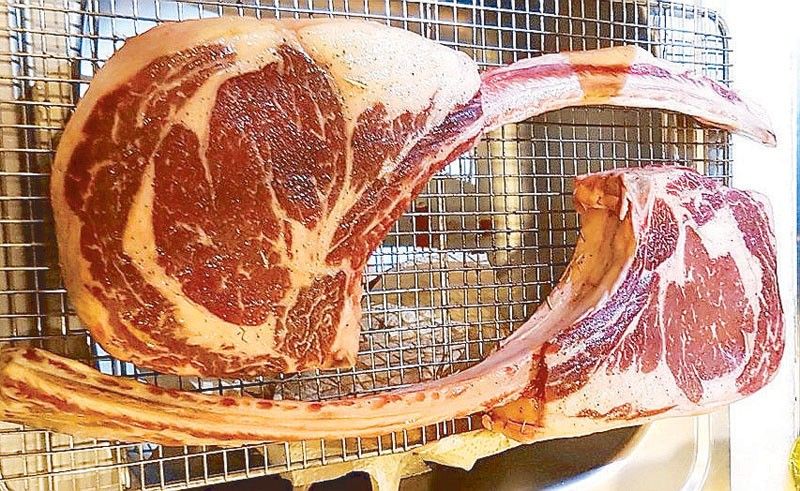 THE PEPPER MILL
-
Pepper Teehankee
(The Philippine Star) - August 20, 2020 - 12:00am
Steak would be the first thing I would suggest if anyone asked me what wanted to eat! I used to frequent a lot of steakhouses before quarantine.
It's a good thing some of my favorite steak haunts deliver to your home and here's a list of some. I hope I can make someone who reads this as happy as I get when I order a steak from one of these places (all their Instagram handles are provided also)!
Wolfgang's steakhouse
When I got my steak delivered from Wolfgang's Steakhouse, I actually was surprised to see the guy who delivered it was an actual uniformed waiter from this famed New York steakhouse! They can deliver their USDA Prime aged steaks cooked or uncooked. One can opt to avail of their "No Contact Catering" where your steaks are cooked from their own mobile kitchen outside your house! Do try another favorite of mine, their delicious thick-cut bacon also to go with your porterhouse steaks!
IG: @wolfgangssteakhouseph Call Resort's World Manila (0917) 6356704, The Podium (Ortigas) (0917) 7028913, BGC Taguig (0917) 7101682, or Molito (Alabang) (0995) 6102361. Full menu at www.wolfgangssteakhouse.ph
Cru Steakhouse at Marriott Resorts World Manila
Cru Steakhouse houses steaks from the USA, Australia, France, Ireland and Japan. They may not have all available now but their steaks and sides are always good. They usually deliver their steaks cooked so ask for it rare so when you heat it again, it won't get overcooked. They have excellent US scallops as well!
IG: @manilamarriott Call Resort World Manila's delivery service Delishvery at (02) 7908 8885 or text 0917 878 8856. Delivery is also available on Pickaroo and Foodpanda.
Bondi & Bourke
Leave it to Bondi & Bourke Chef Wade Watson to perfectly cook steaks, whether it's the prime grade Australian AA wagyu or the Jack's Creek Australian Black Angus striploin that come in 350 grams, 600 grams or the "family roast which is a two-kilo slab! The family roast comes with butter-baked potatoes, real gravy, roasted garlic bulbs, fresh salad and Dijon mustard. Also try my favorite Aussie steak pies mixed with a choice of cheese, bacon, onion or tomato!
IG: @bondibourke Call or text (0918)5073560 for orders or inquiries. Their full menu is available at www.bondiandbourke.com.
Nanka Japanese Steakhouse
Nanka Japanese Steakhouse's Chef Mike Santos arranged everything in a meticulously prepared, easy to prepare DIY home kit. Just choose your cut of steak and it comes raw and frozen with mashed potatoes, parmesan potatoes and seasoning salt. The must-try here is the Australian Black Onyx tomahawk which is so soft and flavorful that it doesn't need any salt or sauces. But then, Chef Mike's wasabi salt and togarashi salt, as well as the four sauces (chipotle miso, demi-glace, yakiniku and chimichurri) that come with the kit are so good, I had to alternate having the steak plain or with salt or sauce! Also try his Japanese burgers made from ground ribeye and brisket that comes with jalapeño peppers.
IG: @nanka_ph Call (02) 85179677 or (0977) 6218472 or (0995) 0574056. The full menu is on the Nanka Japanese Steakhouse Facebook page.
La Cabrera Manila
Argentine Chef Augustin Figueroa has perfected cooking his famous La Cabrera steaks over charcoal with the outside crisp but tender and medium rare inside. A variety of sidings accompany their best selling steaks like ojo de bife (ribeye) or my two favorite cuts -- entraña or skirt and cuadril or coulotte. Their steaks arrive frozen and are pre-grilled using wooden charcoal to seal in the flavor. Just defrost and pan sear on high heat quickly and you get the same taste and quality you get in their restaurants. Their beef empanadas come frozen and raw and just deep fry these at home. These are, for me, the best Argentine beef empanadas in town.
IG: @lacabrera_mnl Email lacabreramanila@gmail.com or message 6750 Makati at (0905) 2900703 or EDSA Shangri-la Hotel at (0967) 2377940
Sage Grill and Bar at Makati Shangri-La Lotel
Another of my frequently visited steakhouses is Sage Grill and Bar. They specialize in Australian steaks and occasionally have Argentine or Canadian steaks as well. Simple, straight forward excellent steaks can be delivered cooked or raw but right now, they deliver grain-fed ribeye, striploin or tenderloin imported from two Australian sources -- Sher and Stockyard.
IG: @sagemakatishang Call (0917) 588 5537 or order via Sinfully@Home on Foodpanda or Grab Food.
Enjoy your take-away steaks!
Follow me on Instagram @pepperteehankee