Lockdown food stars give meals a quarantine glow-up
August 20, 2020 | 12:00am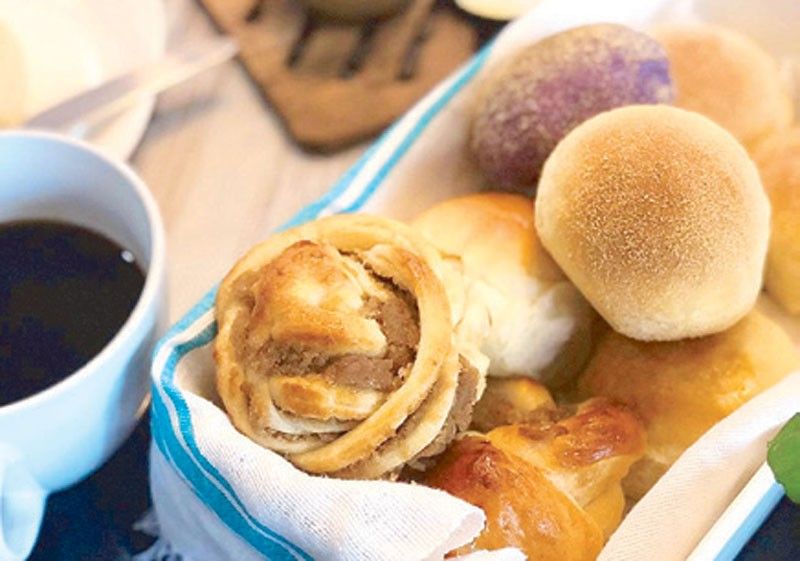 With all of us staying home now more than ever, our kitchens are getting as much of a workout as our couches and Netflix subscriptions. Several months in to our current circumstances, culinary fatigue has more than set in, and we're more than missing the occasional jaunt to that homey neighborhood spot or even your Tita's kitchen.
Many have started expressing affection in what's been called the "relationship economy," where more and more food orders are being made by others for their loved ones, to share something while apart.
So whether you're battling culinary fatigue or looking for the next good ayuda for friends and family, we thought we'd lend a hand. Here are some of our favorite local businesses throughout Manila serving some fun, heartwarming fare you can enjoy safely from home.
Pan De Mic
If local breads are more your speed, Mic King may have what you've been hankering for. An event stylist and mother of three who discovered some serious baking skills in lockdown, King began with a desire to make some panaderia staples to feed her little family. Once friends and relatives began knocking on her door for more, she knew it was time to put up her own home bakery, cheekily and aptly named Pan De Mic. Her take on the ube-cheese pan de sal trend is one of the best and most flavorful on the market, while her sleeper hit is the Cocoknot, a stunning take on the beloved pan de coco. Their menu also includes a delicious, creamy peanut butter that tastes like spreadable Chocnut, perfect on some fresh, hot pan de sal.
Get your own Pan De Mic through Instagram at @pandemicyums.
Mi Casa Gourmet Specialties
For fans of the San Juan classic Angels Kitchen, Mi Casa Gourmet Specialties is a familiar, heartwarming presence. They've got a great range of snacks, bread, and frozen foods, but they're especially known for their bottled goods (two personal favorites being the chicken pistachio paté, often served at Angels Kitchen upon seating, and the lemon garlic tinapa). Mi Casa, led by Marnie Ong and daughter Tina, has since expanded the range to include Angels Kitchen classics for people to enjoy even in an era of distancing.
Some notable dishes are their signature lamb curry and twice-cooked binagoongan, lingua con olivada, wagyu tapa, chicken potpie, embutido meatloaf, and champorado mix. Those with a sweeter tooth can also add some mini pies to their cart, with a choice among mango cream pie, ube cheesecake, rustic apple pie, and another personal favorite, key lime pie. Their wide selection and range of flavors makes it a really great stop for a quick heat and chow, without losing the comfort of a home-cooked meal.
Mi Casa Gourmet Specialties is on Instagram at @micasagourmetph. They can also be reached at 8724-5430 or 0917-535-2033.
Berry's Deli
Berry's Deli has been known for its focus on merging some of our favorite preservative-laden classics like hotdogs and bacon in a format that is whole, homey, and healthier, without GMOs, nitrates, or preservatives. Berry Tenchavez-Stehmeier's commitment to finding and making both yummy and healthy snacks for her little brood, however, is extremely apparent in some of the latest items they've come through with. They're made beetroot mozzarella sticks in collaboration with caterer Feliz Dish and Details, adding an element of fiber to the beloved snacks.
Berry's Deli is also coming through with DIY kits, where you can make a combination of hotdogs in buns, corndogs of every size, or a mixture of both, depending on your fancy. It's a great activity for parents with little kids, or if you're like myself and just love a good corndog.
Check out Berry's Deli on Instagram at @berrysdeliph.
La Petite Fromagerie
You've got your breads; now, what about your spreads? La Petite Fromagerie, known for its cheese and raclette buffets, has a great selection of signature spreads: truffle cream cheese, Kesovore (a pesto-based spread with three different cheeses), and a collaboration with Puro Taba Ng Talangka, their deadly TNT cheese spread. Peruse their selection of different cheeses available for purchase online, as well as their premium butters and truffle products. Now, if you really want to treat yourself, they have raclette kits available, which can include the rental of one of their raclette machines for a full dose of at-home luxury.
For more details, head over to lapetitefromagerie.ph.
Hapag
A key gem of the Katipunan area, Hapag has made a name for itself in vamping on Filipino cuisine and crafting beautiful, intricate dishes without losing the things that make them so beloved. But if you've peeped their socials, you know that the "family meal" or what the kitchen staff makes to eat together before service is a true highlight.
Their key pivot during the lockdown period has been to bring everyone else into the family by making their family meals available for delivery. They've had Korean and Chinese-themed meals, collaborations with Japanese restaurant Ohayo and street-style taco venture Los Tacos Birria. They're now bringing back what Hapag does best: a stunning twist on Filipino staples, such as beef pares, bagnet sisig, pancit bagnet, tinupig na litson manok, and a stunning longganisa burger. They've even put a twist on their Los Tacos Birria refreshers with an Aura chocolate horchata and a calamansi and day aqua fresca. Whether in current circumstances or otherwise, a Hapag meal is always a highlight; the only thing is now, you don't have to get out of your pambahay to have it!
Hop on Instagram and click on over to @hapagfamilymeal to know more.
The Daily Knead
If you've ever been to the Artesania Furniture showroom in Makati, you'd know that part of the draw was their insanely delicious menu. (I still have dreams about their grilled three-cheese sandwich with basil and honey.) Artesania's Gacrama siblings, led by Francesca and closely followed by Dame and Francine, have since ventured into food headfirst with The Daily Knead. An online shop selling baked goods like sourdough country loaves, potato brioche loaves, chocolate brioche babka, and muscovado chocolate chip cookies, The Daily Knead also has a friendly selection of pantry staples, fresh pastas, and interesting options like sourdough pancake batter for at-home chefs who'd like to kick their skills up a notch.
The Daily Knead can be found on Instagram at @thedailyknead_.
The Daily Cut
For those really wanting to focus on health goals but are daunted by the idea of meal prep, The Daily Cut is here to provide. A Singaporean franchise, The Daily Cut is named after the idea that every ingredient is cut and cooked fresh on the daily.
The local counterpart, however, has tweaked some of its classics to suit a more Filipino palate in its specialized macro bowls. For the inundated, you start by choosing a bowl size, then choosing your bases (or carbs), add your proteins (which can be subbed for vegetarian-friendly options), add your supplements or veggies, add a fun garnish like parmesan breadcrumbs or garlic chips, and choose a sauce to pour over the whole situation. (Personally, I love their peri-peri sauce, the pesto, and the rosemary olive oil.) It seems pretty basic, and it is in concept, but in flavor, you won't understand until you try.
The Daily Cut is on Instagram @thedailycut.ph. They can also be reached via landline at 7955-2273 and through email at [email protected].
The Plaza
One of the most classic names in the food industry and primarily known as a catering service, The Plaza has quickly adapted to the times with an astonishing online selection. In need of a party tray? A range of pastas, some chicken relleno, and fresh lumpiang ubod might do ya. Ready to turn up your oven, fryer, or air fryer? Swing by their frozen goods, and choose from their lovely chicken a la Kiev, chicken cordon bleu, burgers, meatballs, bacon, tapa, and others. Feeling something a little easier? They've got boil-in-bag dishes, where viands are frozen in bags upon cooking, and all you have to do is drop them into a pot of water for a few minutes, cut it open, and live your best life.
If you're keeping it extremely easy, the ready-to-eat selection is ready and waiting: absolute classics like their boiled Angus corned beef, premium baked ham, and a smoked tanigue you really shouldn't sleep on. Whatever the level of effort you're willing to commit to, the end result is sure to be wonderfully delicious.
Peruse the selection at theplazacatering.com.
Pasticci
Giacomo Gervasutti was one of the names behind Marina Terrace, a boutique hotel and fine-dining restaurant in San Vicente, Palawan. It featured ocean views and incomparably authentic Italian cuisine. Due to current circumstances, however, Gervasutti has flown back to Manila to be with his fiancé, actress Ina Feleo. The two have since started Pasticci, selling dishes featuring the best of Gervasutti's family recipes.
The menu boasts a creamy and gooey baked five-cheese risotto called Timballo 5 Formaggi, that is satisfyingly salty. Their delicate, balanced, and thoroughly luscious pasticcio all'Bolognese is unlike any lasagna you'll find locally. The melanzane alla parmigiana is an utter dream of layered eggplant, cheese, passata, and deliciousness, friendly to vegetarians and carnivores alike. One of the more low key dishes is their shrimp risotto, made in the classic Venetian style, which is light, glossy, and absolutely not to be missed.
Send your orders through Instagram at @pasticci.ph.