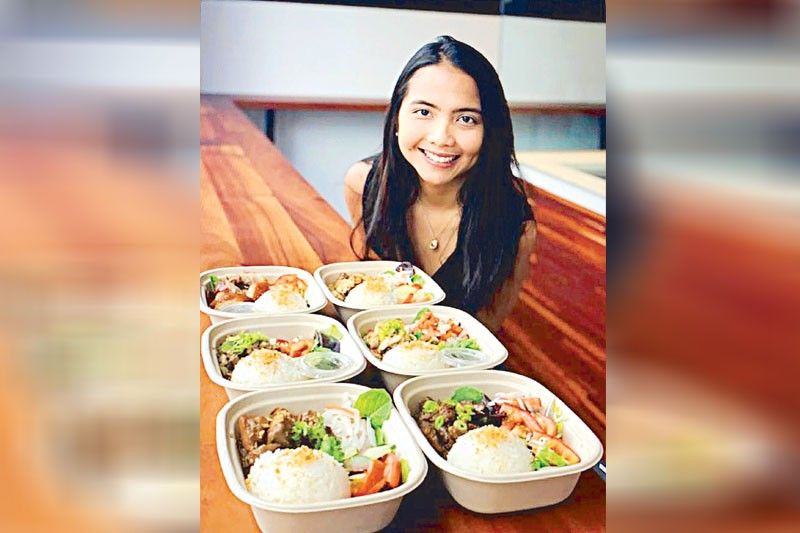 Frances Tanchanco and her Manila Bowl food ready for takeout. She studied psychology at NYU, only to give in to her real passion, which is food. She was born and bred in the restaurant industry.
In San Francisco, there's a hearty story called Manila bowl
Some eight years ago, Andrew Zimmern predicted that Filipino cuisine would be the next big thing in America.
This prediction remains to be truly fulfilled in a country where Chinese, Japanese, Mexican, Spanish and Thai cuisines have become mainstream. But in this land of hamburgers and hot dogs, countless creative Filipino restaurateurs have conquered the American palate in places like New York, Chicago, Los Angeles and San Francisco.
These pockets of success are what inspire Frances Tanchanco, a 27-year-old Filipina in San Francisco, to achieve that endless dream. She mixes her talent and energy in Manila Bowl, a three-year old quick-service restaurant that serves fast, authentic and healthy Filipino food.
Located inside the Twitter Headquarters building, Manila Bowl attracts the young and hip market, and targets not only Filipinos who want a taste of home, but also everyone who craves good food.
"We offer well-priced, carefully crafted Filipino rice bowls," says Frances. "Each bowl — priced at $10 to $12— can be custom-made to fit any taste or dietary need. Among our famous bowls are Sisig, Tofu Sisig, Karekare, Porchetta, Kaldereta, Adobo, Beef and Lumpiang Hubad. We offer brown rice in lieu of white rice, and we also offer salad as a base option. We have vegan and vegetarian options such as Vegetarian Karekare, which is now so in-demand. We also offer catering, from full-service events to kamayans to party platters."
Breaking the long-held perception of Filipino food as un-presentable and unfamiliar, Manila Bowl has earned lots of praise on review platforms.
"We have seen several repeat customers, both in our storefront, as well as catering clients," adds Frances. "It was very important to change the way Filipino food has been presented. For the longest time, all Filipino restaurants were only found in high-volume areas like Daly City and Woodside Queens. They have also been largely turo-turo style and not presented in a welcoming manner.
"When Fil-Am restaurant pioneers like Aris Tuazon of Ugly Kitchen NYC, Tom Cunanan of Bad Saint DC, and most recently Charles Olalia of Ma'am Sir LA, found the perfect formula, their restaurants became immensely successful. They each altered their menus in order to attract a wider audience. They paid close attention to using local ingredients, using less fatty meat, and wording their menus in a way that everyone could understand. For Manila Bowl, I made sure to add an element of nutrition to our meals," says Frances, who knows that people are now, more than ever, health-conscious.
Frances didn't attend any formal cooking school. She got her education ABCs from Poveda and International School Manila, and majored in psychology at NYU (New York University).
"I spent my first year in Florence, Italy, for the liberal studies program with a heavy focus on art history and Italian language. I knew I had a passion for understanding the human psyche, but when I graduated, I realized what has been my greatest passion all this time — food!"
Frances was born with a cooking spoon in her mouth, and bred in the restaurant business. "My mother (Maritel Nievera) is a mega-entrepreneur who is the definition of 'self-built.' She made sure from a very young age I began my training to become exactly like her," Frances laughs.
"My mom brought me to every meeting she could, every taste test, every site visit, every competitor check. I grew up completely immersed in the restaurant industry. I am beyond grateful for her urgency to make sure I would become a well-rounded restaurateur. I learned operational duties by spending summers waiting tables, folding napkins, cleaning and dishwashing. I learned product development constantly at home or while traveling, participating in thousands of taste tests. I learned accounting and audit work, conceptualizing new restaurants, menu and poster designs.
"Above all, my mother taught me that I need to build a business that is quality-centered. Quality should always be the top priority in all realms, and maintaining this is just about the most difficult part of the job. She also taught me the importance of taking calculated risks. I need to have the courage to fail but make sure all the decisions I make are well thought out. She stresses the importance of feasibility studies.
"My mom taught me to always stay humble and ask for help as much as possible. She constantly teaches me to take good care of my employees. She also taught me the importance of travel and gaining exposure to different parts of the world. She has always supported my trips to visit friends all over the world — and she insists it's a vital part of being a well-rounded entrepreneur, especially in the food industry."
Thirty-six years ago, Maritel Nievera started her food empire in the Philippines. It now consists of 50 branches of Cabalen (an-eat-all-you can resto famous among balikbayans), seven Mangan (Pampanga specialties), five Soi (authenticThai), two Sukiya (a hotpot brand from Singapore), two Tsurumaru (a franchised brand from Japan), one Cerveseria (Spanish), and one Eats Pinoy. And eight years ago, she opened her Cabalen branch in San Bruno, San Francisco. So why didn't Frances just focus on this San Francisco resto?
"I still do what I can to support the Cabalen USA branch, but we have a strong team there already. I wanted to see what challenge I could face in starting something new from the resources I already have," explains Frances.
Challenges exactly are what faced Frances during the pandemic. "The new normal consists of tables spaced six feet away from each other, heavy delivery and no more self-serve dining style. Manila Bowl is at an advantage because it is already a takeout-only operation. Sadly, our main clientele in the Twitter building are mostly the office workers, and they are still encouraged to work from home until the end of the year," Frances shares. "We will continue to ride out the storm and we are confident we will survive this pandemic."
Fortunately, her mother also taught Frances to be strong and resilient. After this crisis, Frances hopes foodies will again be bowled over by Manila Bowl.
* * *
Follow the author on Instagram and Facebook@milletmartinezmananquil. Email her at mmmananquil@philstarmedia.com.