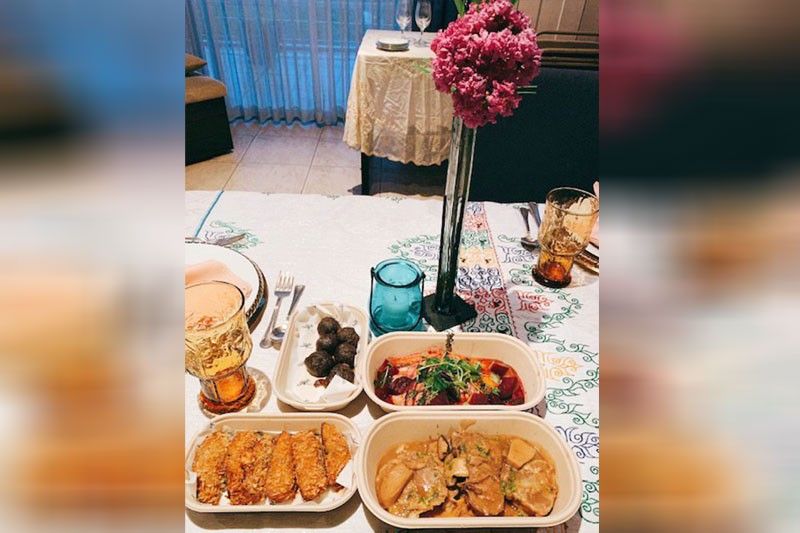 Family-style favorites: Gallery by Chele At Home delivers (clockwise from top left) Kare-kare Bonbons, Tunamansi, Lengua y Setas and Mejillones Tigres to your home table.
Therese Garceau
How do you elevate food delivery? do it Chele-style, of course
MANILA, Philippines — Now that the reigning modes of dining are delivery and takeout, we started to miss foods finer than burgers and pizza. Would we ever get to eat more elevated food cooked by talented, out-of-the-box chefs again?
One of the creative and resourceful chefs who've pivoted to meet the new normal is Chele Gonzalez of Gallery by Chele, who, after over a month of mulling how to bring his modern Spanish cuisine cooked with local ingredients to customers, is now offering "Gallery by Chele At Home," an extensive menu that includes his Spanish Signatures traditional, family-style favorites using his mom's secret recipes and even vegetarian/vegan dishes for the non-meat eaters out there.
"These are difficult times for restaurants," says Chele. "So even I was hesitant at the beginning for delivery, but it looks like dine-in might take a while."
So, how does a chef whose Gallery is one of Asia's 50 Best Restaurants adapt to the new delivery model?
"You know me, how perfectionist I am," Chele says. "We need to be innovative and reinvent ourselves."
Knowing that certain dishes wouldn't survive the courier's journey in top condition, Chele has divided his menu into "Serve It Up" (ready-to-eat dishes) and "Fire It Up!" (ready-to-cook items), like his signature Cuarto de Cochinillo, a quarter of slow-cooked lechon de leche that comes in a vacuum-sealed plastic bag bathed in a marinade of secret sauces.
Chele includes specific instructions on how long to prepare it in your oven and at what temperatures; enclosed is a photo card that even shows how the cochinillo and its traditional Spanish side dishes of potato stew and salad are supposed to look when served.
"We have to fire up the dishes to be finished at home so it's interactive and doesn't lose quality," Chele says.
To say we were looking forward to "home service" from Gallery by Chele is an understatement; we laid out a table with candles, fired up a Spotify "Spanish Nights" playlist, and poured a nice Los Boldos from Chile. Our daughter and Therese's mom joined us.
The food arrived in sustainable cardboard boxes that already embodied the Gallery by Chele difference, being attractive enough to eat from. But let's face it: all delivery food benefits from reheating before the actual meal.
We started with tapas bites like Kare-Kare Bon Bons, made with peanut praline, beef cheeks and bagoong mayo, wrapped in purple sticky rice. Chele advised us to fry them beforehand to crisp them up. We did, and were rewarded with a peanut-ty flavor explosion when we popped them into our mouths.
Therese thought Chele's signature Mejillones Tigres — spicy fried tiger mussels — were to-die-for, with their crunchy outer breading and flavorful pâté embracing the mussels on their half shells.
Another table favorite was the deliciously soft, slightly peppered and satisfying Lengua Con Setas (beef tongue with mushrooms), which our daughter Isobel pronounced was the best lengua she'd ever eaten.
Carlo Calma, Gallery by Chele's partner-owner and architect, reveals that "Chele was cooking it the whole day and it's his mom's recipe."
One dish that would render mom proud is Chele's Tunamansi, a visually arresting dish of tuna belly with tomato and onion puree, beets, soy sauce and calamansi dressing. Fresh but less tart than a ceviche, the tuna was lifted by the zesty, tangy flavors that came in through the sauce and sweet beets.
'Cook it with time and love'
But the piece de resistance was yet to come: "The key is the cochinillo," promised Chele. "Cook it with time and love."
We did, and the result was utter porcine perfection. Before it arrives at your home Chele sous-vides the suckling pig for 18 hours in its marinade, so the pork is already pre-cooked. Then after you finish it in your oven (less than an hour tops), the skin turns an appetizing golden brown and tapping it reveals a uniform crispness throughout.
Consuming it is akin to entering pork heaven: the firm crunch of the skin yields to a thin layer of fat that unctuously enriches the meat, which is moist with juice and steeped in flavor — vegetarians look away, this is pure pork porn.
The accompanying salad is traditionally eaten in Spain to cleanse away the fattiness and "be able to eat more," according to Chele, so we miraculously found room for dessert.
Our At Home meal came with three of them, a couple with separate sauces and toppings.
Chele's signature bibingka cheesecake is always a crowd pleaser, and at home it's just as fabulous after you pop it for a couple of minutes in the toaster oven. Wrapped in banana leaves, the top gets golden and crusty while the interior melts into a cheese lover's dream.
Then there's the Flan de Trufa: while the flan recipe is from Chele's mom, her hijo added honeycomb, porcini ice cream and truffle, giving it a surprising, slightly savory touch.
The Tarta de Queso Vasco, a traditional Basque country-style cheesecake, is served with honey and rosemary ice cream for added herbal kick.
The resto as safe place
When dining in is allowed again, Chele won't actually have to do much to make Gallery conform to social-distancing standards.
"We are very lucky since we have a very big space and we can do a lot of distancing between tables," he says. "We have already removed some tables so it's super-safe to dine in Gallery."
They also have a private room for families and friends who want to meet in a safe and isolated place.
"Since we are on the fifth floor (of the Clipp Center in BGC), we are isolated and have a very safe hygiene protocol we've implemented," he notes.
We applaud the chefs of Manila who have figured out how to pivot to something close to a restaurant experience in this time of MECQ. And Chele offers not just a few sample items, but a whole series of menus under his "At Home" concept — even a three-day lunch and dinner menu as well as party menus for celebrations involving four to six people.
Who knows? Home delivery might still be a viable option even after MECQ and people are allowed to go back to their favorite restaurants.
"It's a busy week to have everything ready, but we are so happy to be back," enthuses Chele.
* * *
For the full menu, prices and ordering details, go to www.gallerybychele.com or https://gallerybychele-athome.com or IG: @gallerybychele, or call/text 0917-546-1673.
Follow the authors on Instagram @scottgarceau and @theresejamoragarceau.