Tuna, sardines & kalabasa with a twist
For those of us fortunate enough to be hunkering down with access to a kitchen, many have turned to cooking as comfort. However, getting to and from the grocery or market has become a practically apocalyptic exercise that merits full battle gear.
Everyone has gotten smarter about their purchases, looking at ingredients that last longer and can be easy to cook and versatile. Canned goods and pantry staples like pasta or beans have taken center stage, as well as hardier local veggies like kalabasa. However, plain sardinas and rice, or ginataang kalabasa, can get repetitive. Perhaps we can think a little out of the box and be a bit more creative while remaining cost-effective!
Here are three recipes that use two favorite canned goods — tuna and sardines — and the long-lasting and inexpensive but nutritious kalabasa. Don't worry, the only thing fancy about these dishes are the plates! All ingredients are readily available; most you probably already have them at home!
* * *
For more ideas check out my IG account: @stephaniezubiri.
Tuna Rillette
Ingredients:
2 cans of tuna in water, drained
1 1/2 tbsps of mayonnaise
1 tsp Dijon mustard (if not available just add a bit more mayonnaise)
1/2 small red onion, finely minced
Fresh ground Black pepper
2 generous sprigs of fresh dill, spring onion or basil (optional)
Extra herbs and pink peppercorn for garnish (optional)
Procedure:
In a food processor, place the tuna, mayo, mustard and herbs. Pulse till you get a pâté-like consistency. If you don't have a food processor, you can mash the tuna well with a fork. Season with black pepper. Transfer to a mixing bowl and mix in the minced onion. Transfer everything to a jar, garnish with extra herbs, if you have any. Serve with toasted bread or on crackers. This can keep easily in the fridge for a week.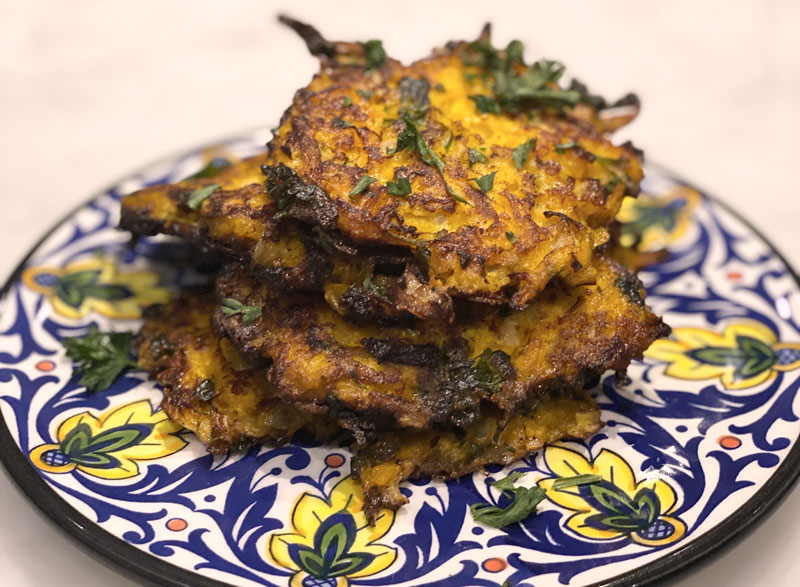 Cheesy Kalabasa fritters
Ingredients:
2 generous cups raw, grated kalabasa
3/4 cup grated cheese (cheddar, edam, gouda – something sharp and not mozzarella)
1/2 white onion, finely minced
2 tbsps finely chopped herbs or malunggay (optional)
1 egg
1 tbsp flour (optional for more crispness)
Oil for frying
Salt and pepper to taste
Procedure:
Mix everything in a bowl and season. Heat oil in a nonstick pan. Form patties directly in the pan and fry on one side till golden and a bit crisp. Flip and fry on the other side. Serve hot. You can serve with sweet chili sauce. You can also serve with some crispy corned beef and a fried egg on top. If you can't find cheese, you may still do this recipe by adding a bit more flour.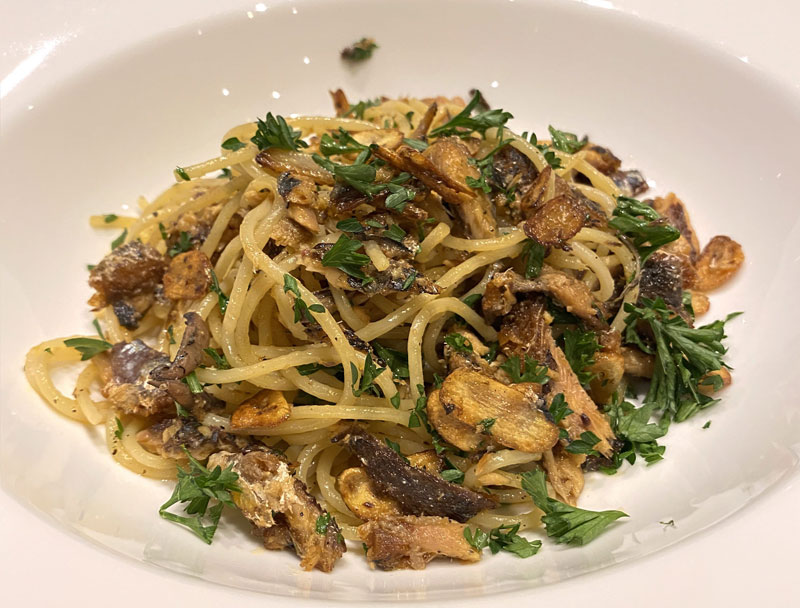 Sardine agli e olio
Ingredients:
1 small can sardines, drained
3 cloves garlic, thinly sliced
Pasta for two (spaghetti or any kind you wish)
Olive oil (any neutral cooking oil will work in a pinch)
Salt and pepper to taste
Fresh parsley and chili flakes for garnish
Procedure:
Drain sardines from oil or sauce. Remove the bones and flake with a fork. In a pan, heat oil and cook garlic till golden. Add the sardines and add pasta. Toss everything together and season with salt and pepper. Garnish with parsley and chili flakes. Serve immediately.