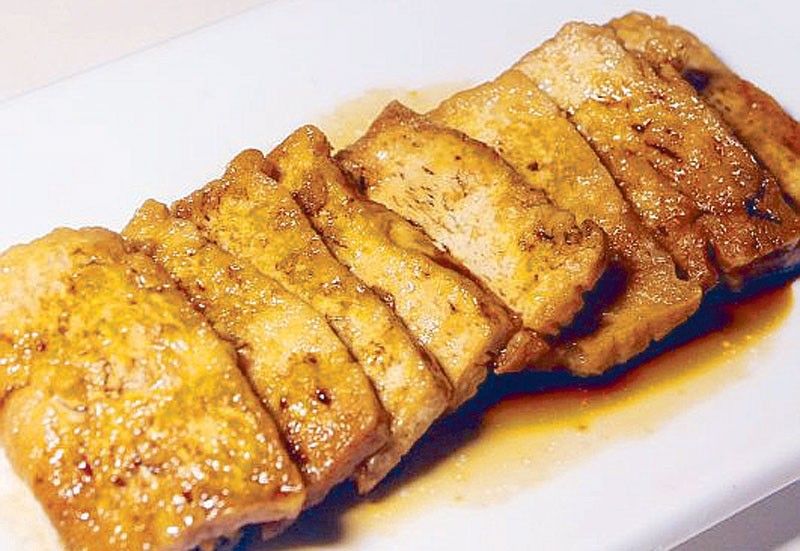 Veggie "Spam": Fried tofu steaks simmered in soy sauce and ginger brew
Claude Tayag
With supermarket shelves running empty, here's how to prepare healthy, nutritious meals from canned goods
Claude Tayag
(The Philippine Star) - March 26, 2020 - 12:00am
Every home has its own stash of go-to food items in their pantry, whether for quick meals or snacking any time of the day or night. Just look at this list of canned, bottled or packed staples: sardines, tuna, tuyo fillets (salted dried fish), sausages, luncheon meat, corned beef, instant noodles, cheese, soda crackers, potato chips, and the like. Let's not forget the meats, fish and cooked meals we have in the freezer.
I could expand the list that would practically include half the supermarket aisles with what is readily available nowadays. But with the ongoing world-wide pandemic, the supermarket shelves are running empty. It is best to practice some prudence and restraint in our consumption to extend whatever limited resources we have for the long haul. After all, the best protection one can have against this invisible enemy is keeping a healthy body and heeding the government's advice of social distancing.
During normal times, processed or canned goods are generally perceived to be the enemy of the health-conscious. But these are not normal times. These same canned goods could be our savior, just as K-rations sustained the frontliners during World War II.
Here are a few practical tips on how to prepare healthy and nutritious meals out of these "unhealthy" canned goods.
FIFO – The "first-in, first-out" rule should apply, most especially to fresh produce, fish and meats, which are highly perishable. As with canned and processed goods, check out the expiry or "best by" dates. The fact remains that a canned or bottled food item is still edible even it is past its expiry date. It is not just at its peak flavor.
Speaking of which, the benefits of canned goods cannot be underscored enough. "Fruits and vegetables used for canning are picked at peak freshness, ensuring the best flavor and nutrient quality," according to Eatright.org. "Canned foods can be just as nutritious as fresh and frozen foods because canning preserves many nutrients. The amount of minerals, fat-soluble vitamins, protein, fat and carbohydrates remain relatively unchanged by the process of canning. The process of canning ensures a long shelf life of at least one to five years. This may be beneficial for individuals who often throw away fresh produce due to spoilage."
Combine canned with "living" food. While processed meats and canned seafood are deemed unhealthy by most, they are nevertheless a necessity in today's kitchen, as they are easy and convenient to prepare. The trick is to serve them with some "living food," i.e. vegetables and fruits, fresh or canned. Consider the following for nutritious and flavorful one-dish meals:
Corned beef hash – Sauté with lots of garlic, onion and tomatoes. Add sliced cabbage, diced potatoes and carrots. Ultimately, the ratio of meat to veggies should be 1:4. The corned beef is there to flavor the veggies.
Luncheon-meat omelet – Slice the luncheon meat into cubes and sauté with garlic and onion, add green and red bell pepper (pimiento) strips and canned sliced mushrooms. Use this as the stuffing for an omelet or as a topping for pasta primavera.
Salted fish fried rice – Inspired by the Chinese dish of the same name, use bottled tuyo fillets to make this delicious Lenten/year-round treat. It has all the ingredients of the Pinoy's all-time fave breakfast fare, and more. Cook scrambled eggs and set aside. Sauté garlic using the oil in the bottled tuyo, add some shredded fillets, add the cooked rice (make it brown for a healthier option) and mix well for a minute or two. Just before serving, while still warm, add the scrambled egg, lots of sliced tomatoes and lettuce. Sprinkle some spiced vinegar to complete that Pinoy staple taste.
Sarsiado – aka sofrito by the Spaniards, it is basically an all-around tomato-based sauce that can perk up any dish. Sauté garlic and onion with lots of tomatoes and red bell pepper. Voila, that's your sofrito! Try pouring it over any fried fish, meat and even hard-boiled egg, which our mother used to serve us when we were kids. Sofrito is also the base for making paella. You can also use it to make sarsiadong isda/ cardillo, fried fish simmered in sofrito, chicken broth, whisked egg (think egg-drop soup) and topped with lots of coriander.
Makeover dishes – Even way back during my high-school years, I used to make my own dinners, especially when the dish was a repeat/ leftover from lunch. I guess that's how I honed my improvisational skills in the kitchen. Leftover nilagang manok (boiled chicken and veggies) I would turn into chicken noodle soup, arroz caldo, pancit canton or even a chicken sandwich, depending on my mood and what else was available in our mother's well-stocked pantry.
Vegan "Spam" – One of the staples in my ref is tokwa/tofu or soybean curd. There's a lot to choose from in the supermarket chiller depending on the firmness you prefer. I personally prefer the Kem Kang brand Chinese tofu (momen tofu) for its consistency: firm enough to hold its shape when cooking, yet silky soft when bitten into. And because it comes in a sealed pack, it has a one-month expiry date. Cut it into 1/4 inch-thick slices, fry in a little oil until both sides are light brown, then season with soy sauce and salabat powder (ginger brew), another staple in my pantry. Use these tofu steaks for making a vegan chop suey, pancit canton, sukiyaki, or the Korean chapchae. Simmer the tofu steaks in pineapple juice and a little banana ketchup and voila, you have a vegan tocino.
Grilled cheese/ pizza – I always have a stack of wheat bread, ciabattas and baguettes in the freezer (yes, that's the best way to keep them, pre-sliced to make it easier to thaw). And grated parmesan, mozzarella and cheddar cheese. I've been serving my next-door neighbor's nephews Renz, Jem and Josh this grilled cheese for the past 20 years. They swear by it; though they have the same ingredients at home, they claim mine tastes better. Just sprinkle a generous amount of the mixed cheeses on a bread slice, place into a toaster oven until the cheese bubbles and turns golden-brown. For variety, Mary Ann and I add sardines and sliced tomatoes on top of the grilled cheese toast.
Speaking of canned sardines, the people of Davao City have a well-kept secret: "pantawid," a dish the budget-conscious sector of society use to get by. Called udong, it is a noodle dish popular with students on a string budget, employees, and even among domestic helpers. Udong are long, thin dried noodles, much like Italian angel hair pasta in appearance, sold in small packs, but it is the manner of cooking that is strikingly uniform, according to everyone I asked in Davao. Water is boiled in a pot, the pasta is put in, copious amounts of chopped tomatoes and onions are added (no sautéing), then the contents of a can of local sardines. Some prefer it like a soup, while others prefer it dry like spaghetti.
Udong was first introduced to Davao by the first wave of Japanese migrant workers in the pineapple plantations during the early 1900s. They brought with them the art of making udon, or thick wheat noodles. How it evolved into its present form is anybody's guess. Adaptation and survival instinct, I guess. That's one way we can cope with our present dilemma. Eat well, pray well, and stay at home.