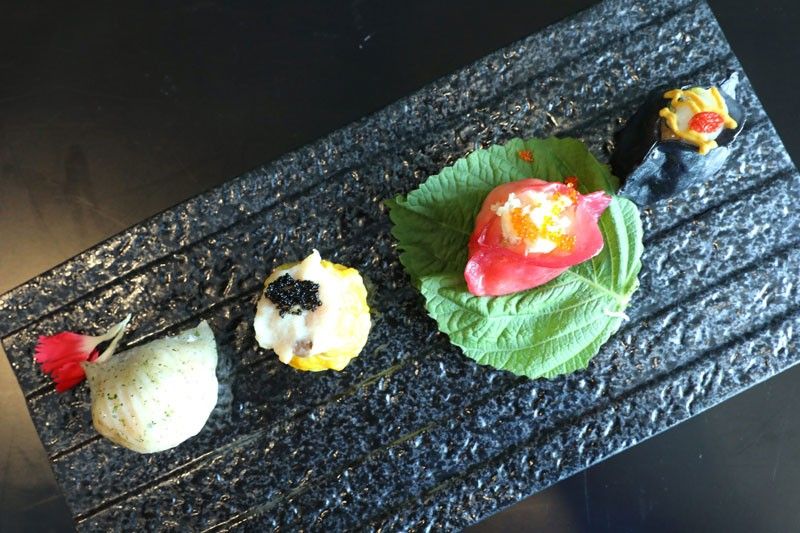 Four kinds of dimsum: Shrimp, pork, crab and scallop
Walter Bollozos
1920s Shanghai glam meets modern Chinese cuisine
MANILA, Philippines — Stepping inside Shanghai Saloon in Podium feels like entering a Far Eastern train station that takes you back to the 1920s — with servers wearing gray flannel caps, bowties and suspenders — but the execution of Chinese cuisine is very modern and very clever.
Décor touches suggest we're in a romantic Wong Kar Wei-type setting — wood slats line the upper walls, old-time chandeliers hang low, and the mezzanine recreates a deco-era dining car, with booths showing old Chinese movies — but there are modern, industrial touches too, like the lamps designed as origami cranes on perches, or the French-style cushioned plastic chairs.
But it's in the menu where Shanghai Saloon's concept of "old and new" comes together smashingly.
At age 37, restaurateur and TV host Grace Lee already heads a food empire of 15 restaurants, from Korean chicken barbecue to cafes and bars, so let's call her a food empress. Shanghai Saloon is the latest in her roster of Han Bright Concepts (others include Kko Kko, Moka and Nikuya), and it's a winning combo of fine wines, great ambience and interesting twists on Chinese staples.
For our opener, we enjoyed Four Kinds Dim Sum Platter (shrimp, pork, scallop and crab dumplings) The dim sum chef is from Malaysia, and adds a unique spin to this best-seller. "If you're like three to four people coming here, you can only order so much — but you like to taste a lot, so we created this so you get a taste of our dim sum." She says with the hakaw and shrimp, "you can really taste the difference." Grace, a wine lover herself, adds that the dim sum pairs well with sparkling wine or champagne. (We had a glass of Stars to confirm this.)
Her executive chef, Tony Tung, is from Hutong in Hong Kong, now based here permanently. "Hutong used to be my favorite go-to restaurant in Hong Kong," she says. "I go there at least once whenever I'm there, so I'm very excited to have him here in Manila so I can eat the food I used to enjoy all the way in Hong Kong."
Shanghai Saloon has a lot of interesting dishes you won't see in your run-of-the-mill Chinese restaurant, like the Spicy Twirled Cucumber, an Instagrammable mound of garlicky vegetables cut like twister fries.
Grace loves their Watermelon and Soft Shell Crab Salad: "It's very Chinese, but also very modern," she says. "Also we have items that you don't see anywhere else like the Cheese-Crusted Kimchi Dumplings (a nod to her Korean heritage). So, we have about 20 to 30 percent variety of modern cuisine, but at the same time our chef has incorporated a lot of Cantonese, some Shanghainese cuisine into our entire menu."
The Peking duck is a standout, if only for the fact that Grace says the duck dryer she bought cost her as much as a car. "So I said we have to display it because it's so expensive!" she laughs. "That duck dryer is what makes our duck so special: what makes the meat very juicy and what makes the skin very crispy."
You can have the duck two ways: the modern way to eat the skin is to simply dip it in sugar before consuming, though you can wrap it in thin pancakes with the traditional fixings in the old style. The second way is minced, but instead of lettuce leaves, Shanghai Saloon serves it with steamed and fried mantou bun halves that are hollow and ready for filling.
Sweet and sour pork might be the most mundane, clichéd item on a Chinese menu, but do try the Saloon version, which transcends the clichés and is possibly the best sweet and sour pork we've had.
Another must-try is the Baked Scallop with Cream Sauce — large Australian scallops on blocks of soft tofu with salmon roe and a mayo-like dressing — rich, silky and decadent.
For dessert, order the glutinous rice balls with strawberry — pretty pink mochi with fresh strawberries and cream inside for a light, guiltless meal ender.
Retro-modern feel
After helping her Korean mom open up Hoolala Korean Chicken House, and creating other popular concepts like Kko Kko, Grace saw an opportunity for Chinese cuisine here to evolve. "Basically, all the Chinese restaurants here are very old style," she notes. "It's a place to go for laureates with a whole family. We have not taken Chinese restaurant to the next level. Whenever I go to Hong Kong or Singapore, what I really enjoy are modern Chinese restaurants — meaning the way it's set up, the way the service is being done, the interiors. But, you know, 70 to 80 percent of the food is still very authentic." She wanted to incorporate more modern twists "to attract the younger crowds."
To that end, Shanghai Saloon has a retro-modern, almost speakeasy feel. That casual atmosphere extends to 2 a.m. from Wednesdays to Saturdays. "When you come here in the evening, the vibe is absolutely different — we're very 1920s Shanghai-inspired. We'll even have a live band playing jazz."
Details count, like the old turntable set on the bar, and the wall-length wine rack at the entrance that extends to the vaulting ceilings. Lee personally chose all the wines, and not all are as high end as the Chateau La Tour 2003 that runs P99,888 per bottle, or the 1997 Margaux Grand Vin (a relative bargain at P53,588); she also has a curated house wine selection — things like California's Decoy, or Australia's Two Hands — that pair beautifully for P2,000 to P3,000 per bottle. "Chinese food is not very difficult to match with wines, unlike, for example, a lot of Thai or Indian cuisine, because the spices are very strong," notes Lee.
Separate dining alcoves offer privacy for groups, and the upstairs mezzanine offers a nice lounge vibe for couples: "Shanghai was called the 'Paris of the East, and we wanted that cozy, warm ambience here," says Lee. "I love the 1920s, that era was so posh and chic." She personally designed the interiors with her creative director (this woman is tireless; she does it all) with the aim to "upgrade the Chinese dining experience in Manila to Hong Kong and Singapore levels, where it becomes a lounge at night, where you have a drink or two with great Chinese food." The bar also features classic cocktails, plus some new concoctions, which will probably premiere at tonight's official launch party. You should catch that train to Shanghai Saloon soon.
* * *
Shanghai Saloon is located at Ground Level, The Podium, Ortigas Center, open until 1 a.m. Call 8426-5587 or 0917-128-2874 for reservations.