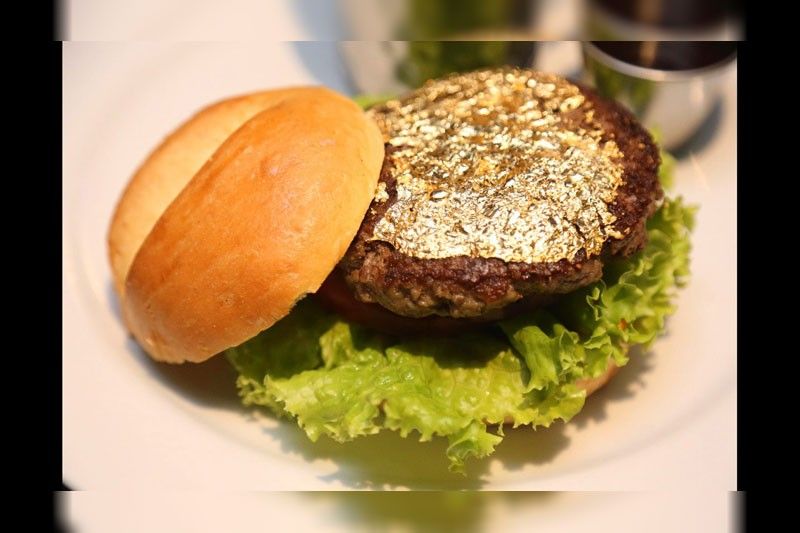 Metalhead: The 24-Karat Gold Leaf Burger is a bit of luxury and excess on Hard Rock Café's new menu starting Feb. 24.
Russell Palma
Hard Rock Café adds heavy metal to its menu
Take a seat next to the stage at Hard Rock Café at the ground level of Glorietta 3 tonight: Ice Bucket is taking the Meat Loaf challenge, larynx-shredding their way through a set that opens with I Would Do Anything for Love, Styx's Mr. Roboto, an emo Simon and Garfunkel cover, before heading into a whole Queen repertoire that culminates in a gloriously Bohemian rhapsody. Now sink you teeth into the 24-Karat Gold Leaf Burger, just one of the new menu items that Hard Rock is offering.
You taste that?
That's heavy metal, right on your plate.
The gold leaf burger — a glittering spectacle, to be sure — is one of the ways Hard Rock adds fun, excess, and a little bling to the rock 'n' roll experience. They've brought back Hard Rock classics like the hickory smoked ribs and Legendary Burger (a tower of bacon/beef/onion ring/cheese that's impaled on your plate with a knife), but also added more sophisticated, international fare. Of course, as with all branches, there's a main stage featuring local acts like Ice Bucket, Blast, Highway 54, Spirit of 67 and others six nights a week. (The sound system in the new Makati branch is superb, BTW.)
With Hard Rock Makati reopening this past Feb. 13 (just in time for Journey-style lovin', touchin' and squeezin'), and last year's opening of the 653-sqm 350-seater family-style outlet in Conrad S'Maison, it's clear that Filipinos and rock music are made for each other. Why else would Hard Rock International (headquartered in Florida) be authorizing two more branches to open in the Philippines, in Malate, Manila and Cebu come October 2020? That's the most Hard Rock branches in one single Asian country.
Head upstairs from the ground level entrance (where there's a souvenir shop) and you hit the memorabilia: John Tempesta's full percussion set mounted on the wall, from a Rob Zombie tour; original sweatshirts and tickets from the Who's 1969 "Tommy" tour; a signed U2 cymbal; a Dave Navarro acoustic guitar from his Red Hot Chili Peppers days; an Eagles "The Long Run" tour jacket; one of Keith Richards' leather vests from the Waiting on a Friend video. The pièce de résistance has to be the Fender Strat mounted near the bar, signed by all the (surviving) Sex Pistols from their 1996 tour. Cool! There's even an N'Sync and Backstreet Boys section, for those who consider boy bands "rock."
The new menu, available starting Feb. 24, really digs down into the rock luxury.
The California-style Cobb salad is a huge bowl, brought unmixed, with grilled chicken, avocado, roasted corn, black beans, roasted pepitas and Monterey Jack cheese on a bed of lettuce; the three-cheese and tomato flatbread is topped with mozzarella, Monterey Jack and cheddar, cooked with Roma tomatoes and basil and drizzled with cilantro pesto; and the spinach artichoke dip is served with a rich, creamy blend of Romano and cheddar, big artichoke hearts and spinach, with lots of toasted bread and tortilla chips to dip away.
For our media launch, the new mains are fresh pastas like the rich truffle mushroom pasta stuffed with tartufata, shiitake mushrooms, garlic, onion, truffle oil and parmesan; and a spicy vongole pasta, on a bed with clams, fresh tomatoes, garlic, onion, celery, white wine, chili flakes and lemon juice.
That 24-Karat Gold Leaf burger (pricier than a regular stacked burger, but whaddya expect? It's gold!) is a premium-grade beef burger with American cheese, leaf lettuce, tomato and onion — and, oh yes, edible gold leaf layered on the patty. What's gold taste like? Nothing, really; it just has a fine, crunchy texture in your mouth. But visually, it's pretty awesome.
The latest 621-sqm 225-seater Hard Rock introduces new drinks, such as the Rockin' Fresh Rita (Patron Silver Tequila with fresh fruit flavors and Cointreau), Rhythm and Rose Mule (Absolut Vodka and rosé wine-based drink with ginger beer), Blackberry Sparkling Sangria (blackberries, cranberry juice, squeeze of orange and Prosecco sparkling wine), Espresso Martini (Grey Goose vodka, Kahlua and fresh brewed espresso), Classic Caribbean Mojito (Bacardi Superior Rum, mint, lime juice, sparkling soda, Añejo floater and powdered sugar) and Sparkling Blue Hawaiian (Malibu coconut rum, Absolut Citron with Blue Curaçao. There's also Banana Berry Colada, Passion Fruit Mai Tai and Rock House Rum Punch. For non-alcoholic pleasures, there's the popular pineapple lemonade, hot fudge milkshake and cookies & cream milkshake. Sweet!
Brian Peck, Bistro Group director of operations, shows me around the memorabilia, which is weighted less towards classic rock and pop icons like Elvis and Michael Jackson (as in Conrad S'Maison) and more to the young set, with areas for Justin TImberlake, a Madonna wall, and nods to Taylor Swift. The stage, of course, takes center stage, where guests do selfies with the instruments before the bands take over.
Lisa Ronquillo, Bistro Group VP for marketing, has an enviable job: she got to tour the Hard Rock warehouse in Orlando, Florida, a huge hangar filled with rooms and rooms of classic rock items, each of them catalogued and destined for future Hard Rock branches around the world. She marveled at the John Lennon Room — with original items from his Dakota apartment in NYC, including a white piano and the former Beatle's bed. "It gives you goosebumps," she says. Considering how vigorously the Hard Rock group plans to expand, even as far as Cebu, they want to include more memorabilia from Pinoy acts, like Eraserheads, Joey "Pepe" Smith, Wolfgang, The Dawn and other icons. But first, Lisa and Brian say, they still have one piece of Pinoy memorabilia left to track down: Arnel Pineda, the Filipino singer with Journey who played a launch gig at the Conrad S'Maison last year, still owes them a tour jacket to display there. Don't stop believin', guys: the Journeyman will surely deliver it with open arms.
* * *
The new Hard Rock Cafe is at Ground Level, Glorietta 3, open Monday to Sunday, 11 a.m. to 12 midnight. Call 7900-3310.