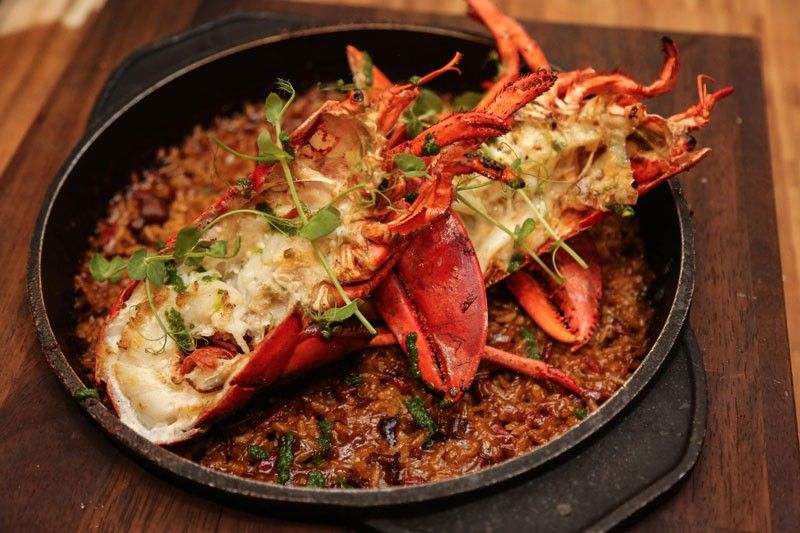 Arroz con Bogavante, charcoal-baked rice topped with juicy whole Maine lobster, is the bomb at BCN by Las Flores.
Dine and wine the Spanish way
When in Spain, eat where the locals do.
"If not, you're seriously missing out," advised chef Alfredo Rodriguez, who hails from Madrid, over hand-cut Bellota ham and a refreshing glass of gin and tonic on a gloomy Thursday morn. "What I observed is that in Spain, tourists don't eat where we, the locals, eat." And that's definitely something that needs to change.
I was having brunch with the amiable Spaniard, who is the executive chef of the newly opened BCN by Las Flores, another concept of the Bistro Group/Bistronomia (from the same group — made up of good-looking Spanish guys — that operates Rambla, Las Flores, La Lola, Tomatito and Osteria Danielle).
It was too early for cocktails, I know, but in Spain, drinking is generally a daytime custom. Spaniards know how to day-drink with relentless aplomb. It's a social activity undertaken pretty much whenever over the course of daylight hours, preferably with a friend or three.
This 100-seater restaurant is the perfect place to wine and dine, and throw stylish celebrations.
Formerly BCN by Rambla, BCN by Las Flores (BCN as in the airport code for Barcelona) has rebranded and reopened to give Filipino diners a taste of all that makes Catalunya — and Spain, in general — so very delicioso!
The restaurant is a spinoff of Las Flores, but unlike Las Flores, which serves contemporary Spanish dishes, BCN is more traditional/local.
"We serve dishes that tourists don't normally order when they dine, say, in Barcelona," noted chef Rodriguez.
Just like most Filipinos who get a little tired of eating sinigang or adobo all the time, chef Rodriguez feels the same. It turns out that's not a phenomenon exclusive to us.
"There's more to Spanish cuisine than just tapas and paellas," he said. "We have simple but delicious seafood and meat dishes that highlight the freshness of the produce made flavorful with a sprinkle of salt and a drop of olive oil."
So yes, you can go anywhere else for your tapas and churros, because you'll be coming to the restaurant for the seafood.
The Pulpo a la Gallega, for one, is something you'll definitely go back for. The grilled octopus and potatoes are flavored with paprika and extra-virgin olive oil. Once you pop the bite-sized and tender tentacles, you can't stop. It's as addicting as the Fritura de Pulpo, a combo of succulent deep-fried octopus on a bed of velvety eggplant with honey and kimchi aioli I had during the degustation dinner prepared by Spanish chef Ignacio Alcala Marti at Las Flores Podium late last year.
"About 15 percent of the BCN by Las Flores menu is from Las Flores," explained Celina Alexandrine, marketing manager of Bistronomia. "Thirty-five percent is from Rambla's menu, while the rest of the dishes are new."
Another signature dish is the whole, one-kilo sea bass cooked in wine, garlic, vinegar and piquillo peppers. Baked in the Mibrasa oven, touted as the "Rolls-Royce of charcoal grills," the plump fish is cooked through — flaky and super moist. But chef Rodriguez had me at Arroz con Bogavante (lobster rice). The charcoal-grilled bomba rice is so flavorful you'd think the stock was loaded with aligue. The whole lobster on top makes it more appetizing. This dish is sheer genius and perfection in every bite. The rich flavors of the lobster rice are complemented by the fruity Terres Gauda O Rosal, Albariño, Caiño, Loureiro, Rias Baixas white wine from Galicia Spain.
The restaurant takes the wine-drinking experience to a whole new level. The imposing wine cellar carries an impressive collection from the vineyards of Spain and around the world. Here, guests can choose from over a hundred labels and enjoy their wines inside the cellar, where a few tables are set up. Or they can dine and wine in the dining area by the lounge (with a breathtaking view of the sunset) or at either of the restaurant's two bars.
If it's gin and tonic you like, just look for Duane Legaspi, the beverage manager, and he'd be more than glad to mix it for you. And since the restaurant has a Gin & Tonic cart, you, too, can DIY your drink. Beer drinkers are in for a treat, too, as the restaurant also serves Spanish draft beers.
And what's a good Spanish meal without dessert? I'm not a fan of pineapples, but the La Piña is the bomb! The dessert is a combo of grilled pineapple, a homemade butterscotch sauce, flambéed Cointreau, a cinnamon-heavy crumble, and coconut ice cream. And since summer is just around the corner, it's a must-have tropical treat.
I went on a 10-day food (coma) trip to Spain 10 years ago. Sadly, Barcelona didn't figure in the itinerary. So if you've never been to Barcelona — just like me — dining here pretty much takes you halfway there.
From the interiors — the monochromatic Spanish tiles, a street-map decor on the wall, wooden elements and giant papier-maché pop art display reminiscent of a small store near Plaza Sant Jaume — to the booze, down to the food, the restaurant transports guests to this colorful city Dali calls home.