How Cebu's best lechon was honored in Vienna
January 30, 2020 | 12:00am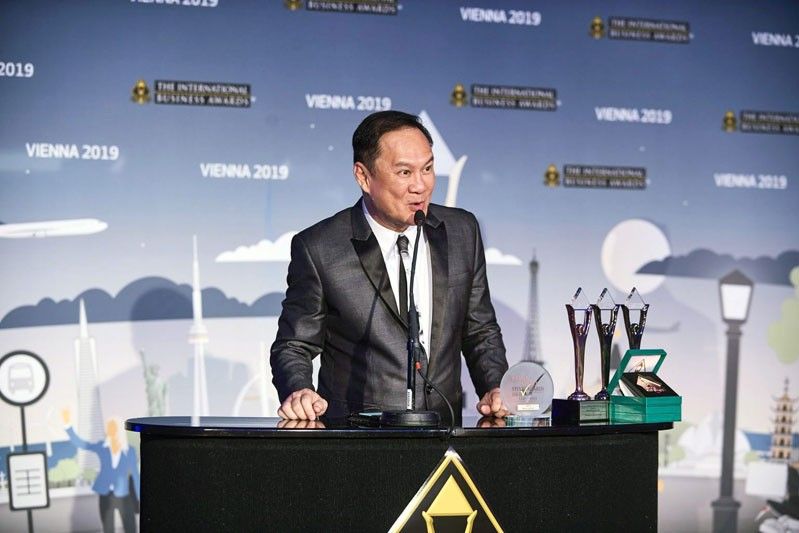 Restaurateur George Nocom Pua had no idea that his love affair with lechon — which started when he was only 13 years old — would earn him his first international recognition as an entrepreneur.
The president and CEO of Rico's Lechon flew to Vienna, Austria, late last year to personally receive two gold and two bronze awards from the International Business Awards (IBA) Stevie, popularly known as the Stevie Awards, for Company of the Year (Gold), PR Campaign of the Year (Bronze), People's Choice Award (Bronze) and Entrepreneur of the Year (Gold).
Established in 2002, Stevie Awards honors organizations of all types and sizes, and the people behind them. It also recognizes outstanding performances in the workplace worldwide.
Last year, the IBA Stevie reviewed a record of more than 4,000 nominations. However, only about 35 percent of those nominations — which received high-enough average scores — made the cut.
Held at the Grand Ballroom of the Andaz Vienna Am Belvedere Hotel in Vienna, Austria, the IBA Stevie awarding ceremonies focused the spotlight on outstanding individuals and organizations that show "a strong dedication to honoring the work of their employees, commitment to their clients and a sense of innovation."
Clad in a gray suit by Filipino designer M Barretto and Gucci shoes, George Pua beamed with pride as he went onstage to receive the prestigious awards.
"These awards fire up our passion even more to create unforgettable dining experiences to our clients, not only at Rico's Lechon, but also in my other restaurants," George said during his acceptance speech. "It also inspires me to create more restaurant concepts worthy of the Stevie."
'Da best gyud'
When I acquired full ownership of Rico's Lechon in 2017, I was over the moon. Finally, I could have my fill of Cebu's best lechon — any time of the day — without having to fly to the Queen City of the South," shared George, who would go on a day trip to Cebu for his lechon fix. He once went on a five-day lechon trip there to try all the popular lechon brands. "For me, Rico stood out as the best."
Under Pua's helm, Rico's Lechon remains steadfast in providing the juiciest and crispiest lechon and the best dining experience to its customers through its "Da Best Gyud" culture.
More than the service, each Rico's Lechon branch aims to introduce their culture of making every gathering a memorable occasion for others.
The innovative approach and appeal of the "Da Best Gyud" culture to the public generated an increase in brand awareness and customer loyalty. And so, in less than eight months, Pua opened six more branches of Rico's Lechon.
"Starting with 50 employees, Rico's Lechon now has more than 500-strong employees," enthused Pua.
For these record-breaking accomplishments, Rico's Lechon has been conferred with "Company of the Year" (Gold), the highest commendation at the 16th International Business Awards (IBA) Stevie.
"Based on the credentials submitted to us, Rico's Lechon showcased how George Pua took over an established brand and expanded it to deliver impressive business growth with its many restaurant locations," shared one of the IBA 2019 judges.
The IBA also recognized Rico's Lechon for its "Daghang Salamat, Cebuanos" (for bringing Rico's to Manila) campaign as the "PR Campaign of the Year" (Bronze).
It's an online promo that offered free buffet for Cebuanos in Manila.
"The successful campaign heralds the wide acceptance of the well-loved Cebu lechon brand in Manila," said Ruben Licera, CEO of Estrat Digital Marketing, Rico's Lechon's digital marketing agency.
It was Licera who broached the idea to George to vie for the Stevie Awards.
"I'm very impressed at how fast Rico's Lechon (as a brand) was growing in the first six months since Pua acquired sole ownership of the brand," shared Licera. "I knew that Rico's Lechon had a chance of winning the Stevie Awards."
But George isn't a fan of joining competitions. So the first time Licera brought up the idea to Pua about joining the Stevie Awards, "he acted as if he didn't hear anything."
But that didn't dampen Licera's spirits. He sent Pua another email highlighting Rico's Lechon's achievements under his leadership. Thirty minutes after the email was sent, Licera got a call from his hard-to-please client.
"Sir George called because he couldn't believe he managed to expand the brand and helped provide employment to hundreds of people in less than a year since he took over," Licera said with an impish grin. "If joining the Stevie Awards would inspire other entrepreneurs to do the same, he said he's all for it."
The requirements for joining the Stevie Awards included a 1,000-word essay that contains at least 10 accomplishments for the year and tons of supporting documents.
"The good thing about working closely with sir George's team is we have access to all the files and we have documented and archived them through the years," shared Licera.
Licera and his team worked 24-7 for two weeks to prepare the entries at their office in Cebu. They would fly to Manila and stay here for five days to research more about Pua's background and other businesses.
The announcement of winners was slated on Aug. 12, 2019.
"On Aug. 11, I stayed all night to wait for the email result. But I didn't get one. I checked my email again the following day, but no luck still. I gathered my team and informed them that I didn't receive an email. Ergo, we didn't win," related Licera. "Deep inside, I was still hoping for a miracle. At 9:04 p.m., I received an email containing the official results of the 2019 IBA Stevie. We won!"
It was Licera's wife, Iren, who informed Pua about the good news.
"I think he was also shocked by the news that he said 'really?' three times," Iren said with a hearty laugh.
"I couldn't believe that we made it," added George. "Never in my wildest dreams that my passion and love for creating good food for people to enjoy would be recognized in the international stage. The IBA Stevie is, indeed, a great honor for myself, my team and for the country."
The making of an outstanding entrepreneur
With 30 restaurants under his belt, George Pua still can't believe that he's made it this far.
"I'm the youngest child. Meaning, I was a spoiled brat," Pua jokingly said over sweet and sour pork, mapo tofu, and stir-fried veggies in a casual Chinese restaurant where we had an intimate victory party right after the Stevie Awards night.
"I always got what I wanted," he said. "My parents own a gasoline station near our place in Baclaran. While my siblings helped out in the family business, I was at home watching TV," he recalled.
Right in front of their house were restaurants specializing in lechon.
"The smell of lechon roasting on the pit was enough to wake me up from deep slumber. Come lunchtime, I would ask our house help to get me 1/4 kilo of lechon, which I would eat all by myself," he shared.
But his charmed life was cut short when his parents lost their gasoline business.
"Our lease contract with the property owner was about to expire. Worried, my mom asked the help of my uncle (her older brother) to negotiate on her behalf," related Pua. "He agreed. Or so my parents thought."
The Puas had to finally give up their gasoline station — their main source of income — to give way to a commercial center that would be run and operated by George's uncle.
M y mom was heartbroken. She couldn't believe that the man she loved and trusted with her life would have the nerve to do that to us," lamented George, his voice breaking. "While this family issue had long been resolved, I couldn't help but remember the pain it brought to our family, especially my mom. She would bang her head on the wall while crying out of frustration. It broke my heart when I saw her do that."
When he was 17, George promised his mom and himself one thing: "No one would ever step on us again!"
"That was the motivation I have up to this day," he said.
George was already a sophomore at De La Salle University when he started selling college shirts to his classmates to be financially independent.
"At that time, my aunt was paying for my college education. I didn't want my parents to worry about my allowance anymore," shared George.
Whenever the DLSU Pep Squad would compete, I would set up a table selling DLSU cheerleading shirts. It sold like hotcakes.
"I studied in DLSU, where most students come from rich families. But I knew deep inside that my some of my classmates looked down on me. I had a classmate who even insulted me for selling tees," said George.
Instead of wallowing in self-pity, George worked doubly hard to make his shirt business flourish. And so, from selling one dozen T-shirts, the demand grew to 200 dozens.
During his senior year, George was already looking for a job. And got hired by a Japanese company even before his college graduation.
And there was no stopping George Pua from reaching for his dreams. His passion and perseverance to succeed led him to become a seasoned entrepreneur, a respected global brand distributor and a world-class restaurateur.
Aside from serving as president and CEO of GNP Trading, George is also at the helm of No Limits Food Corporation and Food Concepts Corporation, the company behind Rico's Lechon.
His first foray into the restaurant business was in 1997, when he got the franchise of Tony Roma's.
Soon, he started creating his own restaurant concepts. To date, he now has nine — Modern China, K-Pub, Oppa Chicken, Ogawa, Sam's Stew, George Town Super Steak, Thai BBQ, Rico's Lechon and Lao Fan.
When asked which is his favorite restaurant, George hastily replied: "I love them all because they're all my babies. I created them from scratch — from the concept, menu, interior design, kitchen layout, staff uniform down to the table setup. Each of the concept is a work of art."
Under these companies, George has provided jobs to more than 1,400 employees and counting.
For his multiple achievements, George bagged the coveted "Entrepreneur of the Year" Award at the 2019 IBA Stevie.
"It's inspiring to see someone raise their lifestyle by serving their community through entrepreneurship. Pua's success is motivational since he gives value to the people and extends his care to his employees," one of the IBA judges said.
Well, if there's one lesson I learned from George, it's to always put your heart in everything you do and keep on dreaming. Because dreams do come true to those who work hard while they dream.
"Each one of us is carved in this world to be somebody. Find your destiny. Find your pot of gold. Spread positivity always," the outstanding entrepreneur advised.