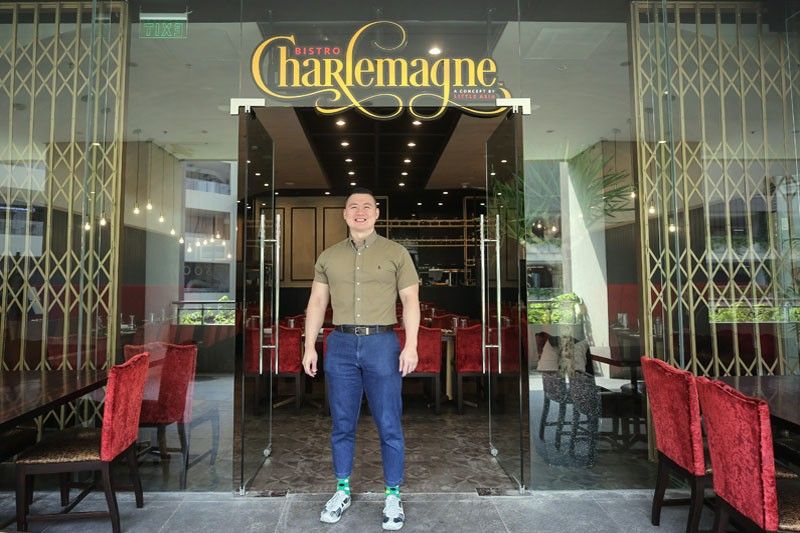 Charlemagne Lim welcomes you to his Bistro Charlemagne, where a fusion of Asian flavors is a mouthwatering experience.
Russell Palma
A union of yummy flavors at bistro Charlemagne
Charlemagne Lim — perhaps named after Charlemagne or Charles the Great, King of the Franks, who united the majority of western and central Europe — unites Asian flavors at his restaurant named Bistro Charlemagne.
At his elegant and welcoming restaurant on the third level of Ayala Malls Manila Bay in Parañaque City (the mall is so big you need to enter at the cinemas building at Podium 4 to find Bistro Charlemagne), guests are treated to sumptuous fare. Simple dishes are created with excellent execution and divine taste. Like a love that is lasting, the palate remembers the scrumptiousness of the gustatory experience — long after the last burp is savored. The exquisiteness of its dishes earned for the restaurant a nod from Zomato Philippines, naming Bistro Charlemagne one of the Top 10 Restaurants for 2019.
A little mound of Japanese Mixed Seafood Salad creates a mountain of joy for sushi lovers. Tuna, shrimp and kani are tossed with spicy mayo. The spicy kick is tolerable. The dish is drizzled just right with ebiko (shrimp roe), showa (tempura flakes) and sweet soy. It's fresh and refreshing — a good start for the unforgettable dining pleasure at Bistro Charlemagne.
"We use only high-grade ingredients in our dishes," says Charlemagne. "It's a trademark that I uphold to this day, ever since I started venturing into the food business."
He was the man behind the restaurant Little Asia, which ran from 2001 to 2015. He introduced a new restaurant concept in 2015 and called it Bistro Charlemagne, where 45 percent of the menu is a carry-over from Little Asia.
His branch in Ayala Malls Manila Bay opened last December. He and his sister Charlynn Lim, his business partner, have two other branches at Ayala Malls Feliz on Marcos Highway and Ayala Malls Solenad 3 in Nuvali, Sta. Rosa, Laguna.
"It is my joy to serve my guests with quality food, good service and a memorable dining experience at a reasonable price," adds Charlemagne, who finished Human Resource Management at College of St. Benilde with honors. He also won best thesis for his research, which determined the performance of a great sales executive. (When he was a teenager, he worked as a newsboy in the Bay Area of San Francisco. After college, he worked for In & Out Burger in the same area "because I could eat all the fries I wanted as an employee there.")
Because excellence is in his DNA, he makes sure he never leaves any stone unturned at his restaurant business. He went as far as buying the recipe of Vietnamese Spring Rolls from a reputable restaurant in Hong Kong because he wanted his Filipino clientele to experience its heavenly goodness. True enough, this dish of fried spring rolls stuffed with glass noodles, pork, crabmeat and mushrooms is more than just appetizing. What more when it is dunked in Nuoc Cham dipping sauce! This Vietnamese Spring Rolls dish is a yummy excursion of flavors: sweet, sour, salty, savory, spicy.
The restaurant's Ox Sisig is Charlemagne's mouthwatering homage to his country. It is slow-cooked ox tongue and ox tripe merrily mixed with Bistro Charlemagne's addicting potion of liver-mansi-mayo (mashed liver drizzled with calamansi and bedazzled with mayonnaise) topped with chicharon bulaklak. (Charlemagne also serves skewered chicharon bulaklak that is guaranteed to tease your palate. He also has party trays and set meals.)
The Beef Tenderloin Rolls with Cheese is also a signature dish that comes with teriyaki sauce.
Little Asia's Crispy Chicken, "an emotional entry to the menu" of the restaurant, is Charlemagne's ode to his late grandfather, Vicente Ting. It's crispy fried chicken whose golden brown skin is a prelude to its promise of yumminess. If its taste reminds you of the restaurant Savory's fried chicken, you hit it right.
"This fried chicken is my grandfather's recipe. He is the founder of Savory," reveals Charlemagne. "It is a family recipe passed down from my lolo. It's what has kept three generations of restaurateurs alive from the '50s to this day," adds the ebullient Charlemagne, who credits his everyday workout in the gym as the secret to his fun, energetic vibe.
His Shrimp Poppers, too, are a hit. You pop one into your mouth and you can't stop savoring these succulent, juicy and lightly battered fried shrimps tossed in sweet-and-spicy mayo sauce. It is served with salad on the side.
Charlemagne Bistro is a profusion of Asian flavors. Red velvet chairs prepare you for a gastronomic explosion, including sweet, sweet endings. Like S'mores, or roasted marshmallow on a sinfully delicious bed of Ghirardelli chocolate ganache that you slather on Graham crackers. The restaurant's Crepe Samurai, too, is to die for. (Ask my best friend Christine Dayrit, a self-confessed hunter of good crepe samurai around the world, and she will tell you this dessert at Bistro Charlemagne is tops, bar none.)
To dine at Bistro Charlemagne is to experience a delightful burst of Asian flavors. These flavors are familiar to the palate, albeit with a flavorful twist. Pleasure is created in the taste buds — unforgettably left there until your next visit.
* * *
Bistro Charlemagne can be reached at 7914-9082 (Ayala Malls Manila Bay); 7729-9496 (Ayala Malls Feliz); and 049-258-0846 (Ayala Malls Solenad 3, Nuvali, Sta. Rosa City).