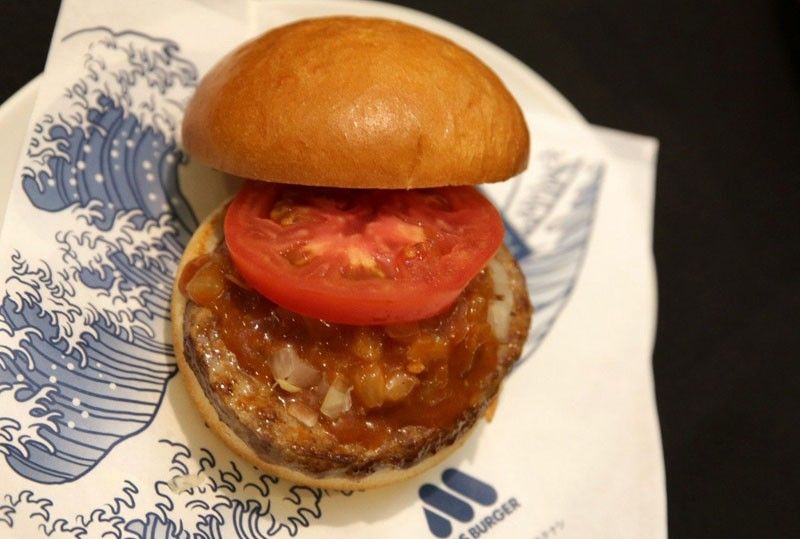 MOS Burger with meat sauce
Geremy Pintolo
Japan's MOSt famous burger chain opens a pop-up at Robinsons Galleria
The hype is real! Burger munchers lined up as early as 8 a.m. last Wednesday, Jan. 15, outside Robinsons Galleria to get their fill of Japan's MOSt famous and delicious burger the Yakiniku Rice Burger and MOS Cheeseburger as MOS Burger opened its pop-up store on the second level of the mall, weeks before its first Manila branch opens on Feb. 26.
MOS Burger Philippines president Masahide Araki, vice president Tateishi Hiroshi, Robinsons Malls general manager Arlene Magtibay and Hubert Young of Tokyo Coffee Holdings, the company that brought MOS Burger to the country, were so happy with the customer turnout.
"We heard that Filipinos are big burger lovers," enthused Hiroshi. "And we are offering only the best for you."
Upon registration, guests and members of the media were given wristbands (with a corresponding number) that served as our VIP pass. This allowed us to get first dibs on two of MOS' bestselling burgers: the Signature MOS Cheeseburger (P149) and the Yakiniku Rice Burger (P169).
What makes the Japanese cheeseburger different from the western variety we love is the brioche bun and the meat sauce, which is sandwiched between the beef patty and a huge slice of fresh tomato. It's delicious, but messy to eat so get your wet wipes ready.
The Yakiniku Rice Burger, on the other hand, is made with thinly sliced marinated beef and lettuce that are sandwiched in between grilled rice buns. And since Filipinos have the appetite to eat rice for breakfast, lunch and dinner, MOS Burger's rice burgers will definitely be a big hit among Pinoys.
We were told that only 300 burgers would be served per day during the Jan. 15 to 16 pop-up, with a maximum order of two burgers per customer.
And so, with or without the wristband, I would patiently line up for these two!
What's in a name?
The name MOS stands for "mountain" (to stand tall and firm), "ocean" (to have a heart as big and generous as the ocean) and "sun" (to have an undying passion like the sun).
"MOS represents the way we wish all our employees approach their work," noted Hiroshi.
MOS Burger is ranked number two in sales against all burger chains across Japan. It has more than 1,300 stores in Japan, and more than 300 stores overseas.
"Our goal is to grow as a food service group that shares the deliciousness of Japan with the rest of the world," added Hiroshi.
MOS Burger Philippines is a joint venture between MOS Food Services Inc. of Japan and Tokyo Coffee Holdings, the same company that owns UCC Philippines.
"I've been dreaming of bringing MOS Burger to the Philippines as early as late '90s," shared Hubert Young, MOS Burger Philippines director. "But the opportunity never came."
So Young just concentrated on running UCC Philippines.
"So I decided to just build the brand, build my reputation and credibility. We're celebrating our 20th year for UCC this year. In the process of building good credibility and our name, the MOS Food Services Inc. started approaching us for a possible partnership," enthused Young.
And the rest, as they say, is food history.
"We will also be introducing food items using local ingredients," added Young.
MOS Burger Philippines was formed in 2019 to oversee the local operations of MOS Burger and the soon-to-be-launched MOS Cafe.
"Our first branch here in Robinsons Galleria will be followed by the opening of other branches in major malls and commercial districts in Metro Manila," said Masahide Araki, president of MOS Burger Philippines, during the opening of the pop-up store. "We thank Robinsons Galleria Management for being the first establishment to welcome MOS Burger in the Philippines."
MOS Burger will be opening soon in other Robinsons Malls.
"Today is a very exciting day as Robinsons Galleria plays host to the very first MOS Burger pop-up store in the country," enthused Arlene Magtibay, general manager of Robinsons Malls. "When we found out that Hubert Young is bringing MOS Burger Philippines, we lost no time in convincing him to put MOS Burger first in Robinsons Malls. Thank goodness, he agreed."
MOS Burger will be opening initially in three Robinsons Malls. The first branch is at Robinsons Galleria, which will open on Feb. 26; followed by Robinsons Place Manila and Robinsons Magnolia, where a MOS Cafe will also be featured. The restaurant brand is also particularly proud of its coffee blend.
"Today is just a preview of more exciting things to come," added Magtibay.