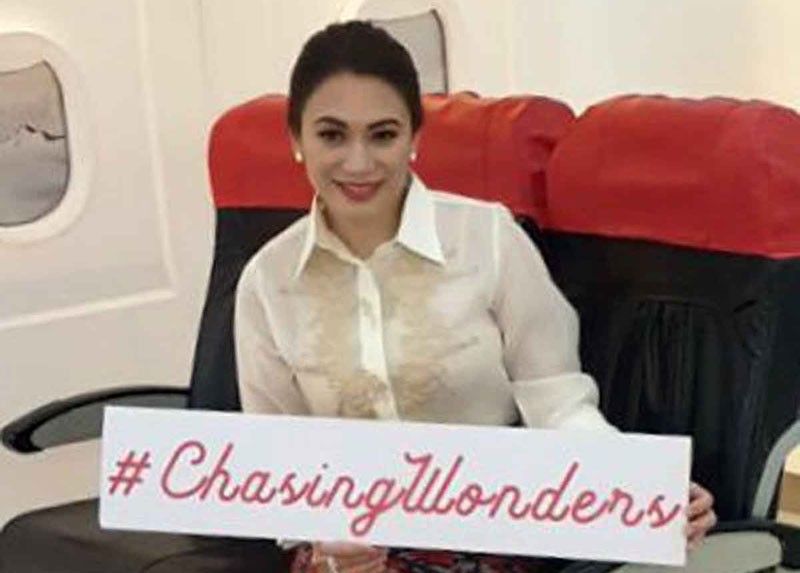 Sheila Romero, AirAsia Philippines vice chair
AirAsia brings pinoy flavors to the sky
Who would have thought that a low-cost carrier that once offered sandwiches, drinks and snacks bought from Carrefour is now giving its competitors a run for the money when it comes to inflight food?
Believing that no one ever really enjoyed inflight meals — even on Business Class — AirAsia Group CEO Tony Fernandes didn't think much about offering inflight food when he first started the low-cost carrier.
"I fly a lot. Oftentimes, I get food by some French chef or dishes that I don't actually like and understand," Tony said when I first interviewed him in 2017 at the RedQ, an impressive multi-tiered edifice that serves as AirAsia's headquarters in Kuala Lumpur.
And so Tony scrapped Air Asia's inflight food contract to give its passengers a choice.
"If they want food onboard, they need to pay for it. If they don't, then don't buy," he said.
The day after Tony stopped AirAsia's food contract, one of the cabin crew asked him, "I thought we would be selling food onboard?"
Tony totally forgot about it and so they drove to Carrefour, bought some snacks then loaded them up in the carts.
And that, folks, is how Air Asia's inflight food service started.
Pinoy food trip in the sky
AirAsia has, indeed, taken inflight meals to new heights with its Santan menu, which boasts food items that "people know and love."
Santan is a Malay term that means coconut milk, a common ingredient in many regional Asian dishes. Nasi Lemak and Uncle Chin's Chicken Rice are just two of the iconic AirAsia inflight meals passengers keep on talking about even after they've reached their destination. Check out the #Santanmenu to know what I'm talking about.
Of course, the selections have improved since then. The good news is, there are five new meals on the menu — which was launched yesterday — that will surely tickle the taste buds, not only of Filipino passengers, but also those familiar with Pinoy food.
Aptly called "Pinoy Flavors in the Sky," the new inflight meals pay homage to Pinoy dishes that have gained worldwide recognition, like sisig and sweet-style Pinoy spaghetti.
"AirAsia is the people's airline, but low cost doesn't mean low quality," said AirAsia Philippines vice chair Sheila Romero, who has made it her mission (since she sat on the board) to ensure that passengers get to enjoy good-tasting inflight meals that won't hurt their budget — "and something that is truly Pinoy."
And since AirAsia only serves halal food, their version of sisig is more on the healthy side, but equally good. The Crispy Chicken Sisig is made with minced chicken meat and liver. It has the right blend of the classic and exotic.
"For our millennial passengers, who eat with their iPhones first, we've added chicken bits, which you sprinkle on the sisig while taking Boomerang," Romero added with a hearty laugh.
There's also the Pinoy Spaghetti that's packed with hotdog slices and lathered with creamy cheese sauce — just the way Pinoys love it. Finally, an inflight meal that appeals to kids.
I also love the Bistek Tagalog, thinly sliced beef marinated in soy sauce and calamansi (Philippine lime) topped with sautéed white onion rings. The subtle flavor of the lime makes it quite irresistible.
Also on the new menu are Chicken Inasal, barbecued chicken marinated in calamansi, garlic, lemongrass and annatto, with atchara and chicken oil; and Beef Tapa with Scrambled Egg.
Add to that chef Hong Seok-Cheon's Korean Bibimbap with Chicken Bulgogi, which is part of Air Asia's Celebrity Chef Series. This classic bibimbap dish is Romero-approved!
"I personally love this dish, not only because it's picture-pretty, but also because it tastes so good," she enthused.
AirAsia's inflight food brand, Santan, was awarded with the "Best In-Flight Meal for 2019" by Sunstar's Best of Cebu.
"Through the AirAsia flight experience, we hope guests can appreciate Filipino culture and its integral love of food that brings family and friends together," added Romero. "Truly, now everyone can fly with the best customer experience."
AirAsia is the only airline in the country where you can select your inflight meals while checking in at the airport counter.
"That's how proud we are of our inflight meals," noted Romero.
Connectivity is key
There's an upbeat and dynamic vibe that permeates the Air Asia Redpoint Office at NAIA Terminal 3 during the media preview.
We couldn't help but try the indoor swing — where AirAsia employees relax or chill out during coffee break — as Romero and AirAsia CEO Ricky Isla took us on a mini-tour of their IG-ready headquarters.
"Aside from the inflight meals and the attendants' impeccable service, the AirAsia flight experience is made more appealing with affordable fares on its growing fleet, which have distinctive, spacious seats. This year, AirAsia is adding seven new aircraft to complement AirAsia Philippines' (AAP) 24 A320s," enthused Romero.
Romero is chairman of F&S Holdings Inc., which is the majority shareholder of AirAsia Philippines (AAP). Since she started steering APP, reinvigorated focus on airline customer experience is evident.
Today, there is considerable ease with AirAsia's online check-in and its airport check-in kiosks.
"We're also the biggest low-cost carrier in Asia with its unparalleled connectivity, with over 160 destinations," Romero added.
A host of combinations is available for travelers to experience.
"We want people to know more about connectivities. For example, AirAsia offers Manila-Bangkok-Mumbai, Manila-Osaka-Honolulu, as well as its Cebu-Singapore-Bali connections in line with the platform One AirAsia," she said.
At the start of the New Year, AirAsia increased the frequency of its Clark-Iloilo and Iloilo-Clark services from twice a week to daily.
Preparations are also ongoing for this month's launch of Manila-Zamboanga and Zamboanga-Manila flights.
Indeed, 2020 looks bright for AirAsia as it rolls out exciting developments from vital fronts.
* * *
Santan meals are available for pre-booking via My Bookings on airasia.com. Pre-booking provides guests with cheaper-than-airport prices, a choice of water or coffee as a beverage, a wider variety of meals and priority meal delivery onboard.
For promotions, follow AirAsia on Twitter (AirAsia), Facebook (AirAsiaPH) and Instagram (@AirAsiaFilipino).